The Internet has no shortage of places offering streaming music these days. Pandora, Spotify, Songza, Rdio—the list goes on and on. But few digital music destinations offer the unique selections you can find on SoundCloud.
SoundCloud bills itself as a "social sound platform"—meaning that people can post audio they create and then share it with fans on other sites, like an artist's blog or Facebook page.
But SoundCloud's site and apps for iOS and Android can also offer inquisitive listeners some real gems. Many musicians post live and experimental tracks that you can't find elsewhere. The trick is knowing where to look within the vast selection.
What's playing
Sounds come in all forms, and SoundCloud welcomes them all, from composed masterpieces to random snippets of conversations. But music dominates the site.
Both big names and small post music here. You'll find all-time greats like Paul McCartney, current artists like Dawes and Tame Impala, and musicians from more obscure subgenres like gypsy jazz guitarist Stephane Wrembel.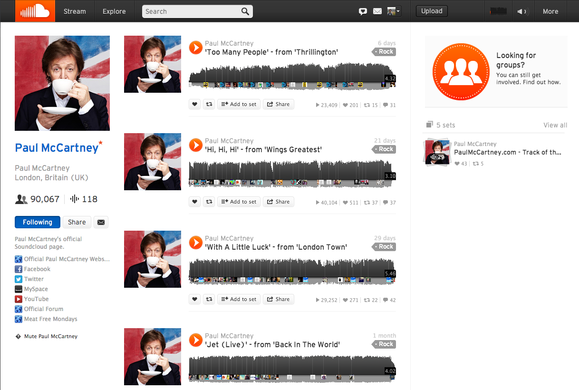 But unlike many streaming audio sites, SoundCloud isn't only about music. There are podcasts and radio programs from This Week in Tech (TWiT), The New Yorker, CNN, and many more. You can also listen to audiobook excerpts or check out lectures from Harvard and Yale.
The beauty is that all these sounds are available to stream for free, and you don't even have to listen to commercials. While some artists only post short samples, a majority of the tracks you find are complete, full-length versions.
But since you can find the "official" songs easily in other places, it's the rarities that make SoundCloud worth the time. For example, the duo Rhye posted full-length tracks from its album Woman, but also posted remixed versions that show where others have taken the music. Jazz guitarist Bill Frissell uses his SoundCloud account to post live recordings. SoundCloud is also a great place to find unreleased recordings from local artists.
Follow your way to fun
Finding unique tracks takes digging, though. The site doesn't make it particularly easy to discover new music. You can use the Explore tab, which shows you the most popular tracks narrowed by genre—under Pop, you'll find Acoustic, Indie, Ballads, and more—but you only see a few options at any time. While you can click through the choices to see more, you could spend a lot of time before you find something you like.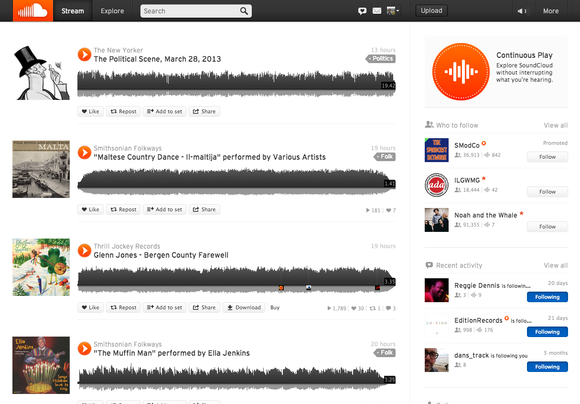 A better option is to search for artists you know you like and follow them to create your own stream of sounds. Your stream appears when you log in and shows the latest sounds posted by everyone you follow. If you play the stream, it will continue down the playlist, creating a very personalized radio station.
Here are some ideas on how to find artists to follow:
Search for your favorites. More artists than you'd think have SoundCloud pages. While not all pages are active with frequent posts, you'll usually find a couple of songs on each, especially when a new release comes out. To search for a specific artist, enter a name in the search box, and filter the results by People.
Look for labels. Many record labels have SoundCloud pages even if their artists don't. On Merge Records' page, for example, you can listen to singles from most of its artists, including She & Him and Divine Fits. For pop music, Atlantic Records posts a steady flow of singles.
Explore related artists. In the right column of an artist's page, you'll see other SoundCloud pages that he or she follows—a clue that you may also like those related artists. You may even find a new band you haven't heard before.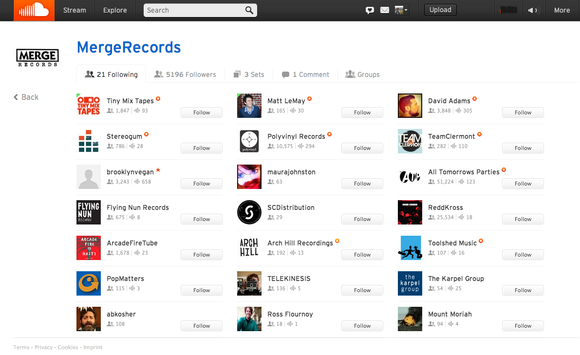 Join a group. Groups are collections of like-minded musicians. If you are a fan of hip-hop, search for that term, and click Groups to show all the collections related to that genre. If you join a group, you can find it again quickly by clicking your profile picture, then selecting Your Groups.
Click a tag. Artists can tag their tracks with genres to help you find them more easily. For example, a track posted by Smithsonian Folkways will often be tagged folk. Click the tag, and you'll get a list of all songs tagged as such by any artist.
Dig deep. The most rewarding tracks on SoundCloud can be the most difficult to find. In searching for Bob Dylan's page, I came across a soundboard recording from his 1993 Supperclub shows—known as one of his better shows from that period. But the song wasn't posted by Dylan; it was uploaded by a fan. I've also found some great covers of my favorite songs by searching for song titles. The best strategy may be to get lost within the vast options.
Sounds to go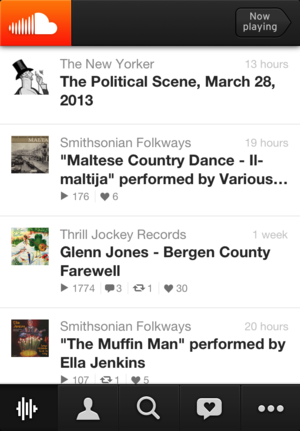 SoundCloud offers free mobile apps so you can listen wherever you are—a perk that services such as Spotify charge $10 a month for.
If you've followed artists, their latest additions show up in your stream, which is available through the app. You can also "like" specific songs and access them quickly through the app.
The mobile app lacks the Explore tab you'll find on the SoundCloud site, but search works well if you're looking for something new while on the go.
On cloud nine
For listeners, SoundCloud offers an underused resource of great sounds. Whether you're looking for something new or want to find something different from a favorite artist, the social sound platform is worth your time.