At a Glance
Expert's Rating
Pros
Supports 5GHz Wi-Fi
Slicker user interface
Provides headphone jack on remote for wireless listening
Offers more than 750 sources of content
Cons
HDMI only (no component or composite video support)
Our Verdict
The Roku 3 is a worthy successor to the 2 XS, with faster Wi-Fi, a headphone jack on the remote, and other hardware tweaks. Plus, it ushers in a much-improved user interface.
I didn't think Roku had much to improve on from its last high-end model, the Roku 2 XS, which I've been using for the past year or so to access Amazon, Netflix, and scores of additional streaming media. But the Roku 3, which replaces the 2 XS as Roku's top-of-the-line media streamer, proves me wrong.
Hardware changes
Some of the enhancements amount to gilding the lily. The 2 XS was already petite (in fact, the Roku 3 weighs a bit more) and reasonably responsive, so the subtle industrial-design tweaks (gently rounded contours) and processor upgrade didn't really excite me—although the new unit does seem snappier.
The new support for 5GHz 802.11n Wi-Fi, however, should improve multimedia quality for a lot of city dwellers who don't have a wired home network. Previous models supported only 2.4GHz Wi-Fi, which tends to be overcrowded in densely populated areas, resulting in freezing and stuttering as neighboring networks fight for the few available nonoverlapping channels. Wi-Fi on the 5GHz band has a lot more channels, so neighboring networks can usually find the unencumbered bandwidth required for smooth streaming media.
The remote now has a headphone jack with volume-control buttons for audio played through headphones. The jack is a great addition for insomniacs, who can now watch Roku content without waking up spouses and other family members.
Roku even throws in a set of earbuds in the same purple the company has used to accent all of its hardware. The quality of audio through the earbuds is surprisingly decent, and the volume control works as advertised. But you can use any headphones with a standard 1/8-inch plug, and the headphone support worked equally well on a third-party headphone set I tried.
One thing I'd rather have found in the box is an HDMI cable. Roku doesn't give you one, and the Roku 3 has dispensed with support for analog video—the unit no longer has component or composite video outputs.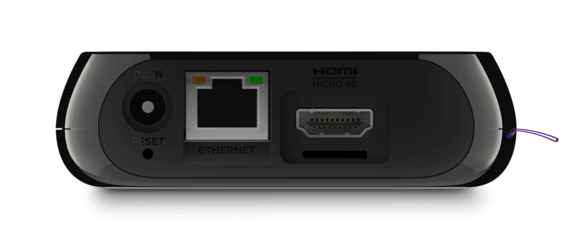 The remote, by the way, still has motion-sensing technology that you can use to play the games you purchase and download from the Roku Channel Store (which is where you also select content sources for your channel lineup). Roku helps you get started by including a freebie: Rovio's Angry Birds Space (replacing the original Angry Birds on earlier models).
I was unable to test one additional hardware upgrade: support for 7.1-channel surround sound passthrough over HDMI (previous models topped out at 5.1 channels).
Like the 2 XS before it, the Roku 3 has 10/100Base-T ethernet for wired networking, a USB port for sideloading content, Bluetooth to communicate with the remote control, and a MicroSD slot for extra game/channel storage. The faster processor lets it play MKV H.264 files sideloaded via the USB port for the first time.
New interface
On the software side, Roku has introduced a major user interface overhaul that does away with the scrolling-strip arrangement in previous versions. In its place is a more Web-standard pane-oriented layout, with a left navigation bar for various menus and filters, and relevant functions or content icons in a larger right-hand pane. It's easier to find what you're looking for, without a lot of scrolling action.
You can also choose from a handful of themes for the UI's design elements—wallpaper and icons, for example—as well as a screensaver. All of this succeeds in making the Roku 3 look more like a consumer electronics gadget than a network device. (Roku plans to bring the new UI to older models—namely the Roku LT, Roku HD [model 2500R], Roku 2 HD, Roku 2 XD, Roku 2 XS, and Roku Streaming Stick—sometime in April.)
Bottom line
With 750-plus content channels and one of the easiest setups for any product, the Roku 3 maintains Roku's position at the top of the media-streaming heap. It's not innovative enough to warrant replacing the Roku 2 XS (unless you really want 5GHz support or the headphone jack), but it is a compelling offering for newcomers or people who own older models.