AUSTIN—The way we watch TV is rapidly changing. Cord cutting is on the rise, with people ditching their cable subscriptions to go for set-top boxes and streaming services. The DVR is almost always running, so we can catch our favorite shows at a time that better suits our schedules. And if you want to avoid spoilers on an episode you haven't watched yet, steer clear of the Internet.
But perhaps the most rapidly growing area of change for TV is how viewers use social media to strengthen their TV watching experience. I attended a few panels on social TV and the blending of television and online entertainment during South by Southwest Interactive this weekend. If the trends discussed in these sessions are correct, then we can expect to see a more fluid connection between the television shows we watch and their online counterparts in future entertainment.
Social media as a tastemaker
The use of Twitter as a form of TV-show communication has seen a huge spike over the last year. That's what Jenn Deering Davis of Union Metrics discussed during her solo session, "How Twitter Has Changed How We Watch TV." Networks, actors, and viewers are using the quick-bite social tool in innovative ways to discuss programming, promote a show, or simply discuss what's going on.
Union Metrics tracks Twitter posts regarding TV shows, and then turns these numbers into usable data. It can tell you how many tweets per minute a show will get when it first airs, how long an episode stays relevant to viewers, and how a show's success correlates with Twitter activity.
Davis stressed that different types of shows see different Tweet patterns. For example, House of Cards, a series that was recently released on Netflix in one fell swoop, has seen a more steady stream of Twitter activity as more and more viewers watch at different times. But The Walking Dead sees a spike of activity when a new episode airs that gradually trails off as the week progresses.
This real-time participation through Twitter encourages viewers to watch a show when it first airs. It drives live TV watching, but it's up to the show's producers to keep viewers into the live experience. Some shows, like American Idol, use interactive Twitter polls to keep fans engaged during the show. Pretty Little Liars, which actually holds the TweetTV record for most engaging Twitter feed (the show typically gets 30,000 tweets per minute during a new episode), re-tweets posts from its followers and tweets additional info about the episode as it is on air.
Because of all of this info, Davis says Twitter is like an online focus group for networks. Producers and networks can see just how much buzz a show is generating and can gauge what needs to change in order to be a hot show. One prime example of Twitter controlling a show's destiny was 2011's Terra Nova. Its demise was practically predicted by Twitter—it saw only 90,000 tweets in its first week, where more popular shows usually get that in a two-hour period.
Davis expects producers to use Twitter as an audience-polling tool more in the future. We should expect to see storylines adapt to Twitter feedback as a series unfolds, like getting rid of a character or introducing a new plot twist. "While Twitter doesn't represent the whole viewer base, it's a good place to start," Davis said. "We don't want to choose everything, but some control is good."
As more and more people ditch their cable subscriptions, Davis suspects that more shows will follow the House of Cards model for release, and that the Twitter activity will follow that pattern as well. However, Davis posed the problem of "media marathoning," where viewers watch an entire season of episodes back-to-back. She doesn't believe that model of watching is sustainable in the long run for every show, because viewers will get fatigued. And besides, if we only marathon shows, who will we talk to after each episode?
Successful second screen apps
The way we watch TV has also changed thanks to the second screen app insurgence. These apps are designed to use while watching TV content, and they typically provide additional information about the show or a way to interact with other viewers. These apps go beyond just posting a quick Tweet on your iPhone during the commercial breaks; some of the show-specific apps contain additional interviews with the actors or fun facts that sync up with your TV as you watch the show in real time. It takes the viewing experience away from just the TV and gives viewers an interactive experience that spans devices.
Surprisingly, one of the most successful second-screen models is one implemented by the World Wrestling Entertainment. A few WWE stars and producers led a panel to discuss their winning social strategies, "Get Ready to Rumble: How WWE is Crushing Social TV."
The stats speak multitudes. According to executive vice president Stephanie McMahon, the official WWE app has 4.4 million downloads across different platforms. Looking at Facebook, the WWE has more than 97 million likes across their sprawling network of 121 Facebook accounts, and saw around 5.4 billion status views in 2012. Perkins Miller, the WWE's executive vice president of digital media, cited that one post alone had been liked 250,000 times and was seen 2 million times between 11:15 p.m. and "lunchtime the next day."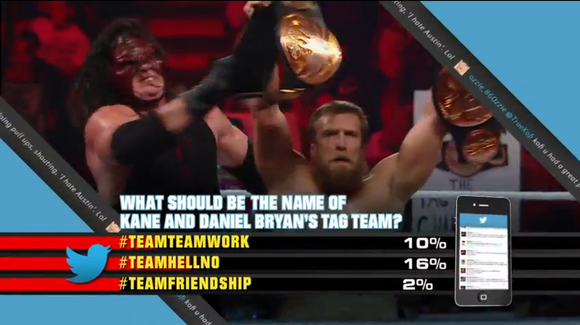 And it all comes down to how the stars interact with the fans. WWE superstar John Cena has around 3.5 million followers on Twitter, and he personally runs his own feed—sometimes a rarity in celebrity Twitter accounts, where ghost-Tweeters are not uncommon. Cena and the other wrestlers make friendly (or not so friendly) jabs at each other to promote upcoming competitions on Twitter, and fans have a chance to interact with the stars and their fellow wrestling followers. Cena thinks this sort of interaction works well for the WWE, which is a hybrid of sport and entertainment. "In the NFL, when there's a touchdown, nothing really goes on [on TV]," Cena explained, "They typically just go straight to commercial. But in the WWE, there's something else going on."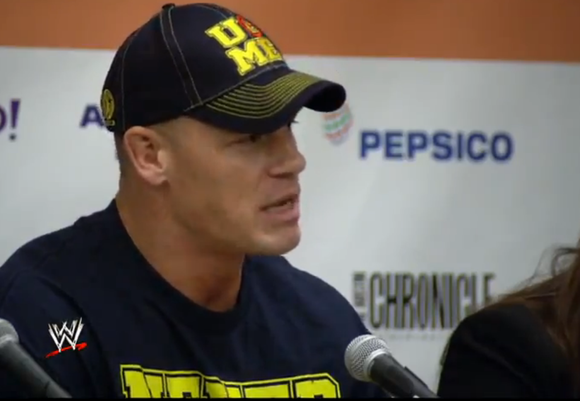 On the second-screen front, the WWE app provides extra content, like backstage interviews, during commercial breaks when fans watch the show live. Miller believes this is a win-win-win for the network, advertisers, and fans across the board: because of the extra content, fans are less likely to change the channel during commercial breaks. Advertisers get their airtime, fans will have continuous entertainment, and the network sees less channel-surfing.
This combination of interaction between fans and wrestlers through social media and the second screen app sets the WWE apart. The WWE is committed to creating a wide reaching multimedia viewing experience, and the audience wants more.
The TV and web merger
For some, the line between TV and web content will continue to blur and will eventually disappear all together. TMZ executive producer Harvey Levin doesn't think it makes sense for TV and web content to exist separately anymore, which he discussed at length during his solo discussion "How TV & the Internet Are Converging on TMZ."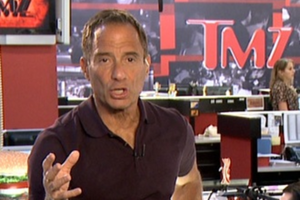 Levin believes our current model for TV entertainment will completely go away in five to ten years. Viewers turn to TV and the Internet for the same purposes—to be entertained and to be informed. Because of this, he expects to see a shift from content created specifically for one medium or the other to a merging of different story assets.
"This shift presents both a challenge and an opportunity," he said, "How do we produce for this completely new medium where people just want to be entertained without picking between the two?"
Levin and the TMZ team focus on the assets of what makes a story interesting: a combination of video content, photos, tweets, phone calls, and other tidbits. The producers think less about how to format this for their TV show or how to present this content online, but more about how to "blend them all together into a seamless dance."
Crude as celebrity trash and gossip may be, it's hard to deny that this model is working. TMZ now runs a successful website, syndicated cable TV show, and a bus tour in Los Angeles. Above all, it has a reputation for almost always being right with its stories and information—even if that content is a little sleazy.
Levin is concerned that most TV shows—be it a news organization, a sitcom, a drama, a reality show, or any type of programming—are hesitant to adapt to this change in the way viewers consume content. He believes Hollywood is trying to sustain an old model, and they cannot succeed at this rate.
"If you don't grow, you'll die," he concluded.