At first, I was one of the lucky ones. Like so many others I dutifully signed on to EA's Origin service at 9 o'clock Tuesday night and started downloading SimCity. An hour or so later, I was in. Mostly—I had to wait a few minutes for a spot to open up on the U.S. west coast servers, as cities (even single-player games) must be created and maintained on EA's servers. But then I was in: laying down roads, propping up buildings and watching my Sims totter off to work and play until the wee hours of the morning. And it was good—for a little while.
The last three days have been rough. EA's servers have struggled to keep up with the legions of SimCity fans that have waited nigh on a decade to climb back into the mayor's saddle. And while problematic opening days are common in the massively multiplayer online gaming space, SimCity's general failure to launch sets a troubling precedent for PC gaming.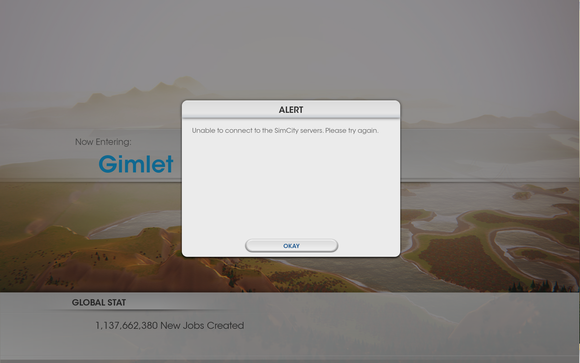 I should've been ready for this. I'm an MMO fan; they're my gaming "genre" of choice, as I'm generally smitten by the idea of cooperative and competitive play with friends and strangers from around the world. I am, in short, the new SimCity's target audience: equipped with a fast PC and stable internet connection and willing to abandon the classic, sprawling megalopolises for a chance at getting together with like-minded chums and carving a thriving nation-state out of the digital soil. Besides, this is probably the closest I'll ever get to a massively-multiplayer Dwarf Fortress that the hoi polloi would actually want to play with me.
The SimCity series has undergone some dramatic changes in the spirit of making it a massively multiplayer experience. Cities are smaller, and all but require you to coordinate with a number of cities across a single region to thrive. But for many players, Sim City will always be a single-player experience—even I've kept my first region private to work out the revamped mechanics and establish a game plan before branching out into the world. The online-only requirement is onerous enough, but when lifelong fans of a series—many of whom wouldn't consider themselves gamers in the traditional sense—can't sit down and quickly revisit the pleasant memories they've been harboring since 1989, the franchise suffers.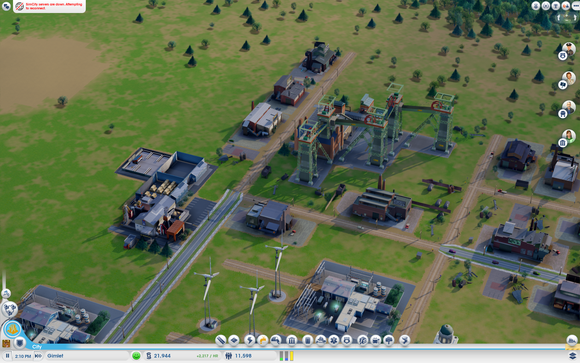 We've spent years wailing and gnashing about always-online DRM schemes that require a persistent internet connection lest you be booted from your single-player game. It's an onerous idea—you can forget about playing should your internet connection goes down, or if you choose to bring a laptop along on a long plane flight.
But the real problems arise when we, as consumers, do everything "right." We pay the $60 entrance fee and our broadband connections are in tip-top shape, but the corporate entity we've turned to for our entertainment fails to hold up their end of the bargain. Servers fail to authenticate our software, or collapse under the weight of popular demand, or are simply shut down once they're a few years old.
And so I find myself here, after 10 years of waiting for a follow up to SimCity 4, cobbling together a disgruntled screed while nebulous "unable to connect" messages pop up and prevent me from returning to my fledgling metropolis. I was planning on writing up some tips for helping longtime fans and new players get acclimated to all of the changes—I have notes, on post-its! I'd gone so far as to show off my cities to classic SimCity fans who don't play games regularly in the hopes they'd buy the game and take up mayorships in my region.
Now I'm telling them to stay away, and wait for server issues to peter out; but who's to say they'll even still be interested in a week, or a month, or however long this all takes.
Here's the worst part: one of the greatest PC gaming franchises has been laid low, and it's too late to turn back the tide. Once some sort of server equilibrium is reached and EA dismisses the rough launch as the typical "birthing pangs" associated with any new internet-connected title, we'll still have that sour taste in our mouths. At any moment, through no fault of our own, we could lose progress in a game—or lose access to it altogether—because a server somewhere collapsed, or was shut down. Instead of celebrating a promising rebirth (and fleshing out things I won't have space to dive into on my forthcoming review), I get to join the horde of disappointed fans.
SimCity isn't the first PC game to be saddled with always-online requirements (though companies like Ubisoft have since backpedaled on the practice), and it won't be the last. Consumers can always vote with their wallets: the new Sim City is currently one of the lowest rated products on Amazon, and the retailer went so far as to temporarily stop selling digital copies of SimCity for a time (though it's available again, as of right now). But my inner cynic tells me that EA might just translate poor sales as a lack of interest in the franchise, and potentially kill off the series altogether.
Ultimately, no one wins.