The built-in cameras on smartphones are getting better and better with each new phone release. Some phones' camera lenses and features are so good that they rival basic point-and-shoots, prompting users to ditch their stand-alone cameras. Paired with photo-editing apps and the ability to instantly share our work, phone cameras are often easier to use, even if that means sacrificing some of the manual settings that come with regular cameras.
But what about for professional purposes? For this story, we equipped three professional photographers with three smartphones that are the camera leaders for their respective mobile operating systems: the iPhone 5 on iOS, the Nokia Lumia 920 on Windows Phone 8, and the HTC EVO 4G LTE on Android. These pro photographers took their phones on shoots, and swapped out their full DSLR setups to snap a few styled shots with these smartphones, often making use of the apps that nonprofessionals use every day.
Here's what they came up with.
iOS: Anne Hamersky
The artist: Anne Hamersky shoots stills and video of real people doing real things. Last year she shot the construction of a straw-bale house on Hopi lands, an urban farm build in the South Bronx, and a wetlands restoration project in Passe a l'Outre, Louisiana. Michael Pollan selected her latest book, Farm Together Now(Chronicle, 2010), as his favorite food book of 2011. Anne lives in San Francisco. Follow her on Instagram (@anneham).
The smartphone: iPhone 5, 8-megapixel iSight camera
Twin Peaks Hike
I ride my bike a lot up Twin Peaks, the big double hills in the center of my city. The spring flowers are running amok up there right now. So it was fun to try out Photo Grid, a collage-making app for iOS. I used the swap function, the flop function, and the rounded-corner selection.

After using the iPhone's built-in camera app to take pictures for the collage, I opened the collage in Snapseed and followed this path: Tune image > Contrast +14 > Saturation +6.
Spring at Alemany Farmers' Market
I liked how the Twin Peaks hike collage came out, so I followed a similar path for this piece. I used the swap function and rounded corners. I then brought the collage into Snapseed and followed this path: Tune image > Saturation +9 > Contrast +3.
Ocean Beach
For this shot, I wanted to try an easy-peasy, straightforward Snapseed treatment. I used these filters:

Automatic > Contrast +18
Tune image > Saturation +70
Drama > Filter strength +70 > Saturation +50
Tilt-shift > Blur +90
Frames > Frame 5
Lucy With Lemons
I usually like punchy, happy, what I call "circus colors" in my images. But I wanted to play around with some of the crazy filters in Snapseed, so I chose a sweet shot of my young friend Lucy, picking lemons in her neighbors' backyard. I'd like to play around more and fine-tune a look that I love. There are so many ways to go with it.

To get this effect, I used these Snapseed filters:

Center focus > Portrait 2 > Blur strength 11 > Outer brightness -27
Tilt-shift > Linear > Transition +50 > Center size +85
Tune image > Saturation > -7
Selective adjustment > selected face > Brightness > -34
Frames > Frame 3
Underside of Valentine's Day Roses
While composting my Valentine's Day gift roses, I noticed how cool the underside of the whole flower looked. I was amazed at how close the iPhone 5 could focus—such awesome macro capabilities.

I built a crazy quilt from the eight or so original images I shot of the bunch using PhotoGrid. First, I made a 4-by-4 grid. Then I made another, sometimes flopping or rotating an image to create a more dynamic vibe. I made two more 4-by-4 grids for a total of four 4-by-4s.

Next, I went back into PhotoGrid and selected all four of these grids to make a more complex grid within grids. I played around with size and rotation. I saved that grid of 16 images. Then I went back into PhotoGrid and selected two of the 4-by-4s again, the 16-image composite, and one of the original single shots. This became my final image.
Windows Phone 8: Carly Marin
The artist: Carly Marin is a graduate of California College of the Arts, where she received her BFA in photography. She is also the owner and operator of Carly Jean Photography, specializing in wedding photography and portraits. Her interest in photography emerged at the age of 10, and she has since dedicated herself entirely to it. Her work combines different elements of journalistic, traditional, and fashion-based photography. When she's not photographing, you can find her enjoying coffee shops, doing experimental baking, or relaxing at home obsessing over cats! Although Carly uses mainly a digital SLR for her business, she loves using traditional 35mm film cameras for more-personal work. Apart from building up her commercial photography business, she is also working on fine-art personal projects that she hopes to share with the art world.
The smartphone: Nokia Lumia 920, 8.7-megapixel camera with an f/2.0 autofocus Carl Zeiss lens
A Portrait of Kasi
I took this photo at a park in Pleasanton, California, on a styled shoot with one of my favorite models to work with. Kasi recently got her cosmetology license, so we wanted to highlight her amazing hair and makeup skills with this shoot, as well as her unique sense of style. I used the Lumia's auto settings, with an ISO of 400, the default exposure value and auto white balance, and aspect ratio 16:9.
Looking Up
This photo was taken at dusk in Danville, California. I came across this tree, and wanted to get a different perspective on it rather than what one sees as they walk by it. I simply placed the Lumia against the trunk and snapped the shutter, unaware of what the image would look like until it was captured. What resulted was this shot—a nice surprise when I looked back at the image. I love that the Lumia's depth of field focused on the texture of the trunk and then faded out to the branches. I used the Lumia's auto settings, with an ISO of 1600, the default exposure value and auto white balance, and aspect ratio 16:9.
San Francisco Pier
Obviously the appeal of this photograph is the effect that I used to capture it, the Lumia's panoramic setting. San Francisco's Pier 39 was the perfect place to use this app, as it highlights many of the city's signature qualities. This image illustrates the cityscape; its architectural qualities, its beauty and busyness. Not only did the Lumia flawlessly stitch together this combination of photos but it also did so while maintaining a sense of clarity and color. I took this image with an ISO of 200, with the default exposure value and auto white balance, and aspect ratio 16:9.
Out to Lunch
This simple photograph was taken as I was out to lunch at Pier 39 in San Francisco. I wanted to take a lifestyle image of what sat before me on the table before the food arrived, highlighting the contrasting colors of the navy napkin and wooden table. I love how well the Lumia captured the different textural qualities of the subjects in this image with such depth and clarity! I used the Lumia's auto settings, with an ISO of 400, the default exposure value and auto white balance, and aspect ratio 16:9.
Daisy Daze
I took this photo specifically to use the Lumia's macro setting, and was pleased with the result. This lone daisy was hidden in the grass on the side of the street in San Francisco, and I wanted to see how well the Lumia could capture its small yet beautiful details. I was not disappointed! I used the Lumia's macro settings, with an ISO of 800, and the default exposure value and auto white balance.
Android: Michelle Walker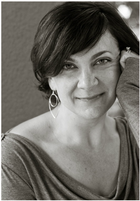 The artist: Michelle Walker is a San Francisco-based wedding, travel, portrait, and dog photographer. A formally trained photographer, she prefers a photojournalistic approach to her work—honest, meaningful, and gorgeous. She runs her own photography business, Michelle Walker Photography.
The smartphone: HTC EVO 4G LTE, 8 megapixels
Umbrellas
Ton Sai Bay, Thailand
I love the colors in this photograph—they make me remember exactly what it's like to be on that beach! I took this using the depth-of-field setting in the native Android camera app. This is a great setting for creating shallow bokeh (from the Japanese word boke, which means "blur" or "haze") that draws the viewers' attention to the area of the image in focus.
Sailboat
Phang Nga Bay, Thailand
This photo was taken from a small dinghy looking out at our boat. We were exploring the limestone "krasts" found in the bays of southern Thailand. This particular krast had a cave that opened onto an idyllic small beach—it was like we were the first people ever there! I took this image using only the built-in camera function; no special settings.
Sunset
Koh Phak Bia, Thailand
This was taken at sunset from the deck of our sailboat. I love the warmth of this photograph and the way the sun glows, creating a silhouette of the island. The color is true—I used no special settings. This image demonstrates how good the phone's camera is—we were moving pretty quickly along the water, but the camera was able to capture the image with no movement.
Tusks
Kamala, Palace of the Elephants Theater, Thailand
This image was taken at FantaSea in Kamala, a place inspired by Thailand's rich and exotic heritage. Using the depth-of-field setting, I was able to focus on the temple behind the elephants' heads. I love how timeless this photo is—it looks like it could have been taken 100 years ago at an ancient temple.
Trees
Beijing
I took this on our way back to the airport, with no special settings. I love how the trees are silhouetted against the cold, gray sky. It's an evocative image—one of my favorites from the trip.