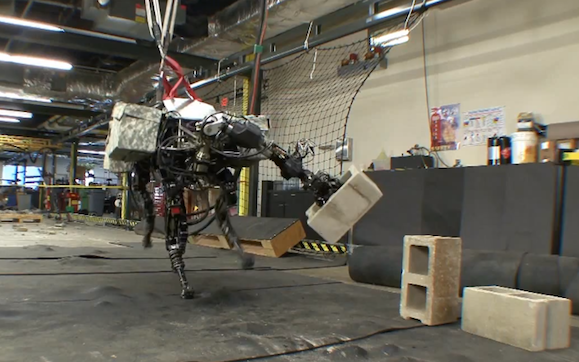 Move aside, AlphaDog. Boston Dynamics has a new canine robot, and this one loves to throw its weight around—or at least, it loves to throw heavy objects around.
BigDog can lift cinderblocks with its long arm, grip them, and then with immense force, hurl them over its shoulder. All the while, its four legs can keep it moving if it needs to, say, hurl bricks at DARPA's robotic cheetah to avoid getting chased down. BigDog developers are looking at ways to "use the strength of the legs and torso to help power motions of the arm," as it describes in its YouTube video's description.
As is the case with its AlphaDog sibling, Boston Dynamics built BigDog with military purposes in mind. Not only can it chuck heavy objects, but it can also haul up to 340 pounds of cargo, navigate rough terrain, and travel nearly 13 miles before it needs to be refueled.
While I find Boston Dynamics's dog-like robots quite sweet, I don't think I'd want to bump into BigDog in a bad mood. Imagine the damage it could do. [Erm, I'm not sure if "sweet" is the adjective I'd use here… —Ed.]
[YouTube, Boston Dynamics via Gizmodo]
Get more GeekTech: Twitter – Facebook – RSS | Tip us off