Streaming music service Pandora is reintroducing a cap on free mobile listening due to another hike in royalty rates this year. Desktop users will still benefit from unlimited ad-supported free listening, but mobile users will only get 40 hours of free music each month starting March 1.
To continue listening for more than 40 hours per month on mobile devices, Pandora users have to either plunk down $0.99 in an in-app purchase or subscribe to the premium Pandora One plan ($36 per year), which does not include ads. Pandora said in a blog post announcing the changes that the limit will affect under four percent of its monthly active listeners, as the average listener spends 20 hours per month using the service.
Pandora used to have a firm 40-hour listening cap for free listeners from 2009 up until 2011, when the company abandoned the limit. The company said it was forced to reintroduce a mobile cap due to significant increases in royalty rates in the past few years.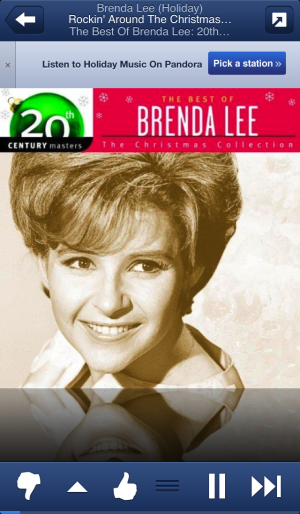 Pandora founder Tim Westergren explained: "Pandora's per-track royalty rates have increased more than 25 percent over the last 3 years, including 9 percent in 2013 alone and are scheduled to increase an additional 16 percent over the next two years. After a close look at our overall listening, a 40-hour-per-month mobile listening limit allows us to manage these escalating costs with minimal listener disruption."
The music streaming service pays more than half of its revenue in royalties, so rates have always been an issue for Pandora, which argues that Web radio services are paying too much for streaming rights. Last year, Pandora CEO Joe Kennedy backed legislation intending to change how royalties are levied on music streaming companies compared to traditional radio—which doesn't pay royalties at all. Naturally, the bill was met with opposition by groups representing artists and copyright owners. Congress never got around to examining the Internet Radio Fairness Act, leading to its apparent demise, but it could be reintroduced under a different name soon, Billboard reports.
Meanwhile, Pandora competitor Slacker Radio continues to offer free unlimited mobile listening, while Spotify and Rdio charge $9.99 per month subscription for streaming from mobile devices. Apple and Google are also rumored to be working on streaming music services of their own.