Data caps on broadband service stifle innovation and hurt producers of groundbreaking video programs, representatives of the U.S. entertainment industry said Tuesday.
Writers and producers of video content see the Web as a way to bypass the gatekeepers at large entertainment companies and market their products straight to their fans. However, data caps limit their ability to reach new audiences, representatives of the Writers Guild of America West and the YouTube series The Lizzie Bennet Diariessaid during a U.S. communications policy forum hosted by digital rights group Public Knowledge.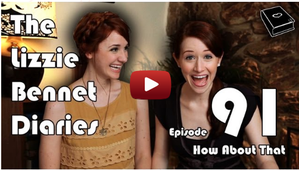 U.S. consumers are on the verge of a "big explosion" of figuring out that they don't need to sit down and watch a television program on one device during a certain time, said John Vezina, political director of the Writers Guild. It's important for writers to get their video content out to an audience without customers worrying about whether they're closing in on their data cap, he said.
Data caps are harmful
A data cap "hurts innovation, it hurts consumers, it hurts creators who want to get as much out to the public in as many ways" as possible, Vezina said. "For writers, having already bumped up against the studios who tell them exactly what to make and how they're going to make it, it's anti-American, it's anticompetitive."
All businesses in the chain between content creator and consumer—including Internet service providers and advertisers—can benefit from increased video consumption, added Ryan Troy, senior director of business development at Boxee, a cloud-based DVR service. A free market should dictate what consumers pay for bandwidth, but a cap shouldn't artificially limit consumption, he said.
The U.S. Congress should "preserve innovation" and ensure that new business models like Boxee's have a chance to succeed, Troy said.
Public Knowledge has criticized broadband caps as anticonsumer. Earlier this month, the group called on ISPs to suspend data caps after reports that use meters may not be accurate.
The panel didn't focus specifically on data caps for mobile broadband service. But Rachel Welch, vice president of federal legislative affairs at Time Warner Cable, defended data caps as an option for consumers. Time Warner Cable offers unlimited service and a cheap data-capped service, she said.
Asked if data caps discourage online video viewing in favor of Time Warner Cable's cable TV service, Welch said the company doesn't see it that way. "We want our customers to buy as much of the product as possible," she said. "The goal of companies is to make money."
Free to explore
Some customers use broadband sparingly, and some use it for online games into the night, she said. A tier of packages serves both needs. "All we want to do is sell people broadband service," she said.
Without data caps, Internet users are free to explore new programming on YouTube and other websites, said Jenni Powell, producer of The Lizzie Bennet Diaries and director of content for VidCon, a convention of online video creators.
When broadband customers hit their data caps, that means "no discovery is available whatsoever," she said.