If you own a smartphone, your digital SLR or compact digital camera probably collects a lot of dust these days; it's just so much more convenient to snap photos with your phone. Sure, your smartphone isn't as sophisticated as a DSLR, and it can't capture nearly the same quality of images. But that's not always important—what is important is that your phone is always in your pocket when you need it.
And even though your phone doesn't have the same exposure and image-quality controls as your bigger, better camera, you can learn a few tricks to take photos that rival what you can get with a dedicated digital camera.
Keep it steady: This is always good advice, no matter what kind of camera you have. And it's especially valuable when shooting with your phone. Use two hands to steady your phone, and keep it as still as you possibly can when you take the shot. You can get sharper photos by holding the phone close to your body rather than holding the phone at arm's length. And while you might think this is overkill, controlling your breath can help you take blur-free photos; exhale slowly as you tap the phone's shutter button.
It's the release that counts: And while we're on the subject, your phone doesn't actually take the picture when you jab the screen with your finger; it takes it when you lift your finger off the screen. This is the equivalent of your computer doing something when you lift your finger off the mouse button rather than when you press down. If you have a lot of blurry photos, this is probably the reason—keep holding the phone steady as you lift your finger.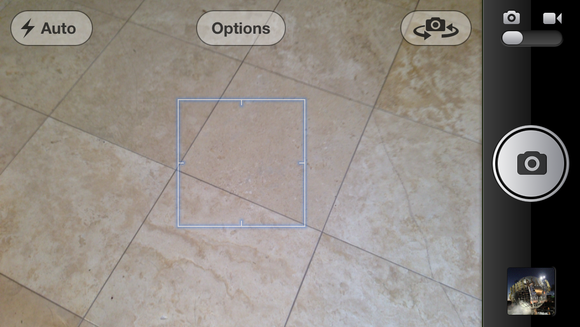 Have plenty of light: Digital cameras thrive when exposed to light; and camera phones crave every available photon. Due to their tiny image sensors, smartphone cameras tend to generate a lot of noise in dark conditions. Whenever you can, shoot outdoors in daylight. Indoors, turn on every light you can to help illuminate the scene. And in dim or contrasty lighting situations, if your phone has an HDR (high dynamic range) mode, try using it instead of the flash, since that will often generate a more satisfying photo.
Tap to focus and set exposure: Even though your phone doesn't have a lot of dedicated controls, you can still tell it where to focus by just tapping the screen. Where you tap also determines where the cameras looks to set the exposure. Tap a dark part of the photo, and the camera will amp up the exposure to reveal details in the shadows; tap something bright to lower the overall exposure in the scene.
Extend your camera with apps: One of the coolest aspects of using a smartphone is that you can add features just by installing a new app—try doing that with a DSLR. Case in point: Smartphone cameras tend to have a very deep depth of field because their sensors are so small; but install AfterFocus for the iPhone or an Android phone, and you can simulate the shallow depth of field that's so common in portrait photos taken with a DSLR.
Explore the camera options: On many phones—especially Android and Windows phones—numerous advanced settings let you take more-creative photos. Indeed, some phones have so many options that it can feel as if your phone mated with a DSLR. Look for the ability to set the ISO, the white balance, and a self-timer. You might also be able to switch between normal and macro focusing distances, and even turn on slow-shutter or continuous-shot modes. Even the iPhone—the most minimalist of all the smartphone cameras—lets you control the flash, HDR, and panorama modes, and turn on a grid that can help you compose shots using the rule of thirds.