It's getting harder to find a technology company that isn't working on a set-top streaming box of some kind. Apple, Roku, Microsoft, Google, Plex, and Western Digital already sell these boxes, which can stream movies and other on-demand content from the Internet directly to your television set. And just last month, Intel announced plans to join the club with a TV box of its own that promises live TV and on-demand content.
When Intel's box does arrive—and the company only promises that it will arrive sometime later in the year—it will find itself jostling for a position in a crowded field. Apple, of course, sells the Apple TV, which offers a set of predefined channels including Netflix, Hulu Plus, and the Wall Street Journal, many of which require a paid subscription of some sort. Features unique to the Apple TV include its integration with Apple-specific services: iTunes, iCloud, and AirPlay streaming. Roku's box offers hundreds of channels, offering most channels Apple has (with obvious exceptions like iTunes, and non-obvious ones like YouTube), with significant additions like Amazon, HBO Go, Crackle, and many more. Microsoft's Xbox gaming console offers support for streaming, and it's rumored that the company will up the ante with a dedicated set-top box later this year. Google TV's offering includes more channels than Apple's, but fewer than Roku's.
And now, get ready to add Intel to that mix. It's hard to know precisely what Intel's final product, should it get released, will look like, but corporate vice president Erik Huggers told AllThingsD that the company's goal is to offer "a service that incorporates literally everything," including on-demand, DVR functionality, and streaming apps.
Internet-connected set-top boxes are hugely popular at tech companies. But the same can't be said about their popularity among consumers, who simply are not buying the devices at a rate that threatens to revolutionize the way we watch TV. Take the Apple TV, which does a respectable business for Apple but still gets classified as a "hobby" by company executives. More to the point, Apple sold 2 million set-top boxes in its most recent quarter—impressive, but still less than half of the Macs the company sold in that same time frame.
And companies seem to recognize that no one has come up with the magic formula for transforming the experience of watching TV. "When I go into my living room and turn on the TV, I feel like I have gone backwards in time by 20 to 30 years," Apple CEO Tim Cook said in an interview with NBC late last year. So how does that change? What do the Apples, Rokus, and—soon enough—Intels of the world have to do to make a set-top box that strikes a chord with more consumers?
The winner in this space will need to ease the few lingering technical challenges such set-top boxes present, and it will need to convince content providers to embrace the inevitable changes to their business. In so doing, the set-top box that will attract the most customer attention will be the one that makes it not just easy to cancel cable, but also sacrifice-free to do so. Customers don't want to pay more or give up content.
It's the content, stupid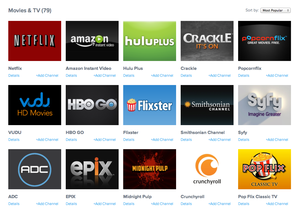 The prices are right on most set-top boxes, which tend to cost $100 or less. Many of the streaming services are priced impressively, too: Netflix, Amazon Prime, and Hulu Plus all cost less than $8 per month before taxes. Even if you subscribe to all three services, you'll spend much less per month on this trio than you would for a typical cable subscription. And with all those services, you can watch a variety of programming—current shows, older shows, and a slew of movies.
But there are limitations. CBS still doesn't stream its first-run shows on any service; it hosts them only on its own website. Many networks with great shows don't stream their programming at all, yet—I'm looking at you, AMC. Even for networks with multiple streaming options, like ABC, you still won't know the thrilling plot twist everyone's discussing from Scandal until after you watch it the following day, since shows usually don't become available on streaming services for 12 or more hours.
And what if you're interested in other programming—say, HBO shows like Girls or Boardwalk Empire? HBO only lets customers stream its programming on the Roku (or other devices) if they are already paying subscribers—and you can only be a paying subscriber through your cable company. (Showtime's even worse: Subscribers can't stream shows through its Roku app at all, and you can't AirPlay shows from the pay channel's otherwise nice iPad app.)
These premium channels won't let you subscribe to them outside of your cable company—possibly because they fear that the cable providers would revolt, possibly because so many premium channels are actually owned by corporations that also own cable providers. Cable companies don't want you to cancel your cable, so their corporate parents keep those premium channels tethered to keeping an account with a cable provider.
That's a problem. For set-top boxes to achieve mainstream success, they'll need to prove to customers that they can replace cable boxes, not merely live on as additions.
Not very sporting
And premium channels like HBO don't present the only potential content hiccup that consumers face. Sports fans face another issue. Baseball, hockey, and basketball fans have options: MLB, NHL, and NBA all offer subscription-based access to streaming versions of their games. But while the MLB's offering is beloved, and the NHL's gets high marks, the NBA's offering is often panned, and can't stream any nationally televised games.
MLB, with its At Bat service, offers streaming games accessible through most major set-top boxes, including Roku and Apple TV. You can watch games from iOS devices, Android devices, and the Kindle Fire, too. And if games are subject to local blackouts, you can stream the archived versions about 90 minutes after the final out. The NHL's GameCenter Live service costs $50 a year, offering live viewing for out of market games and on-demand replays, working with many set-top and mobile devices.
Football fans are shut out entirely: The NFL still offers no true streaming option to U.S. customers, largely thanks to its longstanding deal with DirecTV and that satellite TV company's Sunday Ticket offering.
Still, if you're a fan of baseball, hockey, and basketball, combining subscriptions to all three major league offerings works out to less than $30 per month: MLB's service costs $130 a year, NHL's costs $50, and NBA League Pass costs $159. But if such services force sports fans to miss out on live games with local teams, they'll struggle to catch on. Sports fans don't want to miss a game because they dropped their cable subscriptions, and they aren't necessarily willing to spend more money to watch games they could already enjoy, more affordably, on cable anyway.
The new content is king
It's the content, not the technology, where innovation is needed. My money's on the companies that have more experience negotiating with rights-holders being the first to get studios, networks, and major sporting leagues to loosen their restrictions and make set-top streaming more of a joy and less of a hassle. In my view, that puts Apple, Amazon, and Google at a distinct advantage: Their existing deals with music studios, publishers, and indeed film and television studios (think: iTunes Store, Amazon Instant Video, YouTube) may well be just the head start they need to convince those content providers to embrace the future.
Netflix, to its credit, is trying to force the issue on its own terms. That is, Netflix's goal is to make its streaming service a mandatory subscription for premium content lovers, by creating its own custom programming that's available at Netflix and nowhere else.
The company spent $100 million on creating two 13-episode seasons of House of Cards, starring Kevin Spacey and directed by David Fincher. In the coming months, several more Netflix originals will launch, including a prison series by Weeds creator Jenji Kohan, and a fourth season of Arrested Development.
The ascension of Netflix, however, doesn't help any individual streaming box creator. At this point, all the major competitors have usable Netflix interfaces; Netflix streaming has become essentially commoditized. I'd argue that no one has done more to popularize set-top streaming boxes than Netflix, but at this point, it's tough to buy any television (or TV-connected) device that doesn't include access to the service.
For some customers, then, a video game system or DVD player with the ability to stream Netflix is good enough; they won't feel compelled to buy a meatier set-top box with more streaming options.
Ross Rubin, principal analyst at Reticle Research, agrees. "It's going to be challenging for any over-the-top box to reach critical mass. There is great competition from smart TVs and Blu-ray players and all of these offerings represent a subset of what consumers can get from their pay TV providers."
Out of control
The content piece is the bigger, tougher nut for set-top box vendors to crack. But it's not the only nut. Here's a minor one.
These days, vendors are foolishly shipping their boxes with tiny, narrowly-focused remotes. My Roku remote feels great in hand and works via Bluetooth—both great remote features. But it, like the remotes that ship with its competitors, is woefully underpowered.
The vendors would probably argue that they skimp on the remotes because you can just use your smartphone as a touchscreen controller instead. But using your phone as a remote is lousy on multiple levels: You must look at the screen to use it, you must have your phone accessible, and you must not be using it for any other purpose when you want to, say, pause a program.
The clicker is one thing that the cable companies consistently get right: They ship large, hard-to-lose, and—most importantly—programmable remotes that can control not just their cable boxes, but also your television, receiver, and more. No one wants yet another remote to keep track of, and these set-top box vendors should know better.
Speaking of the cable companies, there's one other thing that they might start doing right, which could hamper—or at least slow down—the ascendance of streaming: Dramatically lower their prices. If cable companies become increasingly desperate to hold onto customers, and shave $50 off a lot of bills, that will likely be enough to convince many customers that there's no point in diving whole hog into streaming technology just yet.
We're number two
"The battle for the living room is centered on capturing one of two points, input one or input two on the TV," Gartner analyst Michael Gartenberg told me. The first input, he said, tends to be dominated by a cable or satellite box, and as Google or TiVo can attest, "that's a hard spot to displace."
Thus, says Gartenberg, "The real battlefront is input two," and that's the one these vendors are all gunning for. His argument is that vendors don't just need lots of great content—they'll need extra functionality, too: "The devices with the most success will be those that tie into and extend large vendor ecosystems such as Apple's, and also offer third party services and apps that extend that functionality."
Roku's had some success with games on its newer set-top boxes. Rumors come and go about Apple adding support for third-party apps on the Apple TV. That'll help.
The tech-savvy crowd—that's you and me, if you're reading this—sees the appeal of these streaming services today. We want the Apple TV for AirPlay mirroring, or the Roku for its HBO Go app, or either one for its ability to play other media we already own.
It's clear to us that the days of television shows having specific time slots are on the wane, that streaming anything we want to watch on-demand, at reasonable rates, is inevitable in our lifetimes.
As to which company—or companies—will dominate the marketplace for those set-top streaming boxes, though, that's still up in the air. Apple and Google may have a foot in the door, but the first company to get the right content owners on board with the future will end up in first place.