Netflix is for movies, and Hulu Plus is for TV shows. By now, that cliché seems out of date. While Netflix offers some great television, Hulu Plus provides a digital paradise for both serious cinephiles and fans of entertaining trash. (Come to think of it, I've yet to meet a serious cinephile who doesn't also love trash.)
To really appreciate Hulu's movie selection, try exploring the various companies that provide the films for Hulu. (In some of its multiple user interfaces, Hulu calls these companies studios, even though most of them don't actually make movies.) Each of these companies has its own tastes, stakes its own claim to a corner of the cinematic universe, and appeals to its own potential fan base.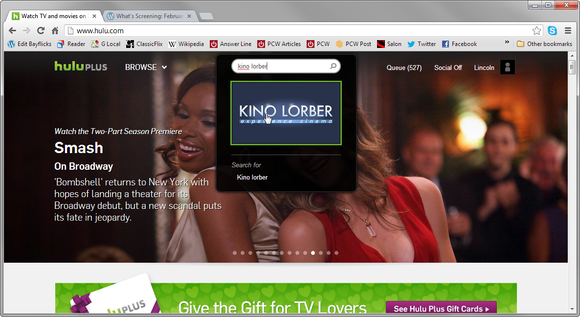 You may or may not be able to easily browse movies by studio. I can on my Samsung Blu-ray player and using the iOS app (on the iPhone, More > Movies > Studios; on the iPad, Movies > Browse Movies > Studios), but not via Hulu's website. But you can access one of these companies on the website by typing its name into the search field, waiting for the icon to pop up, and then clicking it. A search in the app will also bring up the studio's offerings.
To give you a taste of what the $8-a-month subscription gets movie lovers, I'm going to share some of my favorite Hulu Plus studios, and recommend a great title for each—starting with the highbrow stuff and working my way down from there. And best of all, most of the movies are available without the commercials you'll find in most of Hulu's TV offerings.
Criterion: The greatest films ever made
Hulu is so proud of its Criterion association that it's right there on the Browse menu. And for good reason. Since the ancient days of Laserdiscs, Criterion has been the Rolls-Royce of serious-cinema providers in the home. It has licensed great motion pictures from all over the world, pushed the technological envelope to create the best transfers, and pretty much invented supplements and commentary tracks (which are, unfortunately, not available on Hulu). Its discs tend to be expensive, which makes Hulu's offering feel like a great deal.
If you want to plunge into the works of a major director such as Bergman, Chaplin, or Truffaut, Hulu's Criterion section is a great place to start. You'll find almost all of Akira Kurosawa's films here, from masterpieces like Ikiru to the deservedly forgotten One Wonderful Sunday.
Not every Criterion offering has artistic pretensions—or subtitles. Here you'll also find The Blob, The X From Outer Space, and Carnival of Souls.
But I'm going to recommend a taut little French thriller from 1957 called Elevator to the Gallows. Louis Malle's first feature, and arguably the beginning of the French New Wave, Elevator offers a whole new Gallic twist on the classic perfect-crime-gone-wrong plot. A great film noir from the country that coined the term.
For additional classics, visit Kino Lorber and Miramax.
Strand Releasing: New, quirky, independent cinema
Hollywood blockbusters aren't necessarily the best new movies. Independent films are often richer, more complex, funnier, and sexier—even if they do have fewer explosions.
Many independent distributors have their own presence on Hulu Plus. I can wholeheartedly recommend Film Movement, IFC Films, Image Entertainment, and the aforementioned Kino Lorber.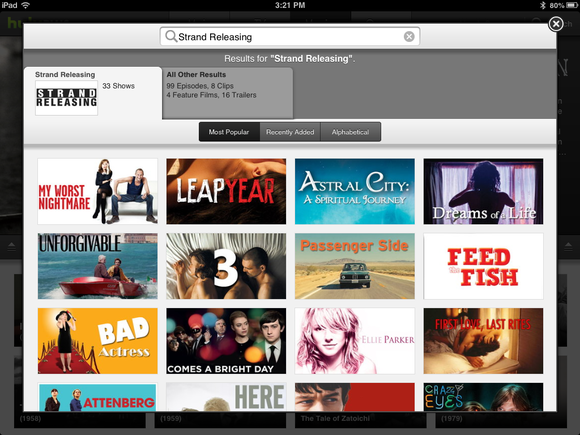 But if I had to pick one independent Hulu Plus studio, I'd go with Stand Releasing. Dramas like Oslo, August 31, coming-of-age stories like Attenberg, and documentaries such as Cameraman: The Life and Work of Jack Cardiff offer plenty of thought and entertainment.
My favorite film from Strand would probably be Bonsái, a quirky, very sexy comic drama from Chile. Cutting back and forth between two stories set eight years apart, it examines how the same young man handles love affairs at different times in his life. We also see how the earlier relationship shapes the later one. If you want to go into more depth, you can check out my review.
American Pop Classics: Just for fun
But enough about art. Sometimes you want to kick back and just watch something scary. Or something funny. Or something that was supposed to be scary but turned out funny. (I'm not sure I'd want to watch something that was supposed to be funny but turned out scary.)
This takes us to the corners of Hulu Plus that specialize in horror, low-budget mysteries, slapstick, and the pleasures of really bad cinema. But these come at a price—and I'm not talking about brain rot. Unlike the classier studios mentioned above, the movies shown here are usually broken up with commercials. And you can't fast-forward through them.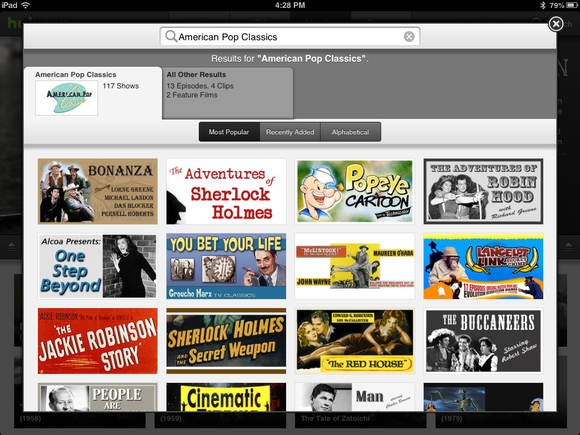 My favorite such destination is American Pop Classics, which appears to be someone's personal collection of odd and endearing entertainment. Among the trashier fare, you'll find several movies from Roger Corman's assembly-line studio, including Francis Coppola's first feature, Dementia 13. Who can resist titles like Creature from the Haunted Sea and Teenagers From Outer Space. You'll probably enjoy the original House on Haunted Hill, even though the streaming version lacks the special effect, Emergo, that enhanced the experience back in 1959: It was a plastic skeleton dangling over the audience.
(American Pop Classics doesn't restrict itself to features. It also includes TV shows like Bonanza, You Bet Your Life, and The Adventures of Sherlock Holmes. In fact, one of the programmers must be a real Sherlock Holmes fan. You'll find Baker Street adventures dating back to the silent era, as well Basil Rathbone classics from the 1940s.)
If you like your bad movies with commentary, check out American Pop Classics' Cinematic Titanic section. Here, veterans of Mystery Science Theater 3000 crack wise over such messterpieces as The Oozing Skull, Blood of the Vampires, and Santa Claus Conquers the Martians. (The other MSTK3 spin-off, RiffTrax, has its own home on Hulu Plus.)
One movie to check out on American Pop Classics is Cinematic Titanic's version of East Meets Watts, a blaxploitation/kung-fu hybrid from 1974. The movie itself is utterly forgettable, but the commentary by Joel Hodgson and his team, recorded in front of a live audience, kept me laughing almost to the point of asphyxiation. But I do wonder why none of them commented on the very Jewish jewelry worn by the African-American hero, Stud Brown.
Other entertaining, low-brow studios include Scott Entertainment and the Independent International Pictures Corp.
With a little bit of browsing, you can find a lot of good movies here. And some entertainingly bad ones.
[Updated at 11:21am pacific on 2/22 to reflect that you can search by studio on iOS devices.]