Nokia is spiffing up the music app on its Lumia handsets with a streaming service, as the Windows Phone maker struggles to gain popularity in North America.
Called Music+, the new service is an upgrade to the Nokia Music app, available exclusively on Lumia phones. It bundles Mix Radio, a Pandora-like service that streams artist-themed "radio" stations or channels. Music+ is expected to cost around $4 per month and roll out in the coming weeks.
The new features on tap with Music+ include unlimited skips if Mix Radio plays a song you don't like. You can also download as many mixes or channels to your phone as you want for offline listening; current users are limited to four mix downloads. Nokia Music will also offer a Web app component so you can listen to Mix Radio on a PC or Smart TV. Nokia didn't specifically say whether the Music+ Web app will work on tablets, but it sounds like it should.
Music+ will also get improved sound quality, which Nokia says will be eight times better than what Mix Radio now offers. The phone maker did not specify the type of technical improvement in Music+ songs, such as an improved bitrate. Listeners can also view a song's lyrics on the handset, as a scrolling list, Karaoke style, or a static display that can be scrolled manually.
Comparing rivals
If you listen to Nokia's spin for its new service, Music+ is an ideal alternative to competing subscription music services that cost $10 per month such as Spotify, or Rhapsody at $15 per month. A more accurate comparison, however, would be to Internet radio pioneer Pandora or Slacker Radio Plus. Similar to Music+, Pandora lets users create music radio stations that play a continuous stream of music. Pandora's premium service also costs $4 per month, or $36 per year (it's not clear if Nokia will offer a discount for yearly subscriptions). For Pandora's price, you get ad-free music, five hours of uninterrupted music, higher quality audio at 192K bits per second, and a desktop application. Pandora does not have an offline listening mode and does not offer a Windows Phone app.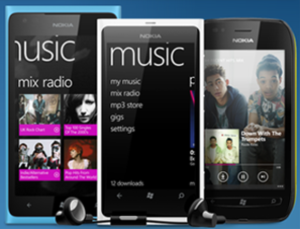 Slacker Radio Plus also costs $4 per month and is even more similar to Music+ since it offers song lyrics, unlimited song skips, and offline listening. Slacker Radio is also available for Windows Phone 7 and 8, giving it a wider reach than Music+, which comes preinstalled on Lumia devices.
But Music+ isn't really about competing with Pandora, Slacker, Spotify, or any other music service. Instead, it's to make Nokia Lumia devices more attractive to new and returning users. At least for now, anyway. Nokia already offers its apps for navigation and public transit to non-Nokia Windows Phone users, but so far Nokia Music and Music+ appear to be firmly entrenched in the Lumia camp.
It's not clear whether Music+ will help Lumia gain fans for the Windows Phone models, but just about any bump would be an improvement for Nokia's North American appeal. The company recently announced it shipped 4.4 million Lumia devices worldwide during its fourth financial quarter of 2012. But only 700,000 of those Lumia devices were shipped in North America. Apple, by comparison, recently announced quarterly iPhone sales of 47.8 million units.