A media player is only as good as the content it delivers, and no media player offers more video and audio options than Roku.
Roku channels open a world of entertainment, with channels that bring content from around the globe. But not all are worth space on your device. Each Roku model has limited internal storage for apps (though some offer a Micro SD slot to expand storage), so you should choose your channels wisely.
The Channel Store
Start building your channel lineup in the Roku Channel Store. Look beyond the basics (Netflix, Pandora, and so on) and you'll find some gems that aren't offered on other players.
You can access the Channel Store through your Roku device or by using Roku's website. Most channels are available for free, though some require a subscription for the content. Many channels also offer the same content on the Web, so you can check out their offerings before installing the channel. (And fear not: Deleting a channel is just as easy as installing one if you find it's of no use to you.)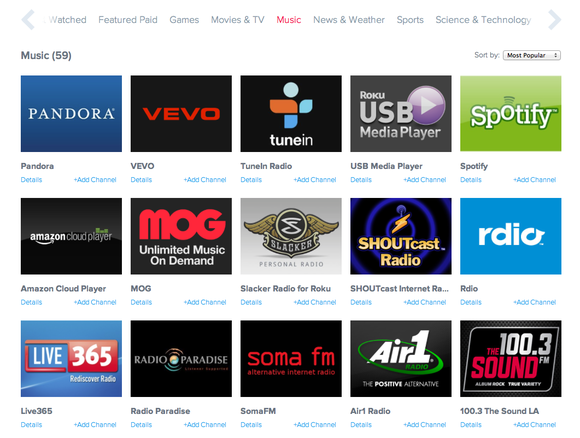 Watch something
Many people choose a Roku as a cable replacement, so the channels that stream movies and television shows are the most popular. Even if you have cable, a Roku device can extend your viewing options. Here are some channels you don't want to miss.
HBO Go: If you're an HBO subscriber through a participating provider, you can use your Roku to access the premium channel's on-demand movies and shows. For me, this alone is worth the price of a Roku. And I can find shows much more quickly than through than my cable provider's on-demand option.
Amazon Instant Video: Paying $8 a month for Netflix streaming isn't the only way to watch thousands of movies through a media player. If you're an Amazon Prime subscriber, you can access more than 33,000 movies and shows for free through the channel, as well as rent newer movies. The Roku interface makes it easier to find shows than Amazon's website does.
MLB TV, NBA Game Time, and NHL GameCenter: Sports fans don't have to rely on cable to get their sports fix. With subscriptions, MLB TV and NHL GameCenter bring every game to you live and on-demand, while NBA Game Time hooks you up with highlights for free.
Listen to something
Roku boxes provide an easy way to connect your sound system to the Internet and tap into the world's largest jukeboxes.
TuneIn: If Pandora's free Internet radio option doesn't cut it anymore, try TuneIn. This app gives you access to live Internet radio streams, including many from terrestrial sources like ESPN and NPR affiliates, as well as on-demand programs like All Things Considered and Piano Jazz.
Vevo: Want to know why MTV doesn't show music videos anymore? Because channels like Vevo give you on-demand access to 50,000 videos at any time.
Spotify: Spotify Premium subscribers can access their playlists or pick any of the 20 million or so songs the service offers. Google TV and Apple TV don't offer Spotify access.
Learn something
Some channels are about more than entertainment—they aim to teach as well.
TED: Those TED Talks you've seen on your computer look great on a bigger screen, too. With topics covering the spectrum of knowledge, these videos prove that being informative doesn't need to be boring.
MIT Opencourseware: MIT helped pioneer the massive online open course (MOOC) movement. With this channel you can follow class sessions led by world experts on computer science, math, literature and a whole lot more—and you don't need to pay tuition.
Private channels
Your Roku has more channels available than you may know: Private channels are unlisted options that bring even more potential entertainment to your media player.
Roku doesn't review or approve private channels, and you can't access them through the Channel Store. You have to know the code for a private channel to install it. You can find lists of private channels and their codes at sites such as Roku Guide and Roku Channel Database.
Private channels run the gamut from options that help fill in programming gaps to niche channels that focus on topics that smaller audiences would find useful. (And, like the Internet in general, you'll find plenty of porn channels, too.)
To add a channel to your device, first find its invitation code (the sites above can provide many of them). Then go to Roku's website and sign in to your account. Under Manage Account, click Add a Private Channel, and enter the code. The app will be installed on your device.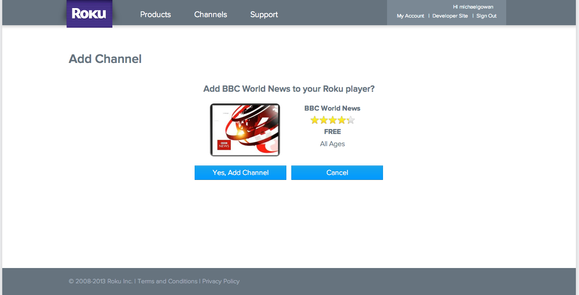 A word of caution about private channels: They can stop working without warning or reason, often because the original source content has changed or the developer stops maintaining the channel. And because the channels are often labors of love for the developers, don't expect your watching experience to be as polished as channels you find through the official Channel Store.
With that in mind, here are some excellent private channels to start with:
Nowhere TV: This channel acts like a hub for many television channels and shows that are missing from the official Roku lineup. You can watch clips from CNN or local news stations; get on-demand content from PBS, NBC, CBS, and others; and access a ton of public-domain shows and movies from Archive.org.
BBC World News: Watch a live stream of BBC News. This is the feed from Great Britain, not the international version.
VideoBuzz: Strangely, Roku has no official YouTube channel. VideoBuzz takes care of that and provides access to YouTube's content.
CNN: You can watch CNN clips through Nowhere TV, but this private channel also includes the CNN International live feed.
Coming soon
Roku's official channel options have really exploded in the past year, jumping from about 300 to 700. Several that have been announced but aren't yet available promise to be worthy of space on the device, including the Time Warner Cable channel that will stream 300 channels (subscription required), as well as PBS and PBS Kids channels.
2 XS
Price When Reviewed:
$100