I have a dream every holiday season. It's Christmas Eve, and I'm sitting in front of a roaring fire. Christmas carols are echoing through the living room. Faithful friends who are dear to me gather near to me. The scene is something out of a Hallmark card.
Now if only my fireplace would co-operate.
Unfortunately, the fireplace in my house may as well have been stamped "For Display Purposes Only." The fireplace seems to have been designed by people with only a passing familiarity with fire safety codes. It's built shallow and the hearth is practically non-existant. What I'm trying to say is, one spark from the fireplace and my Christmas tree will be lit up all right, but probably not in the manner that local fire marshals would find advisable. So like millions of apartment dwellers or people who live in fireplace-free homes, it seems that I'll be dreaming of a Yule log-free Christmas.
That is, unless I take this holiday traditional digital.
If you're a sucker for tradition but a bit trepidatious around open flame, you can still enjoy the visual delights of your very own Yule log with none of the fire hazards. All you'll need is a TV and a streaming media box and you can enjoy the figurative-though-not-literal warming glow of a digital Yule log.
The digital Yule log, of course, traces its roots back to 1966, when a mad genius by the name of Fred M. Thrower fretted about how New Yorkers without fireplaces might enjoy the cozy feel of a Yule log. Since Fred M. Thrower also happened to be CEO of WPIX-TV, he was actually in the position to do something about it. And he do something he did: he had his channel air footage of a Yule log burning on the TV screen. The idea turned out to be a smash and quickly spread to other TV stations in other cities across the country.
Taking Fred M. Thrower's innovation into this century is simple, provided you've got a cool head and a set-top box that either lets you connect to YouTube or, better yet, one of Apple's mobile devices.
The YouTube option
The easiest way to get a holiday fire roaring on your TV is to let the people uploading videos to YouTube do all the hard work for you. All you need is a streaming box with its own YouTube channel. Both the Apple TV and Chromecast let you watch YouTube on your big-screen TV, as do the latest gaming consoles from Microsoft and Sony. And last week, a YouTube channel finally arrived on Roku 3 players just in time for the holidays. Truly, it's a Christmas miracle!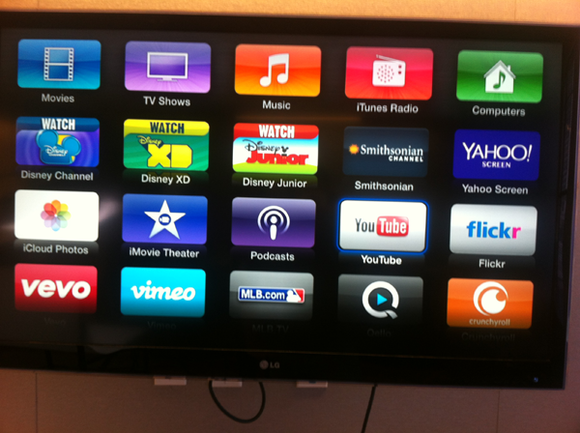 So navigate your way to your device's YouTube channel and search for "Yule Log." You'll want to eyeball the videos to make sure that the picture quality, sound, and run time are up to your exacting standars, but here are a few that we found sufficiently jolly as part of our search.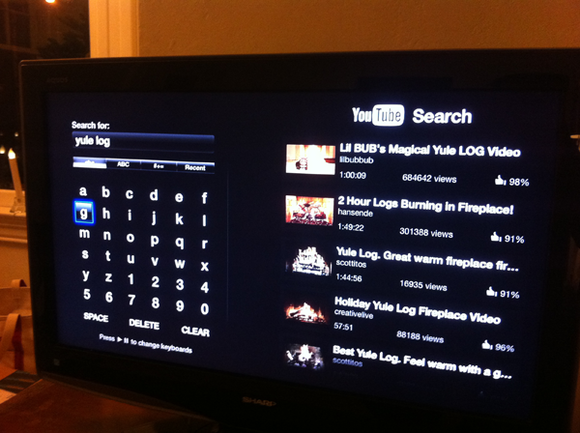 There's a problem with these videos, unfortunately: The virtual fire may go out long before you're ready to stop celebrating the holiday, and getting videos to loop on your set-top box may require manual intervention, reducing your holiday cheer by at least 10 percent. You're also at the mercy of whatever audio comes with the video, whether that's a crackling fire (good!) or holiday music that sounds like it's being tapped out on a Casio keyboard (less good). If you have the time and the good sense to listen to the advice of my colleague Christopher Breen, you can find other ways to fill your home with holiday music. But let's not kid ourselves: Old St. Nick's sleigh is almost here and you've not much time to get your living room into the holiday spirit.
The AirPlay option
If relying on the vagaries of YouTube doesn't sound like a great plan for spreading holiday cheer, there's another trick you can try—provided you've got an Apple TV and an iOS device handy. Through the magic of AirPlay—the streaming technology that lets you wirelessly stream audio and video from your iOS device to your high-definition TV—you can deliver a crackling fire, Prometheus-like, to the big screen. You'll need an iPhone 4S or later, a fifth-generation iPod touch, or an iPad 2 or later to make your TV show exactly what's on your iOS device. And in this case, that's a cleansing blast of fire.
Now all you need to do is find a half-decent fireplace simulator in the iOS App Store, and here, I'm afraid, the pickings thin out just a tad. While in the early days of the App Store, any developer with a rudimentary knowledge of coding could whip up an app that simulated a roaring fire, many of those apps have gone years without an update. In my testing, only two apps pass muster, and both come with significant caveats.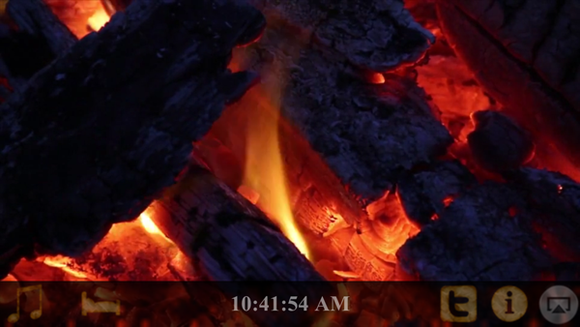 Fireplace HD+ has the benefit of having gotten an update this calendar year. It gives you a choice of five different fireplaces, though a few are cheesier than others. (Seriously, there's an animated flames option that wouldn't look out of place in A Heavy Metal Holiday Christmas special from the 1980s.) The app offers a selection of radio channels, and you can even search for channels by artist or song title to help slightly personalize the musical accompaniment for your holiday fire. The app supports AirPlay streaming to your Apple TV, and while I had better performance without enabling the radio music, the $1 Fireplace HD+ gave me a nice fire on my TV with a minimum of fuss.
But you know what? I like to pick my own music to play alongside my digital Yule log. That's why the app of choice for Michaels family holiday gatherings has been A Very Cozy Fireplace HD. Like Fireplace HD+, it costs $1, runs on both an iPad or an iPhone, and beams a burning log to your Apple TV-connected monitor as if by magic. And it also give you the option to have musical accompaniment, including Playlists from your device's Music library. It's pretty glorious.
Or at least, it was. The jump to iOS 7 hasn't been kind to A Very Cozy Fireplace HD. As the developer acknowledges on the app's App Store page, "playing your own iPod music along with the fire video over AirPlay to an Apple TV can have mixed results" for iOS 7-powered devices. In my case, "mixed results" means "wouldn't work at all." I can stream the crackling fire just fine, but adding my own music causes the app and my Apple TV to stop speaking to one another. While that may be a nice recreation of many family gatherings over the holidays, it's not what I'm looking for in a festive app.
Ah, but before you cancel Christmas—or hope for a last-minute update to A Very Cozy Fireplace—I found a workaround that just might save the holiday. If you've got an old iOS device lying around that you've not yet updated to iOS 7, AirPlay streaming on A Very Cozy Fireplace works as intended. I dug into my personal Isle of Misfit Toys for an aging iPhone with a cracked screen; it's not much on looks, but it's still running iOS 6, so I'm able to enjoy a roaring fire and my own music on my Apple TV courtesy of A Very Cozy Fireplace, just like Fred M. Thrower would have wanted.
This article updates a previous post with the most recent information as of December 23, 2013.