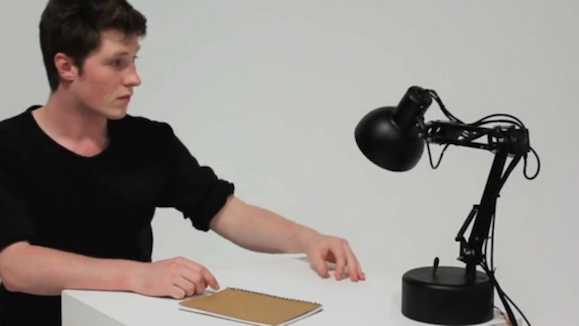 Meet the Pinokio Lamp. The brain child of Adam Ben-Dror, Shanshan Zhou, and Joss Dogett, the Pinokio Lamp is something that will instantly be familiar to anyone who has seen a few Pixar films. Except for its inability to hop across your desk, it's basically the Luxo Lamp from the beginning of every Pixar film made into hypothetical flesh.
Comprised of six servo motors, a hacked webcam, a mechanical iris, and the ever-necessary Arduino board, the Pinokio Lamp, as spotted by Hack A Day is an almost disconcertingly expressive lighting fixture.
Like an overtly affectionate puppy, the Pinokio Lamp will constantly strive for your attention. Ignore it, and you can expect entreating stares from the device. ◉︵◉ How it's capable of conjuring the mental image of a puppy-dog stare, though, is something completely beyond me.
According to the video, all interactions and behaviors are procedurally generated with the Processing programming language and the Arduino board. It can also track your face, a fact that is integral to its weirdly sentient conduct.
Seriously, though, if this is was the future of robot sovereignty looks like, life doesn't seem as bleak as science fiction would have you believe. Life with a desk lamp that will cutely flick itself back on (and possibly taser you for your impudence) doesn't sound all that bad at all.
Get more GeekTech: Twitter – Facebook – RSS | Tip us off