Google is reportedly working on an open alternative to the AirPlay functionality in Apple TV as the next phase opens in the battle for the living room between the search giant and Apple and Microsoft. Google is hoping to convince a variety of device and software makers to support the new open AirPlay initiative, according to GigaOm. It's not clear if the search giant is hoping to create a consortium for its open AirPlay plans similar to the Open Handset Alliance, which supports the development and distribution of Android devices.
Apple's AirPlay feature allows you to wirelessly send video and audio content from an iPhone, iPod Touch, or iPad to an Apple TV set-top box. Google's version of AirPlay would also support so-called second-screen experiences where auxiliary information such as actor biographical data is displayed in real time while you're watching a movie. Apple TV also offers second-screen features primarily for iOS games. Google recently introduced an AirPlay-like feature that lets you send YouTube videos from an Android device to Google TV in a recent software update to the search giant's Web-meets-broadcast TV service.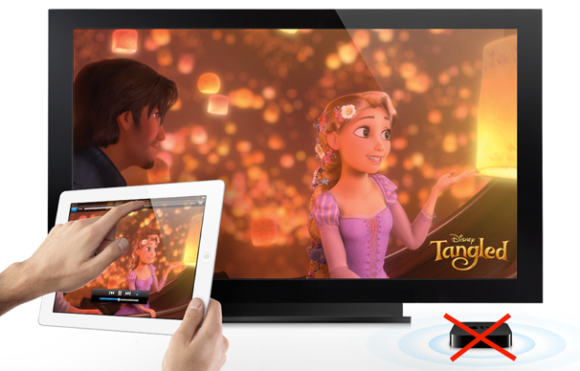 The ability to easily transfer content such as movies, television episodes, photos, and Web browser sessions to your television from a smartphone will soon be an essential part of anyone's tech set-up. Many home networks already include several PCs, a tablet or two, and two to four smartphones, all of which are capable of downloading content that would look much better on a big screen. The problem is, unless you have an iOS device and an Apple TV or wanted to struggle with wires, there hasn't been an easy way to do this.
Technology companies have tried other standards and specifications such as Bluetooth to help TVs talk to mobile devices, but none have yet been as popular or effective as Apple's AirPlay. One of the keys to AirPlay's success is that it features auto-discovery between devices and Apple TV. It requires very little set-up, and users can send content to a TV with just one click.
Microsoft recently debuted its own version of AirPlay functionality as part of the company's quest to turn the Xbox 360 into the central living room device tying together all your devices. Called Xbox SmartGlass, the new functionality will let you send content from a Windows 8 tablet, smartphone, or PC to an Xbox 360 console. This can include movies or other video content, music, and Web browsing sessions. Xbox SmartGlass can also display second-screen information while you're watching a movie or television episode. In June, Microsoft showed off a SmartGlass demoof viewing an episode of HBO's Game of Thrones while a tablet displayed an interactive map of Westeros, the fictional setting for the series.
Although dependent on having an Xbox 360, SmartGlass is a fairly cross-platform solution available as an app for Android and iOS, as well as Windows 8 and Windows Phone. It's not clear if Google's solution would also be cross platform or simply target Android devices to work with Google TV similar to how AirPlay requires iOS and Apple TV.
With so much content available on any number of devices, the ability to transfer that data without wires will be a key feature for any living room entertainment technology hoping to gain a foothold in the U.S.