At a Glance
Expert's Rating
Pros
Problems with original product have been addressed and fixed.
App is nicely organized and provides a lot of data.
Cons
Can't connect using Bluetooth.
App is the only way to view data, there's no website option to track progress.
Our Verdict
This latest version of the Up addresses the issues with the original, while keeping the benefits of a solid device that gathers a good assortment of data. However, the lack of Bluetooth is a drawback.
It's almost 2013. If we're going to live healthier, we at least want little electronic gizmos to help track our progress, keep us motivated, and maybe let us engage in some (healthy) competition with our friends. And there's an increasingly-competitive market for such smartphone-friendly fitness trackers, like the latest offerings from FitBit and Striiv.
Jawbone, the company made famous for its Bluetooth speakers and headsets, tried to dive into this market a little more than a year ago with a wristband called the Jawbone Up, which was meant to track your steps, sleep, diet, and more. But that release quickly turned disastrous for the company, which was soon inundated with reports of Ups that stopped working. Jawbone announced a refund program, where any original Up owners could return the wristbands or keep them, and get their money back either way.
Now, the company has re-released the Up—and company executives assure me that the product is "entirely rebuilt from the ground up." So in reviewing the Up for the past week, I had several questions on my mind: Is it any good? Is it better than the competition? And is it going to die like the old ones did?
Here's what I found.
The physical band: The good
The $130 Up ships in three sizes (small, medium, and large) and eight colors (orange, mint green, hunter green, light blue, onyx, red, navy blue, and light gray). I reviewed a large onyx Up. The band's exterior is a flexible, medical-grade, hypoallergenic TPU rubber. The small band weighs 19 grams, the medium band weighs 22 grams, and the large weighs 23 grams. My large Up feels like a light watch on my wrist.
There are two silver-colored ends on the band. The smaller silver nub is a button. The longer silver end is, in fact, a removable cap. Pull it off to expose the Up's integrated 1/8 inch (3.5mm) plug—more on that in a moment.
I like the way band looks on my wrist. Most people don't notice it as anything more than an understated fashion accessory, and I'm happy to dish about the Up to anyone who asks. It goes on and off easily.
The band is plenty flexible, and it's waterproof, too. And this time, Jawbone means it. The original Up was meant to exhibit those qualities, but the company found that the failures of the original bands was attributable to two sources of damage: physical breaks due to the old design's fragility, and microscopic water ingress.
On the fragility front, Jawbone realized that typical consumers saw the Up like a wristwatch, and treated it similarly. But in a wristwatch, all the important innards are localized in one spot—behind the watch face. With the Up, the goods are present throughout the band. The redesigned band is built to be considerably more flexible, with extra give for the chips on the inside.
Regarding water ingress, Jawbone concluded that the existing standards for waterproofing hardware didn't apply to its needs: You're meant to be able to wear the Up in the shower, while washing dishes, in the rain, and while drinking with tipsy friends. The company now tests the Up with dunk tests not just in water, but in soapy water, shampoo, and even booze.
Despite knowing all that background, I'll admit I was nervous the first few days wearing the Up in the shower or while giving my kids baths. But I did it, and my Up continues to work great. And while I haven't grabbed the two ends of the band and yanked and twisted as hard as I could, I haven't treated it extra gingerly, either.
When you're ready to go to sleep, you push in the button on the Up. A tiny integrated LED lights up very briefly to indicate that the Up is now in sleep mode. You can configure various options with the Up app, which I'll cover in more detail later. But the most important ones are a time window during which the Up can wake you silently (by vibrating), and—in daytime mode—its ability to vibrate after an extended period of inactivity to remind you to get moving again.
The physical band: The bad
My one knock on the band is the aforementioned cap and plug. Jawbone is a company with years of expertise in Bluetooth; the Up is the only shipping Jawbone product that lacks Bluetooth integration. Fitbit's products, the Nike Fuelband, the Striiv Play—all these trackers sync wirelessly. Not the Up. Instead, you pull that cap off, expose the plug, and insert it into your iPhone's headphone jack. (Jawbone stresses that your Up must be dry before you do this.)
Syncing takes only a couple seconds with the Up plugged into the iPhone. But it means that this band—which you're meant to be able to wear 24/7—needs to come off each day when you want to sync. It also means that the Up can't offer any realtime feedback. The Fitbit Zip in my pocket uses Bluetooth Low Energy (BTLE) to sync to the Fitbit app on my iPhone even when I'm not running the app; it can pop up an alert on my iPhone telling me I'm only 4000 steps from my goal for the day. The Up can't do that. It can sync only when it's plugged in, which means it's always lagging behind. The Up's lack of an integrated Bluetooth solution costs it a full half-point in my rating.
To make the annoyance worse, the tiny cap detaches completely. I haven't lost mine yet, but Jawbone sells replacement caps (though no price was yet available at press time) because losing a removable part that tiny feels nearly inevitable.
Beyond syncing, the integrated Up plug is also used for charging. It plugs into the included small USB cable, which you plug into your own USB outlet adapter or port. You get 10 days of battery life on a full charge; a full charge from empty takes 80 minutes.
The app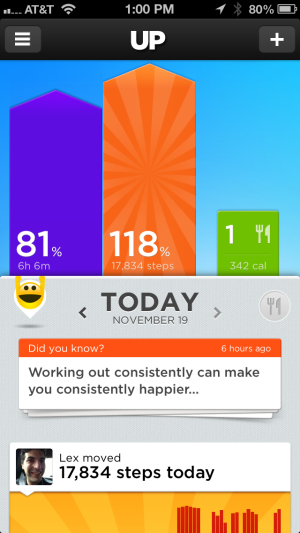 The Up app is actually quite lovely. You get beautiful, tappable charts showing your steps taken over time each day. The chart includes extra data, like the number of miles you trekked with all those steps, your total active time during the day, the calories you burned, and your longest active and inactive/idle times. The sleep chart includes your total time asleep, breakdowns of your time in deep and light sleep, the amount of time it took you to fall asleep, how long you spent in bed, how many times you woke up during the night, and how long you spent awake.
The Up app includes other clever features, too. Lifeline shows a long, scrollable combined chart, walking you through your steps and sleeping charts. Trends lets you see your broader progress charted over time; you can customize those bar charts to change what data they show.
The app also lets you track your diet, mood, and exercise. Tap on the smiley face, and you record your mood with a painfully clever interface: Drag up and down on the yellow face to adjust its mood across a variety of different enthusiasm (or weariness) levels. You can add a custom status update, too.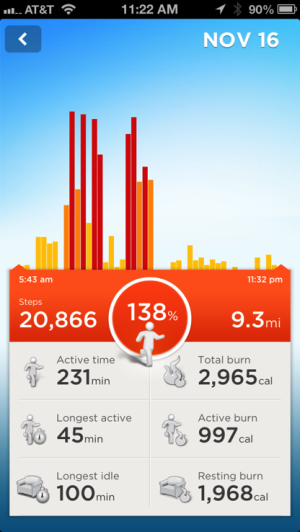 For food tracking, the Up app offers a few options. You can photograph what you ate, scan a barcode from product packaging, choose from Up's gallery of food photos, or search for food items by name. When possible, the app offers up nutrition data for the foods you log; when that data isn't available, you can opt to provide that data yourself. If you perform exercise, you can log that, too. The Up app calculates how many calories you burned with your workout as well.
You can add friends in the Up app; the app can search your address book and your Facebook friends list for contacts who also use the Up. You choose how much data your friends can see. Up's timeline shows (depending on your friends' privacy settings) how your friends are sleeping, what they're eating, and how many steps they're taking. You can comment on everything, too—whether to cheer your friends on, or to trash talk or admire their step count, hours of sleep, or dietary choices.
(This is another reason the lack of Bluetooth is a major bummer. If you haven't synced manually since 9am, your friends have no idea about the 12,000 steps you've already taken today; they see you as a couple-hundred-step slacker.)
You'll also use the app to set the Up's internal alarm. You choose what time to wake up, and which days the Up should wake you. You give the app the absolute latest it can wake you, and the band will consider waking you as much as thirty minutes earlier. The idea is that the band will vibrate you awake at the optimal time to leave you feeling the most refreshed: It's easier to wake up if you're in a period of lighter sleep.
Other miscellaneous notes
I work at a treadmill desk. (I wrote this review at 2 miles per hour.) While you needn't swing your arms wildly as you walk for the Up to track your steps, the band does need to monitor vibrations from your footsteps. Because my wrists rest on a soft pad as I type at my treadmill desk, the Up didn't notice my steps unless I dropped the band into my pocket while treading. I don't fault the Up for that limitation.
I am, however, disappointed by the Up's inability to log some other footsteps I take. I noted that the band would occasionally signal me with that vibration that warns you about prolonged periods of sedentariness—even though I'd been moving about. I found that generally happened when I was carrying my one-year-old son as I walked, or when I toted other stuff with some heft to it. I had the Up set to vibrate after 45 minutes of inactivity. When a leisurely dinner concluded one night, I grabbed a stack of dishes to take over to the dishwasher; as I loaded the dishes in, the Up vibrated—having failed to note my dish-porting steps.
In truth, I think this only cost me about 10 percent of my steps on the days the issue cropped up—that's compared to other trackers I used simultaneously. So it's not a huge deal, but obviously, you want credit for all the steps you take.
The Up includes another an option for taking power naps. You double-tap and then hold down the Up's button to enter power nap mode; the band will vibrate to wake you between 25 and 45 minutes later, ideally waking you at the optimal time for leaving you the most refreshed
Unlike Fitbit, Jawbone does not offer a website to check on your Up-tracked data; you'll need to rely on the iOS app to see that information.
Bottom line
Despite the Up's flaws, I really like it. I'm convinced that next year's Up will include Bluetooth, which will make it significantly better than this year's iteration. I'm optimistic that Jawbone successfully fixed the issues that marred the original Up's release. (Given the company's generous handling of that flawed initial launch, I'm confident assuring curious customers that they can buy the new Up without fear of failure; if the device does die, Jawbone's customer service handling should be top-notch.)
The Up is stylish, comfortable, and resilient. And it's pretty good at what it's meant to do: I appreciate the vibration to nudge me to get moving, I like the silent alarm, and I love the data that the band gathers. While the Fitbit and similar devices motivated me to keep walking because I wanted to log good numbers and keep up with my friends, making sure I'm moving enough to avoid that Vibration of Laziness provides an extra layer of inspiration.