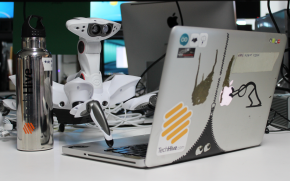 They build cars, assemble TV panels and vacuum floors. But can robotsbuild an iPhone?
For Foxconn, the manufacturing giant that builds Apple's iPhone, it's an enticing prospect, and one that could not come at a better time. The Taiwan-based firm employs more than a million people at its factories in China, but lately it has come under fire for alleged mistreatment of its workers. Last month it was forced to close one of its biggest plants for a day after thousands of workers rioted. And Foxconn has been facing labor shortages and is hiring recruits as young as 16 to staff its factories.
There are signs that Foxconn is keen to embrace robots as a solution. CEO Terry Gou made headlines last year when he said Foxconn planned deploy a million robots over the next three years to perform assembly line tasks. Soon after, the company broke ground on an R&D facility devoted to "intelligent automation."
But while it's tempting to imagine row upon row of shiny robots piecing together the "iPhone 6," some experts said that's unlikely to happen soon. They cite the cost of deployment, the need for flexibility to meet fast-changing production orders, and the type of detailed work involved.
Foxconn, which also makes products for Microsoft, Nintendo and others, declined to discuss its robot plans, citing "commercial sensitivity." But according to one Foxconn worker at a plant in Zhengzhou, robots are already used in the production of the iPhone 5 and iPhone 4S, but only for basic assembly line tasks.
One type of robot is programmed to remove iPhones from 24 testing bays after their Wi-Fi functions have been checked. "To use a metaphor, it's like 24 bread ovens," said the worker, who asked not to be named because he is not authorized to speak for the company. "When the bread has been baked, the door to the oven opens and the robot removes it and places it back on the assembly line."
In a sense, the robot is doing the job of 24 people and helping to streamline operations. But for now, Foxconn's robots are used primarily for these "pick and place" tasks, and have yet to advance to the stage of assembling parts, said an analyst with first-hand knowledge of the manufacturing work involved, but who wished to go unnamed.
"I don't see how robots will be able to assemble (the iPhone) in the near future," the analyst said, citing the detailed work involved. Building an iPhone involves hundreds of small steps that are each handled by hundreds of workers along the assembly line, according to the analyst.
The work includes pushing thin wires through holes only slightly larger in diameter than the wire itself, she said. Other tasks include laying Kapton tape, a type of industrial tape, in narrow crevices along the sides of components. While the work is easy for humans, robots are ill-suited for the task, the analyst said.
Other robotics experts took a similar view, saying cheap labor is still a better option for many device makers. Salaries at Foxconn's factory in Zhengzhou start at 1800 yuan (US$284) per month, and workers interviewed there have said the assembly line jobs require little training. Foxconn has expressed an interest in expanding into Indonesia, where labor costs could be even lower.
Robots are widely to manufacture automobiles, and are also used to build larger electronics products and for semiconductor manufacturing. But the "end effector" on robotic arms — basically the robot's hand — is often a simple, two-position device that lacks the dexterity of a human hand, which limits the use of robots in complex parts assembly.
"It's relatively easy for you [a human] to put a cable in a socket. You'll be able to fit it in every time," said Mikael Hedelind, a researcher at ABB, a major vendor of industrial robots. "But let's say you close your eyes and do the same thing, that's going to be much more difficult. (Robots) are very limited in visual sensing."
That's not to say robots can't do the job, according to Hedelind. He believes the technology needed for robots to build iPhones is available now, but says high costs and the way the robots would need to be programmed for each task can make their use impractical.
Apple may also play a role in the decision. Some products are designed as the outset for automatic assembly, he said. "How difficult it would be depends on the design of the phone." The rate at which product designs are refreshed also plays a role, since frequent changes mean robots must be reprogrammed more often.
Despite the challenges, Foxconn's investment in robots is likely to push the industry towards greater automation. George Zhang, senior principal scientist with ABB, said its plan to deploy a million robots is both aggressive and ambitious. He thinks Foxconn will eventually replace human workers for much of its electronic assembly.
Besides working tirelessly, robots are immune to many harsh environments where exposure to chemicals and noise can be harmful to people.
ABB has developed a prototype robot intended specifically for building consumer electronics products such as smartphones, which it says can work alongside humans and adapt easily to different production needs. Called FRIDA, it has two arms, each with seven joints, and is being tested now at factories. The robot is portable, making it easy to remove from the assembly line and replace with a human when a production order changes.
Getting manufacturers to buy the robots will be a challenge if it's more economical to outsource manufacturing to countries like China. But that could change if cheap labor becomes more scarce, robots get more affordable, and scrutiny of labor conditions intensifies.
"It's not about finding a solution that can replace humans," Hedelind said. "It's about finding the balance. That's going to be the major issue."