It's a safe bet to assume that countless tech enthusiasts, myself included, were excited to finally get their hands on OS X Mountain Lion. But what about those less educated consumers—say, someone who was possibly browsing the Mac App Store early Wednesday morning and decided to give Apple's now retired big cat, Lion, a try?
Right up until Apple flipped the switch and made Mountain Lion available to the masses, Lion was still available to buy at its full original price. In fact, the OS was still the second most popular paid app on the story only hours before Mountain Lion arrived. For it to chart means a substantial number of users were still offering up the $30 for Apple's year-old OS. Sure, some of those downloaders would have been educated purchases made fully aware of Mountain Lion's release, but I'm willing to bet a sizable number of those purchases were made with a lack of knowledge.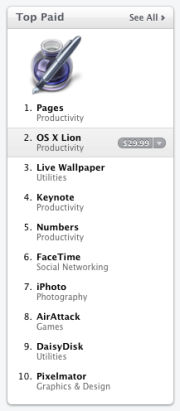 Lion's product page made no mention of the impending launch of its successor, and although some may argue that it didn't need to, the lack of clarity is causing frustration among some users.
If you have purchased Lion recently, getting a refund may be tricky as Apple's policy isn't clear, and although there are some methods you can try to get your money back, they can be fairly hit and miss. When I spoke to Apple Customer Support, they couldn't provide me with a straightforward answer.
Apple currently offers a free upgrade to Mountain Lion if you bought Mac hardware in the last month or two via its Up-to-Date Program, but this is strictly a hardware only affair—Apple has no similar offer for those who just bought Lion in the last few weeks.
A customer walking into an Apple Store or shopping on Apple's website probably would have learned about the impending OS upgrade. Sadly, the Mac App Store offered no hints whatsoever that 10.8 was on its way. Apple could have been circumvented this issue with a notice on the Lion product page, but cannibalizing sales in this way would be unattractive to any business, let alone Apple. Another way would have been to offer pre-orders for upcoming software, this might seem trivial for a readily downloadable product, but it would be a good way to inform the uninformed.