One of the biggest trends at this year's IFA is 4K TV, which improves on today's high-definition TV with four times the number of pixels than current sets, but HBO's CTO Robert Zitter hesitates over the technology's chance to make it big.
The TV manufacturers are under pressure to find new ways to convince consumers to upgrade, and not just buy the cheapest set. At IFA, all the major TV manufacturers showed 4K sets, which have a resolution of 3840 by 2160 pixels. (Today's "full HD" resolution is 1920 by 1080 pixels)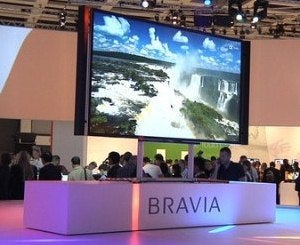 But to get 4K content to those sets, HBO and the rest of the TV industry would have to throw out its current production and distribution infrastructure and build a new one — something most broadcasters and content providers only recently completed with the switch from standard to high definition.
"That makes us look at 4K somewhat skeptically. From my perspective, I have looked at 4K and we are prepared to, if it really comes to pass, maybe offer it on an on-demand basis," said Zitter.
[See also "HDTV Buying Guide: Select the Right Flat-Panel Technology."]
The reason Zitter is skeptical over the commercial potential for the technology is the TV sizes needed for consumers to see a difference between the current "full HD" and 4K content.
"They need a screen size that is greater than 60 or 70 inches. You can't see the difference on a screen that is smaller than 60 inches," said Zitter.
When the investment was made to upgrade to HD, it was made with the knowledge that all TVs would change to HD, as well.
"But how many people in the United States or anywhere are going to have TV sets that are bigger than 60 or 70 inches? 20 or 25 percent," said Zitter.
The executive is similarly skeptical of 3D formats the require the viewer to wear glasses, but he sees a chance for 4K paired with no-glasses 3D.
3D without glasses, which uses autostereoscopic technology, and 4K could maybe help both technologies to become more popular, according to Zitter. Autostereoscopic technology typically lowers the resolution of the image so combining it with 4K would result in a 3D picture at the resolution to the same level as current HD broadcasts, he said.
Also, there is one thing that Zitter is keeping his eye on that may change everything he has said about 4K's potential. A company called NDS — which was recently purchased by Cisco Systems — has been showing TV panels without edges that you can put together on wall.
"That may allow people to have larger TVs over time, if that technology ever proliferates," said Zitter.
A big part of life at HBO is the encoding; turning the recorded content into something that can be distributed to a TV or a tablet. In the last year and a half, HBO has changed the equipment used to do this twice, according to Zitter.
"We have just improved our encoding to where we have been able to lower the date rates for HD from 3.4M bps and do the same quality to about 2.9M bps. That's good for everyone in the food chain, because streaming costs are lower and you get a higher quality without using as much data," said Zitter.
Zitter expects bandwidth requirements will be halved with the introduction of HEVC (High Efficiency Video Coding), a new encoding technology due in about two years.
Even though he is a veteran in the TV business, Zitter still gets excited about the development of new technologies, like TV on the go and the ability to make programming more personal, and the opportunities they bring.
"I have been around a long time, but the reason I am hanging on is that I think this transition from the old to the new is really exciting and I want to be apart of it."
Send news tips and comments to mikael_ricknas@idg.com