Hoping to boost sales of its 3D televisions among gamers, LG showed off technology that lets traditional split screen multiplayer games be played full screen.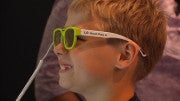 Called Dual Play, it works by making a 3D display essentially two 2D displays overtop each other: Rather than sending different images to the left and right eyes of one player, it sends different images to the left and right players. One player wears a set of polarized 3D glasses with two left eye lenses andadd the other player wears a set with two right eye lenses. That allows each player to see their own section of the game full screen, but only in 2D.
To see the Dual Play system on show at the IFA consumer electronics show in Berlin, watch the report on YouTube.
LG said the technology works with any of its Cinema 3D televisions and the glasses will be included with LW980 televisions, which will ship later this month, according to an LG spokeswoman at the company's booth. She also said that users could make their own Dual Play glasses by just swapping lenses.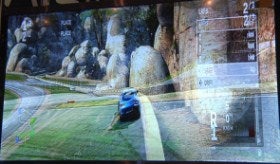 The TVs can toggle between a traditional split screen view, or the Dual Play view which, without 3D glasses, looks confusing as two screens are stacked on top of each other.
Dual Play isn't a new idea. At the E3 game conference earlier this year Sony showed a 3D TV with the technology, though the display measured just 24 inches. Another difference between the Sony and LG products is that LG's uses cheaper polarized glasses, while Sony's model uses more expensive active shutter glasses.
The technology demonstrates another use of 3D beyond just watching movies. With it LG and Sony are hoping to convince more consumers to upgrade from their traditional 2D displays and gaming content has proved especially helpful in the transition.
Nick Barber covers general technology news in both text and video for IDG News Service. E-mail him at Nick_Barber@idg.com and follow him on Twitter at @nickjb.