Toshiba will show its no-glasses 3D television for the first time outside of Japan in January at the International Consumer Electronics Show in Las Vegas.
Unlike other 3D televisions that require viewers wear a pair of glasses, Toshiba's TVs achieve the illusion of depth thanks to a thin sheet of small lenses in front of the display. The lenses split light from the screen to one of nine points in front of the TV. If the viewer sits in one of these sweet spots they see the 3D illusion.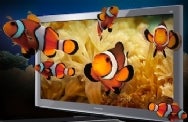 The TV was first unveiled at October's Ceatec show in Japan and drew long lines from people eager to see it. (See video of the Ceatec launch on YouTube.)
"It has been three months, I think we should show [the TVs] with better technology," said Masaaki Oosumi, president of Toshiba's digital media network unit. He was speaking to a small group of reporters late Friday at a Toshiba event.
At Ceatec Toshiba showed two models, a 12-inch and a 20-inch television. At the time, Oosumi recognized the need for larger screen sizes for markets outside of Japan and said the U.S. market demands screens of around 40-inches and larger.
Both models are due on sale in Japan before the end of the month. The TVs will cost around ¥120,000 (US$1,430) and ¥240,000 respectively.
Oosumi didn't provide any more details about Toshiba's CES plans, but he did confirm the company would be working on making larger screens in 2011.
"Next year is the key year to extend development of the technology and extend the screen size," said Oosumi.
The International Consumer Electronics Show runs from Jan. 6 to 9 at the Las Vegas Convention Center.
Martyn Williams covers Japan and general technology breaking news for The IDG News Service. Follow Martyn on Twitter at @martyn_williams. Martyn's e-mail address is martyn_williams@idg.com