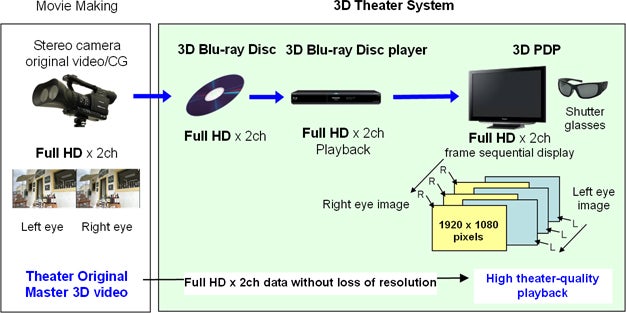 Panasonic has unveiled a prototype 50-inch television and companion glasses that together give the viewer the illusion of three dimensions. The TV is being unveiled less than a month after Panasonic said it plans to commercialize 3D home entertainment products next year.
The system works by quickly switching between left and right frames of the video being shown. Viewers wear active glasses that switch in-sync with the TV so that the right image is seen by the right eye and then the left image seen by the left eye.
The images are at full high-definition resolution of 1920 pixels by 1080 pixels.
This rapid switching necessitated the development of new PDP materials and chips so that pixels can be illuminated faster without sacrificing overall screen brightness, Panasonic said in a statement. The company also used new phosphers that have a short luminescence decay time to reduce the chance of lingering images when the frames are switched.
The prototype TV was unveiled at the company's headquarters in Osaka on Monday morning and will make its first public appearance next week at the Ceatec electronics show near Tokyo.
At the IFA electronics show in Berlin earlier this month both Panasonic and Sony said they plan to launch 3D TVs sometime in 2010. Both companies are targeting home theater systems and working with the Blu-ray Disc Association to develop a standard method for encoding 3D data on Blu-ray Disc. Sony has also said it plans to add 3D technology to its PlayStation 3 games console and Vaio PCs.