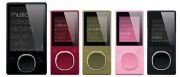 A month after many details of Microsoft's new Zune HD player were leaked by blogs, the company finally made it official on Wednesday. The Zune HD will arrive in the U.S. sometime this fall and comes with an OLED touchscreen and HD radio among its main features.
The OLED screen has a 480 by 272 pixel resolution so it can show widescreen video across the entire display when flipped on its side.
The Zune HD can also play videos on a TV. The player supports files up to 720-line resolution — the lower of two resolutions considered "high-definition" — and will down-convert them for playback on the display but play them at full resolution when hooked-up to a TV. You'll need an docking station and TV with HDMI input to take advantage of this feature but it should mean a single copy of a video is all that's needed for portable and living room playback.
The HD Radio function allows users to tune-in to stations in North America broadcasting in the format, which offers higher fidelity than regular FM and, on some stations, sub-channels with additional programming.
Zune HD will also come with a Web browser and Wi-Fi for connecting to the Internet and Microsoft's Zune store. Through the player, users will be able to access TV and video content that's already offered on the Xbox Live Video Marketplace.
Microsoft promised a demonstration of how Zune integrates with Xbox Live at next week's Electronic Entertainment Expo (E3) gaming event.
Microsoft didn't announce pricing, a detailed launch schedule or international availability.