Ever wished you could build your own TV package with only the channels you actually watch?
Too bad. In 2016, the TV industry is not yet sufficiently rattled by the rise of streaming video to produce the a la carte video plans people really desire. For now, we're getting a proliferation of so-called "skinny bundles," smaller TV plans that occupy a middle ground between choosing the exact channels you want and paying for hundreds of channels you don't.
Some cable and telco operators, such as Verizon, now offer these skinny bundles directly to their TV subscribers. But if that's not an option where you live—or you'd rather not deal with the hidden fees and contract shenanigans of traditional TV service—you can opt for a streaming-video bundle instead. Right now, those options come down to Dish Network's Sling TV and Sony's PlayStation Vue.
If you're looking for an instant recommendation, Sony's PlaySation Vue is the better of the two services. But that doesn't mean it's the right choice for every cord cutter. Read on to understand why.
Sling TV and PlayStation Vue: At a glance
Sling TV launched in early 2015. Pricing starts at $20 or $25 per month, depending on which package you get. The Sling Orange plan, which lets you watch on one device at a time, has 28 channels, including ESPN, CNN, TNT, and AMC. Sling also sells $5-per-month add-on channel packs revolving around themes such as Kids, Sports, World News, and Lifestyle, plus with a trio of Spanish-language add-ons. Add-ons for HBO, Cinemax, and Starz are also available for $15 per month, $10 per month, and $9 per month, respectively..
Sling also offers a separate Sling Blue bundle for $25 per month, that lets you watch on up to three devices at the same time. It has more channels—48 in total—including Fox, FX, and regional Fox Sports networks. This plan doesn't include ESPN or Disney channels, and it doesn't allow Kids add-ons. Also, its sports add-on costs $10 per month, but includes NFL Redzone.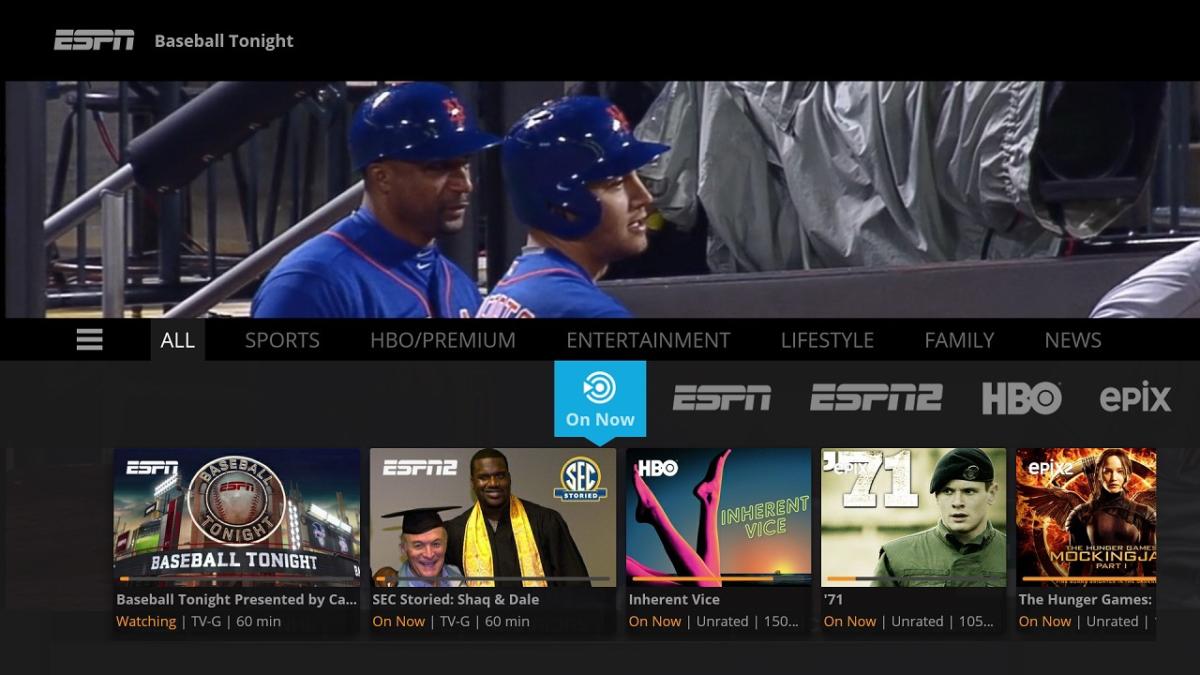 PlayStation Vue is similarly complicated. In most U.S. markets, plans start at $30 per month for 57 channels. But in a handful of cities—Chicago, Dallas, Los Angeles, Miami, New York City, Philadelphia, and San Francisco Bay Area—the minimum price jumps to $40 per month. In those cities, Sony offers live local feeds from ABC, NBC, and Fox. All other markets are limited to on-demand programming from those three networks, which means no local news or live network-sporting events. There's no option to pay more for those live feeds, either (although you might be able to get them free with an antenna).
In any case, Vue subscribers can tack on roughly 10 more channels—including regional sports networks such as Fox Sports—for another $5 per month, or add 40 channels for $15 per month. Showtime is also available as an $11 per month add-on (an option you can't get on Sling TV), along with HBO and Cinemax (both $15 per month).
This is bundle economics 101, where the more you pay, the more "value" you get: Sling TV is cheaper and more flexible overall, but PlayStation Vue offers more channels for your money, including some you can't get with Sling. (For a full comparison of Sling TV and PlayStation Vue channels, head to the bottom of this story.)
To watch Sling TV or PlayStation Vue, you need a streaming device that runs their respective apps. Sling TV is far ahead on this count, with apps for Android TV, Chromecast, Amazon Fire TV (and Fire TV Stick), Roku, Xbox One, iOS, Android, PC, Mac, and Channel Master DVR.
PlayStation Vue's app support is, again, more complicated. Without a PlayStation 3 or PlayStation 4, you can only activate a subscription through an Amazon Fire TV or Fire TV Stick. Existing subscribers can also watch on iOS devices, which can then use Google Cast to stream on Chromecast and Android TV devices.
This table gives a glance at each service's features (click to enlarge).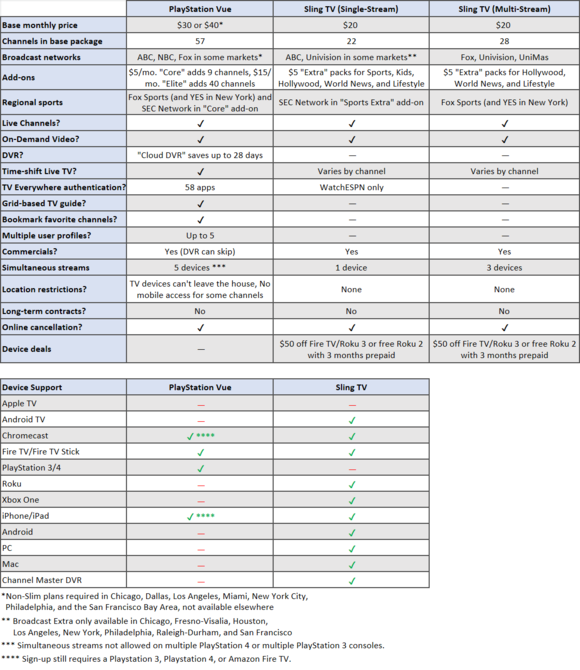 Sling TV vs. PlayStation Vue: The viewing experience
So what's it like to use Sling TV and PlayStation Vue? Both services try to combine the live-TV aspects of a cable bundle with the kind of on-demand viewing people expect from streaming video. It's an unenviable job, but overall PlayStation Vue handles it better.
With either service, you get live feeds from most channels, just like you'd get from cable. Both also offer a smattering of on-demand video from certain channels, and both offer "catch-up" or "replay" programming that lets you watch shows that recently aired on some channels.
But PlayStation Vue has a secret weapon in its cloud DVR feature. This lets you save any program to a list of favorites, and Sony will automatically store new episodes to its own servers. You can then watch those programs from any device with the Vue app for up to 28 days. DVR diehards may scoff at the time limit, or the inability to record individual air dates, but the cloud function also eliminates the hassles of storage management and scheduling conflicts. Basically, it's a short-term way to keep a fully-stocked on-demand library. Sling TV offers nothing similar.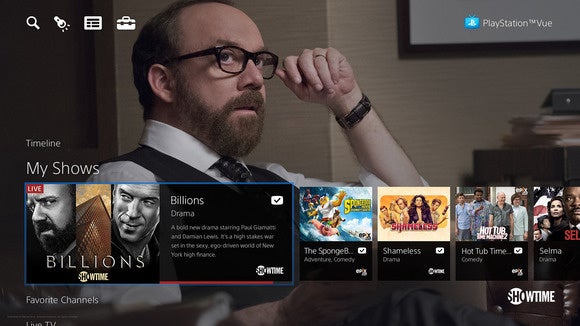 Unlike Sling TV, Sony also allows you to bookmark your favorite channels, so they appear first when viewing Vue's channel guide. Between the bookmarks and shows saved to cloud DVR, Vue feels a lot more personalized than Sling. You spend less time flipping through channels because everything you like is just a few remote clicks away. Vue even supports multiple user profiles, so each family member can have their own list of channels and recordings.
In fairness, Sling TV is working on a big redesign that should make favorite shows and channels easier to access, but it hasn't said when the new interface will arrive. And with no cloud DVR, you're far more likely to end up missing shows you wanted to watch.
The nitty gritty on video quality
At least on paper, Sling TV and PlayStation Vue offer similar video quality. Vue video resolution is 720p across the board, and I suspect the same of Sling TV. (Dish has not confirmed streaming resolution to me, but one third-party test by CuttingCords has shown 720p resolution on most live channels.)
When you dig in, the issue of video quality is not so simple. PlayStation Vue, for instance, offers smooth 60-frames-per-second-video playback for live sports across a wide range of channels, including ESPN, TBS, Spike, and NBCSN—but that's only if you're accessing the service on a PlayStation 4. On Fire TV, the framerate drops to 30 frames per second on all channels, which is fine for most TV shows, but not ideal for sports. PlayStation 3 seems to bounce between the two framerates, which is more distracting than a consistent signal.
Sling TV is supposed to manage 60 frames per second on streaming-TV boxes, but ESPN is the only channel where this happens, and in my experience Sling has struggled to maintain a consistent frame rate during major events such as Monday Night Football.
Both services must also deal with the reliability issues inherent to online video. With Sling TV, for instance, I've experienced audio-sync issues on some channels, including HBO and HGTV. With PlayStation Vue, a boxing match I was watching froze up, forcing me to hit pause and then play to keep watching. I can't say definitively if one service is more reliable than the other, but you're far less likely to have these issues with traditional cable TV.
Beware the fine print
Like most streaming services, Sling TV and PlayStation Vue come with viewing restrictions.
With Sling TV, you're limited to viewing on one device at a time if you choose the single-stream package with ESPN and Disney channels, making it a non-starter for some families. The multi-stream package allows viewing on three devices at a time, but local feeds of Fox are only available in a handful of markets (Atlanta, Austin, Charlotte, Chicago, Dallas, Detroit, Gainesville, Houston, Los Angeles, Minneapolis, New York, Orlando, Philadelphia, Phoenix, San Francisco, Tampa, and Washington D.C.). Those feeds won't be available if you travel outside those cities.
PlayStation Vue's restrictions are even thornier. Although the service allows five streams at a time, only one PlayStation 4 or one PlayStation 3 can be streaming at the same time. All TV devices (such as PlayStation consoles, Fire TVs, and Chromecasts) must also be under the same roof. If Sony detects an anomaly in IP addresses, you could get blocked from the service. Mobile viewing is also restricted, with certain channels unavailable on Vue's iOS app in your own house; even more get blocked when you're on the go.
One area where Vue excels is support for TV Everywhere apps such as WatchESPN, Comedy Central, and FXNow. Sony's service lets you authenticate with 60 of these apps, even on platforms where there is no Vue app available. Sling TV provides authentication only to WatchESPN, making it feel less like a bona fide pay-TV package.
Sling TV vs. PlayStation Vue: The verdict
Are Sling TV or PlayStation Vue worth using instead of traditional TV service? That depends on several factors. You might not save money with either service, for instance, if your Internet provider offers attractive bundle deals or skinny bundles of its own. Streaming round-the-clock video channels might also not be feasible if your Internet provider enforces data caps, as both services can consume up to 2.25GB of data per hour. (Sling TV, at least, lets you dial-down streaming quality in its settings menu.)
On the other hand, a cable-TV subscription can get pretty expensive once you start renting DVRs for multiple TVs, and those promotional bundle deals tend to disintegrate after a couple years. Part of the allure with streaming services such as Sling TV and PlayStation Vue is their freedom from hardware rental fees, hidden costs, and complex cancellation procedures.
As for which service is better, that distinction goes to PlayStation Vue. It offers more channels for the money, better personalization, easier access to your favorite shows, and higher-quality video for sports. Sling TV is only worth considering if you really want to limit your spending, or don't own a device that Vue supports.
In a way, this is the cord-cutting trade-off encapsulated: The more money you want to save, the less cable-like your experience becomes.
This table lists all the channels available on each service (click to enlarge).

PlayStation Vue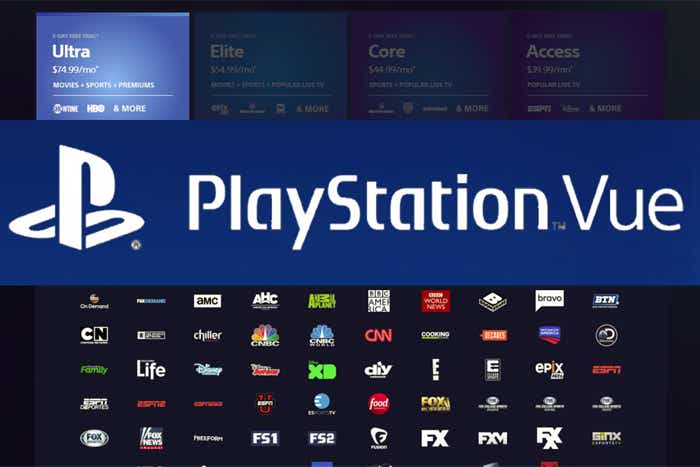 Read our full
PlayStation Vue review
Sling TV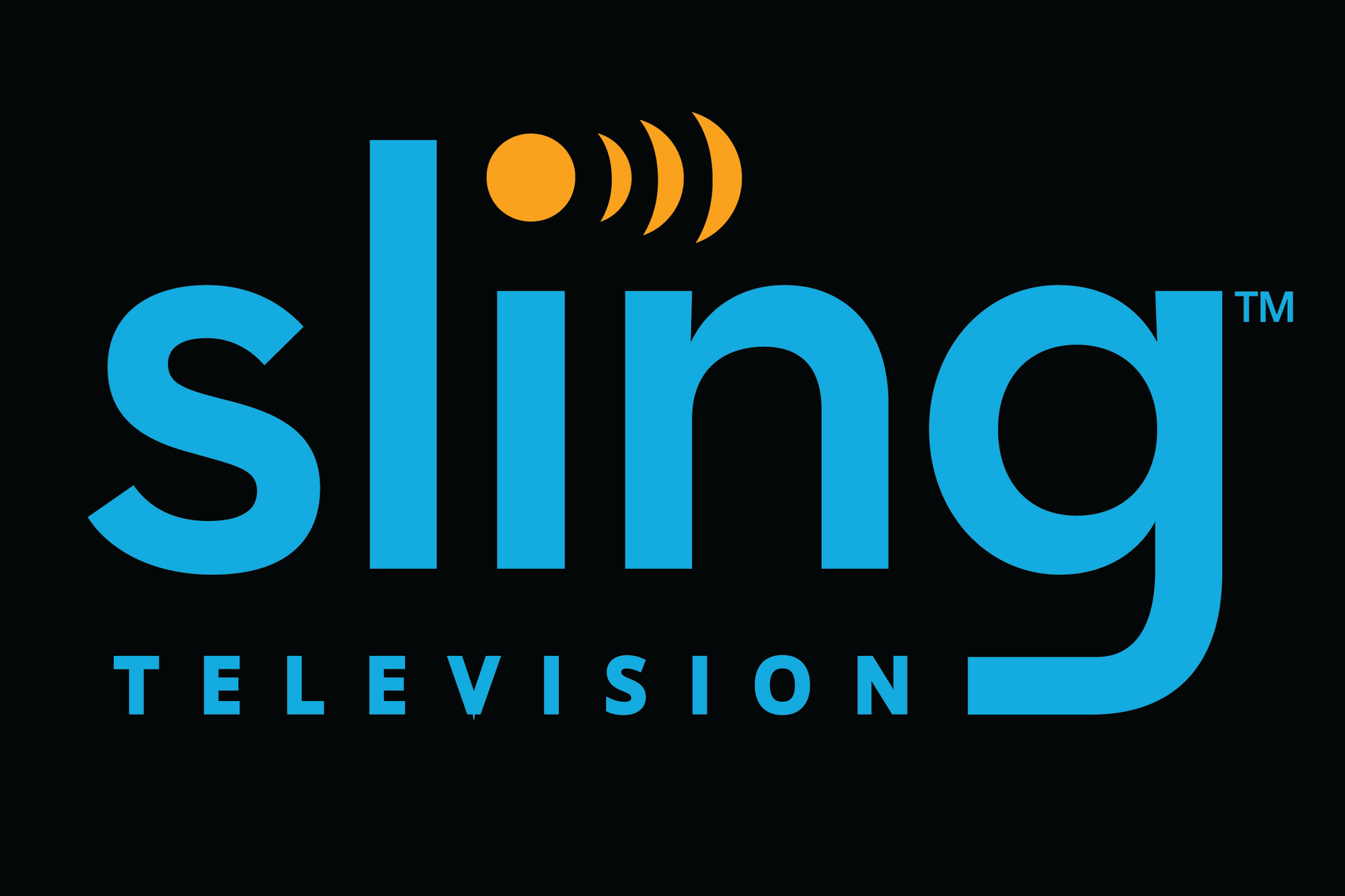 Price When Reviewed:
Sling Orange: $35/mo; Sling Blue: $35/mo; Sling Orange+Blue: $50/mo
Read our full
Sling TV review