Although Google doesn't seem to know exactly what to do with Android TV, its never-quite-baked platform for smart TVs and streaming boxes, the company does have some interesting ideas.
With the upcoming Android N release, Google is promising picture-in-picture mode on the big screen, and it has announced a developer tool called "TV Recording" that sounds intriguing on its face. Details are still scarce, but both additions could help Android TV stand out from Google's far more popular Chromecast.
As someone who's rooted for Android TV despite its many faults, I started digging around to find out what Android N might do for people who've cut the cable-TV cord. Here's what I've learned so far:
TV Recording: Reinvention, or reinventing the wheel?
One of Android TV's most promising—but also most overlooked—features is a built-in app called Live Channels that's supposed to serve as a unified menu for live video sources. Imagine, for instance, if the live feeds from Sling TV, Pluto.TV, CBS News, and your antenna could all live under one channel guide, like the one you get with a cable box. That's the promise of Live Channels.
Unfortunately, Live Channels depends on support from third-party app makers, and so far they haven't embraced the concept. Several big-name services that were supposed to feed into Live Channels last year have since backed off, and when I spoke to the Android TV team in November, they admitted the concept has been slow to progress.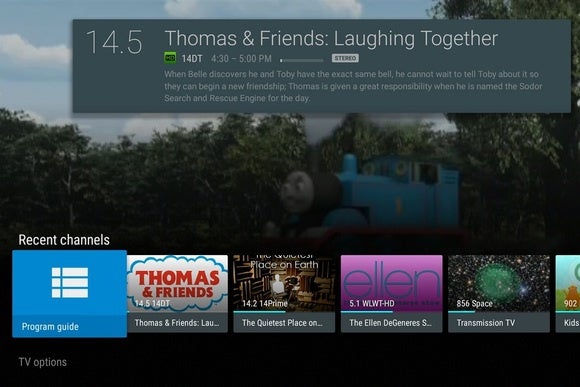 But instead of backing down, Google said it was focusing on the concept even more, and hinted at plans to combine live and on-demand viewing into a single seamless experience. That brings us to TV Recording in Android N.
Right now, TV Recording is little more than a set of buttons. It doesn't magically imbue video apps with recording capabilities, nor does it automatically bring new sources into the guide. All TV Recording does—at least as it's described now—is allow TV apps that support recording in some fashion to feed those capabilities into the Live Channels app.
Here's an example: If you have an HDHomeRun networked tuner, you can currently stream broadcast channels from an antenna to your Android TV device over Wi-Fi and view them within Live Channels. You can't currently record or time-shift those broadcasts, but that'll change later this year when HDHomeRun adds DVR service. At that point, TV Recording could allow users to schedule and watch their shows through the Live Channels app. (I'm guessing Google will rename the app if DVR becomes a centerpiece.)
Granted, this does nothing to solve the lack of sources for Live Channels. HDHomeRun can just as easily relegate DVR to its own app, and it's hard to imagine many big streaming services allowing fon-device video recording.
Why even bother with this capability, then? I have a few theories:
Google could court cord cutters by allowing antenna input in Android TV set-top boxes, paving the way for DVR software that feeds into Live Channels. (This would be awesome, but is wild speculation on my part.)
Google is banking on the FCC to open up the cable-box market, paving the way for Android TV-based DVRs that anyone can buy. (Google is a key proponent of what the FCC is proposing, so consider this an educated guess.)
TV Recording is just part of Google's ho-hum plan to make Android TV a set-top box platform for big pay-TV operators. (This initiative is already underway with some operators in Europe and Asia.)
In any case, cord cutters can hope that the new features bring more attention to the Live Channels concept, resulting in more apps and services that want to feed into the channel guide.
The return of picture-in-picture
A more immediate benefit of Android N is the long-awaited arrival of split-screen and picture-in-picture multitasking for apps. This once-common feature of high-end TVs has largely disappeared from modern sets, but now Google is bringing it back.
According to the Android N documentation, users can invoke picture-in-picture by holding down the remote's home button while a video plays. This sends the video to one corner of the screen in a 240-by-135-pixel window while the user does something else in the app or switches to a different app. (It's unclear, however, if users will be able watch two videos at the same time, or play a game and watch a video simultaneously.)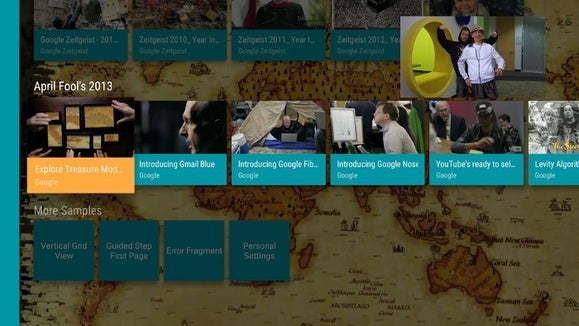 Apps won't support picture-in-picture by default. Instead, developers will have to declare picture-in-picture support and define what happens when their videos switch to small-screen mode. So as with Live Channels, it's anyone's guess whether developers will get on board with what could be a standout feature for Android TV.
Keep In mind that none of these concepts will materialize until later this year when Android N is complete. And because "great ideas, weak execution" defines so much of the Android TV experience, it's worth keeping some skepticism handy while we wait for Google's plans to shape up.