At a Glance
Expert's Rating
Pros
Terrific bang-for-the buck performance
Support for high bit-rate lossless file formats, including FLAC and ALAC
Can be networked with a variety of other Yamaha audio components
Cons
MusicCast app inferior to the Sonos app
Supports only a handful of music-streaming services
Mute button on slave speakers doesn't work
Our Verdict
Yamaha's WX-030 is a great little speaker, and the MusicCast ecosystem that it's part of has some very attractive elements.
It's impossible to discuss the merits of a multi-room audio system these days without answering this question: Is it better than Sonos? I answer with a highly qualified "no" in this broader discussion of Yamaha's MusicCast system. In this review, I'll focus on one component in that system: the WX-030 wireless speaker.
The $250 WX-030 measures 9.63 inches wide, 6.25 inches high, and 4.5 inches deep. A 30-watt amplifier drives a 3.5-inch woofer and a 1.13-inch tweeter. The speaker's low-end response also benefits from a passive radiator, but it cannot be paired with a subwoofer, wireless or otherwise.
The 4.9-pound cabinet has a standard 1/4-inch thread mount on the back, so it can be hung on a wall. If you'd prefer to set it on a counter or tabletop, Yamaha thoughtfully provides a plastic panel to cover the cable connections in the back (power and ethernet—there is no analog auxiliary input). The removable power cord is a standard C7 type and it's nice and long at 9.5 feet, so you could swap it out for a different length if desired. The mount and the cabling options provide lots of flexibility in terms of speaker placement.
Touch-sensitive buttons on the top of the cabinet control power, volume, and play/pause. The volume control on each speaker works independently; but if you've linked them together to stream the same track, the pause button does not. In that case, only the master speaker's pause button will function, and pressing it will pause the music on every speaker. So if you're in a room with one of the slave speakers, and you get a phone call, you'll need to hold the volume-down button on that speaker until it reaches zero to mute it. Pressing pause won't do anything. Alternatively, you can use the app on your phone to mute each speaker individually, but that would delay your answering your call. (Note: You can independently mute the YSP-1600 sound bar, reviewed here, using its infrared remote control.)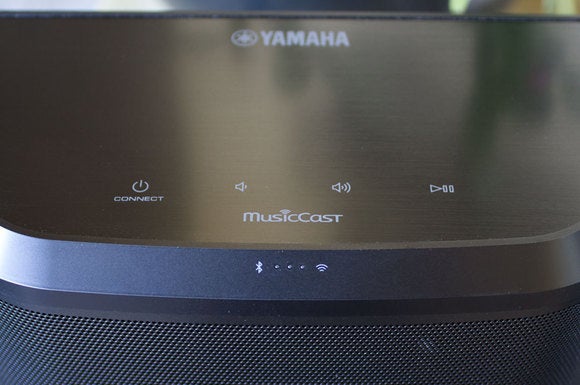 Yamaha gives you the option of operating two WX-030s as a stereo pair, but this feature doesn't work if you're using AirPlay to control them (I'm sure that's out of Yamaha's control). Once you've configured the speakers this way, the setting is preserved even if you unplug the speakers from their power source. That's a good feature—it would suck to have to re-pair them every time the power goes out—and it's easy enough to unpair them should you decide to put them in separate rooms later.
In addition to streaming music over Yamaha's own MusicCast network (using your Wi-Fi network), you can also beam music from a Bluetooth source to the WX-030. MusicCast can then retransmit that stream to other MusicCast clients. MusicCast devices can also stream music to another Bluetooth speaker—or to Bluetooth headphones—but they can't send and receive a Bluetooth stream at the same time. You can also add the speaker to an Apple AirPlay network; but in that case, you can't use Yamaha's app to control it. Support for those standards in addition to MusicCast offer lots of flexibility, and I don't view either of the limitations associated with them as being onerous.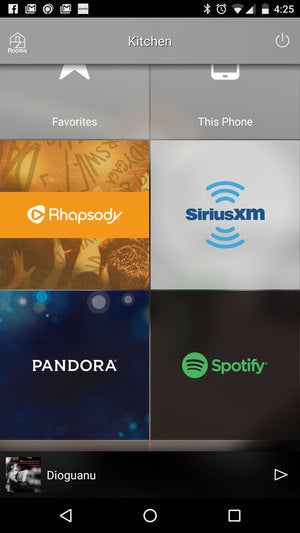 As I discuss in my MusicCast overview, Yamaha supports far fewer music-streaming services than Sonos does, but you can get around that shortcoming to a large degree by using Bluetooth or AirPlay instead of MusicCast. It's not an ideal solution, but it works. The Bluetooth option is also a good way to let guests stream music to your speaker without their having to install an app, or—more importantly—without your needing to grant them access to your Wi-Fi network.
The WX-030 is much better suited to playing music than the YSP-1600 sound bar. Listening to Adele's "Hello," from her album 25 (ripped from CD and encoded in FLAC) on the WX-030, I heard none of the harsh edge that was present in the sound bar's rendering. The amplifier had no problem filling my 323-square-foot great room with sound, especially when it had a wall behind it for its passive radiator to bounce off. Bass response was fat and well rounded for a speaker this size; in fact, I thought it was slightly superior to the slightly more expensive Sonos Play:3 I compared it to. It paled in comparison, however, to the much larger Sonos Play:5. And it bears repeating that Yamaha doesn't offer a subwoofer—wired or wireless—that could make the WX-030 even more formidable (especially when configured as a stereo pair).
Unless you're deploying the WX-030 in a very large room, on the other hand, you might find you don't need that low-end reinforcement. Listening to "Will You Call My Name," from the Daby Toure, Skip McDonald album In Session (a B&W Society of Sound release encoded in Apple Lossless), the speaker did a fabulous job rendering the toms and bass drum that open the track. The speaker sounded great across the rest of the frequency spectrum as well, with crisp presentations of the guitar, vocals, cymbals, and the rest of the percussion.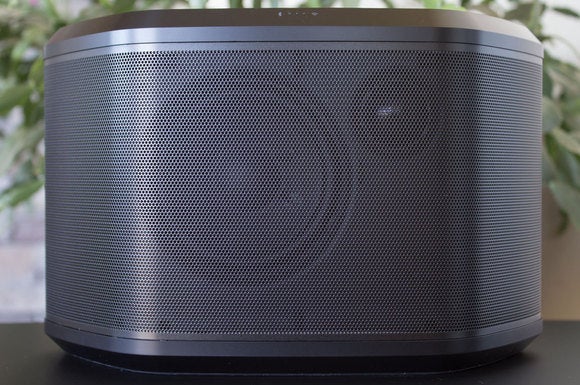 A worthy contender
The WX-030 is a fabulous $250 speaker and a terrific entry point into Yamaha's MusicCast ecosystem. It delivers great sound in an attractive, compact package. Based on its audio performance alone, I'd put it a notch above the more expensive Sonos Play:3 ($299) and well ahead of the $199 Sonos Play:1. On the AirPlay front, the WX-030 can't touch B&W's $699 Zeppelin Air.
But you can't buy a multi-room speaker without considering the rest of the ecosystem that it's part of. Read this deeper take on MusicCast if you're on the fence, but I'll summarize my opinion here: I don't see Yamaha's multi-room audio system as a whole to be superior to what Sonos has to offer. On the other hand, Yamaha delivers a number of features that Sonos doesn't and likely never will.
On the hardware side, Yamaha has MusicCast-compatible A/V receivers, Hi-Fi separates, and powered stereo monitors. And on the software side, MusicCast supports higher-resolution audio formats, including DSD (although DSD is not supported on this particular speaker). The Sonos mesh network and the Sonos app are considerably better than Yamaha's, but that's mostly a function of software, so it will be easier for Yamaha to catch up to Sonos than for Sonos to out-innovate Yamaha.
If you've already invested in a Sonos system, there's absolutely no reason to dump that platform and start over with MusicCast. If you haven't jumped into this space, your decision will be a little more difficult. But choice is always a good problem to have.