One of the longest-running complaints with Android TV devices was you couldn't rearrange the order of apps on the home screen. Fortunately, Google heard users' cries of frustration and released an update late last year that makes the layout more manageable on devices like the Nexus Player and Nvidia's Shield Android TV.
Here's how to change the order of apps and games on the Android TV home screen:
From the home screen, scroll down to either the apps or games section.
Press down on your remote's select button (or the "A" button on the Nvidia Shield controller) until the surrounding menu items fade to grey.
Use the remote's arrow keys to move the app into your desired position, then press the select button to place it.
To delete an app, press down until the app floats over the trash icon, then press select to uninstall it. (Note: This will not work for preinstalled apps such as YouTube.)
When you're done sorting, press the remote's Home button to return to the home screen. (You can also select Save and Exit from the sorting menu, but a bug on Nvidia Shield Android TV devices currently prevents this from working properly.)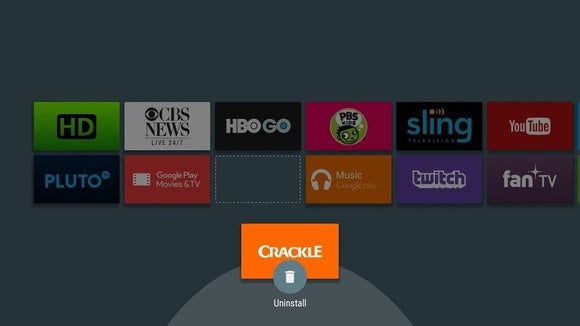 If you'd rather have apps appear in recently used order, scroll down to Settings, then go to Home Screen under the Preferences section, and select Apps and games. Choose Organize apps and games from this menu, and select Recency order.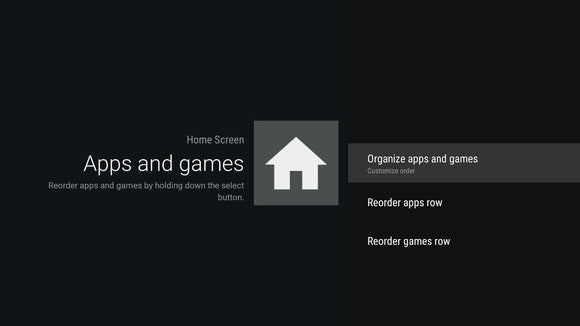 While you're in the Home Screen menu, you may want to visit the Customize Recommendations section. From here, you can prevent certain apps from showing recommendations on the top bar of the home screen. Just go through the list and select the ones you want to hide. (Apps that are showing recommendations on the home screen will have a gray dot next to them.)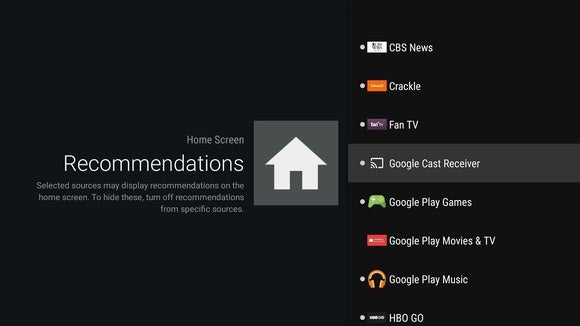 One last note for Nvidia Shield owners: Unfortunately, there's no way to rearrange the order of apps in the Shield Hub section. For now, the Netflix app remains hopelessly out of place here, separated from all your other video sources in the main Apps section.