At a Glance
Expert's Rating
Pros
Small, lightweight, and attractive
Practical loop handle
Easy to pair and unpair with multiple Bluetooth sources
Cons
Colored off-axis sound
AC adapter required to charge battery (no USB charging port)
You can't swap out the silicon case for other colors
Our Verdict
The Astro is a great picnic, pool-side, or on-the-go wireless speaker.
There's a seemingly infinite number of portable Bluetooth speakers on the market, so what makes the Astro different? Manufacturer Tree-Labs says what makes the Astro stand out from the crowd is its ability to play music unadulterated, without a digital signal processor (DSP) in the path manipulating the music to fit the limitations of its speaker. As the manufacturer puts it, the Astro is "the only Bluetooth portable speaker to play music the way it was recorded."
That's an ambitious claim for any audio product to make, much less a speaker that sells for less than $200. It's also one that's all but impossible for a reviewer to verify; it's far easier to let it wash over the transom as just so much marketing speak (which Tree-Labs seems inordinately fond of). So I'll ignore the hype and use my ears to judge the speaker on its merits. But before I do that, let me tell you a little about the speaker itself.
Under the hood
Beneath its aluminum facade, the Astro relies on a pair of 2.0-inch full-range drivers with neodymium magnets that Tree-Labs says have been customized for the Astro. A passive radiator is there to increase bass response, although my ears didn't pick up a great deal of low end.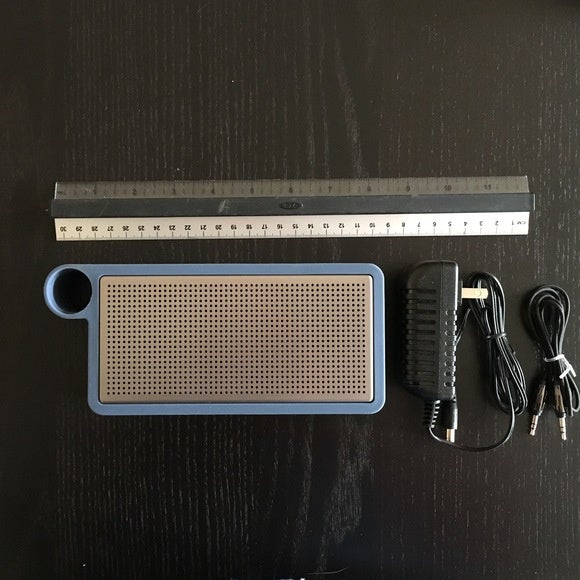 Connectivity is kept to a bare minimum, with just Bluetooth and a 3.5mm input. Plugging a source into this jack will immediately override any Bluetooth connection—you don't need to push a button to switch between the two. When you want to switch back to your Bluetooth source, you just unplug the 3.5mm cable.
A built-in lithium-polymer rechargeable battery delivers, on paper, up to 16 hours of playing time on a 2.5-hour charge. It's clear that lots of time was spent thinking about the Astro's industrial design, so I was really disappointed to see that there is no option for USB charging its battery. That was one of the biggest misses for me. For a device that's super-portable, having to carry around a special AC power adapter instead of using the almost ubiquitous USB chargers in homes and cars is a bit of a head scratcher.
Personalized colors, or tattoos?
When I first got the Astro I was struck by how small and light it was; it's super-easy to tote around at just 1.16 pounds. The brushed-aluminum chassis is wrapped in a thick silicone bumper in your choice of four colors. The bumper should protect the Astro from short drops and moderately rough handling, but it's not removable; once you pick a color, you're stuck with it. So choose wisely.
Tree-Labs, in partnership with Hong Kong's Tattoo Temple, also sells a Bluetooth Speaker X Tattoo Temple Art edition for $299, a $20 premium. You can choose from six designs to grace the front speaker grill and the back; but in case you're wondering, no, you can't commission a custom tattoo.
Where form and function meet
Tattoos aside, another of the Astro's distinctive design elements is its large silicone ring on its left-hand top corner. The ring has a single purpose—to carry the Astro. I initially thought the loop was bizarre, but the more I used it, the more I liked it. Unlike other portable speakers, picking up and toting the Astro along was easy—even with one finger. Dropping the Astro and a pocket video projector in my briefcase or backpack gave me a superb solution for making presentations to small groups, where I needed basic sound for multimedia (though I wouldn't necessarily recommend it for movies, for reasons I'll discuss in my listening tests, below).
Not everyone in my household who used the Astro had the same opinion of the ring. My wife, for example, hated it and thought it was ugly. There won't be a middle ground. You'll either like it or hate it.
One button to rule them all
A single physical button on the top of the Astro serves several purposes. It's the on/off button, first and foremost. Holding the button down for a few seconds will turn the unit on or off. A single press of the button when the speaker is playing pauses the audio, and pressing it a second time resumes playing.
But what I really loved about that button is that it solved one of my biggest complaints about Bluetooth speakers: Switching wireless sources. Pressing the on/off button quickly two times puts the Astro back into Bluetooth pairing mode. From there, just select the Astro from your Bluetooth source and you're good to go. Cryptic "unable to connect" errors will be a thing of the past.
A full-range speaker? Not quite
Aside from the much larger Mohu BeBox I recently reviewed, most portable Bluetooth speakers haven't really impressed me with their sound. They're just too small. They sound thin and tinny with no bass. Tree-Labs says the Astro's full-range driver is designed to "reproduce with fidelity the full audio range spectrum…" Those are nice marketing phrases, but you won't mistake the Astro for system with a subwoofer; you'll be hard-pressed to get any substantive output below 60Hz. So no, you'll never get close to experiencing the full impact of Saint-Saëns' Symphony No. 3 "Organ Symphony" on this speaker.
You will be pleasantly surprised, however, to learn that the Astro plays larger than it looks. Listening to Junkie XL's Mad Max: Fury Road soundtrack, I was able to play the bombastic album to very loud listening levels with relatively little strain or distortion—a key feature for backyard, beach, or poolside listening (although the Astro is not waterproof).
There were clear compromises to the top and bottom end, to be sure, but most music sounded surprisingly good. Overall, Fury Road came across nicely.
R.E.M's "Orange Crush" and "Turn You Inside-Out" from the classic album, Green, were great to jam to. Album after album, track after track there was decent detail and dynamics, but there was no real bottom end at all to the music. Drums especially were robbed of their visceral impact and the overall weight of the music was thinned out.
Things were good as long as I stayed on-axis; if I moved off-axis by 15 to 20 degrees, I started to get some noticeable coloration to the music. This was readily apparent with vocals. Playing Sarah McLachlan's cover of Joni Mitchell's "River," from McLachlan's Wintersong album, cast a dark veil over Sarah's voice. Male vocalists didn't fare any better. Imagine Dragons' lead man Dan Reynolds suffered the same fate on just about every track from Night Visions.
So this little David of a speaker won't slay any Goliath's, but it performed admirably for its footprint.
The bottom line
The Astro is a well-designed, fun little speaker that's easy to carry around. It sounds great for its size. The need for an AC adapter instead of USB recharging limits what could have been a much more practical portable speaker system.