LED light strips can be both fun (think synching lights to music under a disco ball) and practical (as I discovered with under-cabinet lighting in the kitchen). Here we compare the two main choices for DIYers in this category: the updated Philips Hue Lightstrip Plus, and the Belkin WeMo + Osram Lightify Flex RGBW.
Philips wisely discontinued its first-generation Hue Lightstrip. That product was smart enough that you could program it to change colors when the International Space Station passed overhead, but it left out white light and was about as bright as a 15-watt incandescent bulb.
The new Philips Lightstrip Plus cranks its maximum brightness to 1600 lumens, an increase from the 120-lumen original, and it delivers tunable white light. Thanks, Hue. Now I can see your face. The 79-inch (two-meter) stock length remains, but the Lightstrip Plus also offers 40-inch extension strips that can extend the system's reach up to 33 feet. The increased brightness, white light, and cut-to-fit extensions make the Lightstrip Plus a candidate for both fun time and more serious household tasks.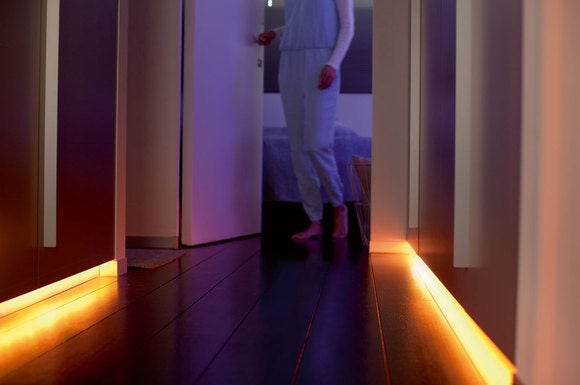 Hue's pool of 450-plus third-party apps–you can't sync music and lights or monitor the space station without one–and HomeKit/Siri support in the second-generation Hue ZigBee bridge—are clear competitive advantages over Belkin's WeMo + Osram Lightify Flex RGBW kit. You can control WeMo devices with an iOS device, but they're not currently compatible with HomeKit.
Philips makes the assumption you're already part of the Hue family and doesn't include the bridge you'll need in its $90 package. If you don't already have one, you'll need to spend an additional $60 to acquire one. Short of unplugging the power adapter, you can't control Philips' light strips without a Hue bridge.
Belkin adopted Osram Sylvania's Lightify Flex RGBW light strip into the WeMo family, and it offers a ready-to-go starter kit that includes a WeMo Link, controller, power supply, and a trio of 24-inch LED strips for $120. If you already have other WeMo devices, and hence don't need the Link, you can buy the same package without it for $65.
You can mix and match—to a point
Philips' Hue bridge can also control other smart bulbs that use the ZigBee Light Link standard, including Osram Sylvania's. (Philips, in a December firmware update, eliminated Hue support for Osram, Cree, and GE bulbs, but reversed course within 48 hours under a crush of online criticism.)
What you can't do is connect other WeMo devices to a Hue bridge—and there are lots of other WeMo devices, ranging from motion sensors to smart kitchen appliances such as crock pots and coffee makers. Samsung's SmartThings Hub ($99) is a potential unifier here. It's compatible with a number of devices in Philips' Hue lineup, Belkin's WeMo product line, and Osram's lighting products.
The lights: The Lightstrip Plus owes its enhanced brightness to white-light diodes installed next to RGB diodes. Unlike the original, the Plus illuminates in gradations of white light (from 2000- to 6500K). It reaches peak brightness—1600 lumens—at 4200K. At 2200K, it's rated at 600 lumens maximum.
Each WeMo/Lightify 2-foot strip includes 12 multicolored LEDs rated at a maximum 1400 lumens. Both strips, Hue and WeMo/Lightify, offer a palette with up to 16 million colors.
Installation
It's hard not to love cut-to-fit LED strips. Where smart lighting isn't necessary, dumb strips are even less expensive: An 8-foot LED flex strip with controller, power supply and standard remote costs less than $45 at Home Depot.
For my under-cabinet and white-light kitchen project, this Hue and WeMo owner preferred the Lightify strip's shorter, more adaptable lengths. Join the 2-foot strips with the five-pin connecters, trim any excess—both systems use "cut-here" scissors icons—and affix the strip after peeling off the 3M double-sided tape protector from its backside.
Once cut, however, the three-times longer Lightstrip Plus behaves like an earthworm: The part with the vital organs (the strip's attachment to the controller and power supply) survives and the severed part dies. Consider potential waste before starting a project.
So far, no do-it-yourselfer should fear working with either lighting system. I wanted a clean look to my under-cabinet lighting, so to hide the power supply and controller I hired an electrician to install outlets inside two kitchen cabinets.
Why two cabinets? My under-cabinet lighting is interrupted by a sink, so I needed a controller and power supply for one strip of lights, and a second one for the other strip. This setup–about 10 feet of cabinetry separated by a sink–would need two Lightstrip Plus kits ($90 each) and one Hue bridge ($60), or about $240 in all.
Going the WeMo route would require a starter kit with a WeMo Link ($120) and a Lightify Flex kit ($65), giving me 12 feet of strip lighting for about $185.
The apps
Those only vaguely aware of Hue's lighting reputation might be surprised at its relatively barren app, which is little more than a home for setting scenes and alarms-timers. The "alarms" baffled me, too: You use them to set rules, such as turning lights on or off at specific times.
So where's the party with the lights synced to music? You'll find Hue's best tricks enabled by IFTTT (If This Then That) recipes and third-party apps. Hue, hands down, is the better entertainer. It can sync with movies, simulate fireworks, and bring Christmas (or World Cup soccer) sounds and lighting effects into your home.
Among the more practical recipes: Setting lights to turn on when you get home, or adjusting color temperature at 10 p.m. to a more sleep-appropriate 3500K.
Hue also syncs with the Nest thermostat, a "Friend of Hue:" If the Nest senses smoke, it will alert the household by activating Hue-connected lighting. WeMo lighting duplicates that feature with an IFTTT recipe; but until Belkin adds HomeKit support, WeMo will lose the smartest-bulb race—at least among Apple households.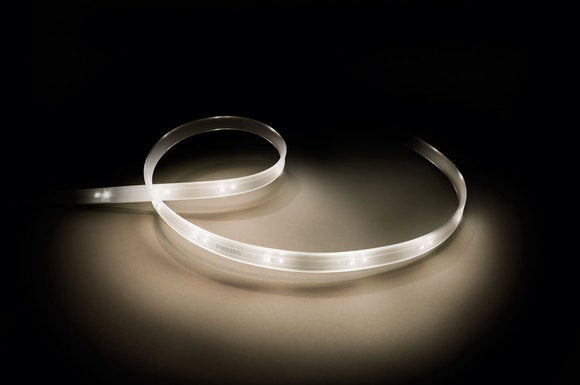 The second-generation Hue bridge also allows you to use Apple's Siri and Amazon's Echo voice-activated digital assistants to turn lights on or off. Three original WeMo devices–the Switch, Insight Switch, and Light Switch—work with the Echo, but Osram's Lightify strips do not.
Still, the basic WeMo app is stronger than Hue's, with sunrise-sunset settings, a sleep fader that dims light gradually at bedtime, and an away mode that turns lights on and off at irregular internals to give the appearance someone is home.
Having two controllers in my under-cabinet installation, however, I couldn't get the sunrise-sunset mode to work or successfully schedule each setup to turn on or off simultaneously. One invariably worked, the other did not. Grouping the two strips finally synced them, but Belkin says that will not always work because of the lag between grouped strips caused by the ZigBee network layer.
Matching color temperature of lighting in a two-controller system to a precise numerical value (am I the only one mired in the nostalgia of the 2700K incandescent?) is possible only with Lightify's separate numerical key that supplements an adjustable color wheel. (Hue's app uses a color-picker that allows matching color temperature of various lights, but without a corresponding numerical value.)
Both the Hue and WeMo systems provide superb lighting accents around the home. So which flexible, dimmable, app-controllable LED strip is right for you?
If you already own Hue or WeMo products, keep it in the family.
If this is your first app-controlled lighting purchase and you don't plan to make a more extravagant smart-home investment, stick with the easiest to operate with the smoothest app: WeMo.
If you want to highlight the entire 30-foot width of your great room, only the Lightstrip Plus, with its 33-foot limit, can do the job. Lightify supports only 20 feet.