An upcoming device called Skreens is aiming to solve a classic living room dilemma: What do you do when people want to use the TV for different things?
While some TVs offer picture-in-picture mode, Skreens goes a couple steps further. It supports either two or four HDMI sources on the screen at the same time (depending on model), and lets users move or resize each video window in any way they want.
For instance, you can have two game consoles playing in split-screen mode, while keeping a smaller window open for live sports from cable box. Skreens also supports translucent windows, so one source can take up the whole screen while a smaller window is overlaid in one corner.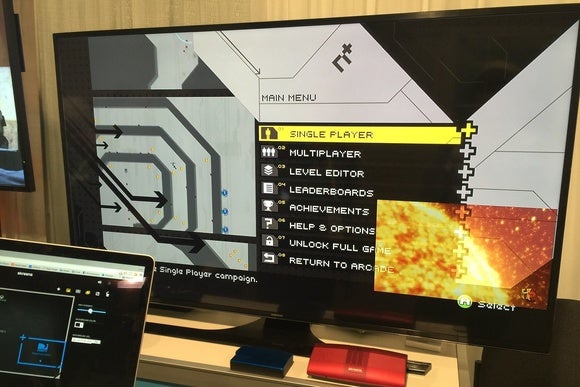 It all gets controlled through Skreens' web interface, or through native apps for iOS and Android. The interface seemed responsive in a demo at CES, and it allows blank space to be filled with webpages in addition to HDMI sources. That way users can open a sidebar for monitoring Twitter or Facebook.
Going into CES, my main concern was response time. How could Skreens pull off this type of window management without introducing lag? The company says it partnered with chip maker Xilinx on a new kind of field programmable gate array, which can be customized after manufacturing. In Skreens' case, the chip decodes data from the HDMI source, combines it with the other sources, then recodes and sends it to the TV on the fly.
The result is a system that introduces just a single frame of input lag. For video and menu navigation, that's a non-issue, and gaming seemed reasonably fast in my brief hands-on time. Still, Skreens didn't have any first- or third-person shooters on display in its demo booth. Those types of games tend to suffer the most from delays in response time—especially in multiplayer settings—and I'm still curious to see how Skreens handles them. (It's worth noting that Skreens' four-port version is aimed directly at Twitch and YouTube game streamers with features like Chroma key, audio mixing, and dedicated H.264 compression hardware.)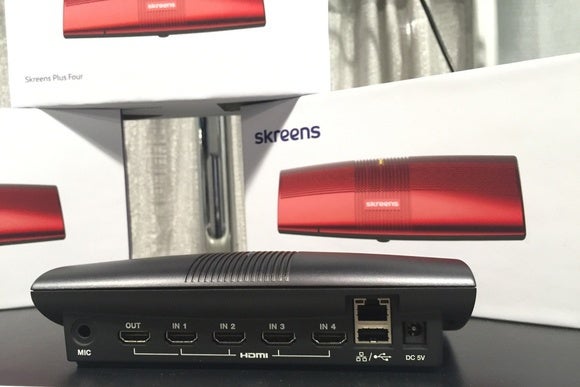 The initial version of Skreens was funded on Kickstarter last fall by 1,263 backers, and the goal is to deliver those units in March. Beyond that, the Skreens' retail plans are unclear, as the company has yet to line up a distribution deal and isn't selling the product directly. We don't even know how much the final product will cost, though Kickstarter backers paid $299 for the two-port version, and $450 for the 4-port version.
The timing for Skreens seems just right, with the cost of bigger TVs coming down and more devices and services vying for our attention. Having just put a 70-inch TV and game collection in my basement, it's something I'd consider for myself if input lag proves virtually non-existent.