Got a massive DVD collection, and wondering how you can move on from the optical disc? A new devic called DVD Watchbox might be able to help.
For $150, DVD Watchbox is a set-top box that streams DVD and Blu-ray video from a networked PC. A companion PC program converts the optical discs to a streaming format and stores them on the computer's hard drive, so you never have to use the actual DVD or Blu-ray discs again.
While this may sound similar to media server programs such as Plex, the difference with DVD Watchbox is that it preserves the full optical disc experience, including menus and bonus features. It is possible to add extras to a Plex library with some added effort or a Plex Pass subscription, but there's something to be said for DVD Watch Box's simpler approach of duplicating the DVD menus and features just as they were.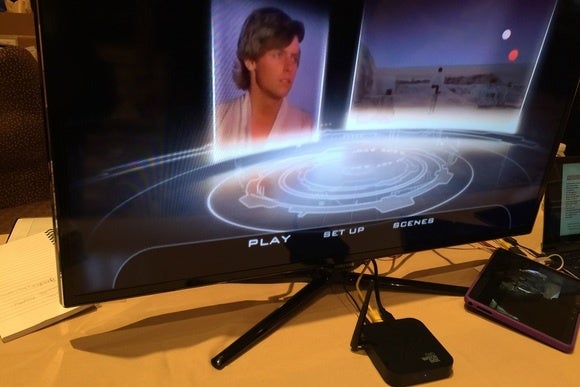 Even so, the act of maintaining a networked media server brings its own complications compared to just keeping a DVD player on hand. For one thing, you need a dedicated PC that's always up and running, such as a desktop computer, as DVD Watch Box doesn't currently support NAS drives. Each DVD takes up 2GB to 3GB of storage, and Blu-ray discs can require fives times more space. The initial conversion process can be time-intensive, requiring 10 to 15 minutes per DVD and 30 to 45 minutes per Blu-ray disc. These files also stream at a higher bitrate than your average online video—especially for Blu-ray—so you'll want a good router and a solid network connection from the set-top box for streaming.
Still, DVD Watchbox maker VidOn believes it can serve a niche market. In an interview, CEO Bill Loesch claimed that 8 million people own more than 300 DVD or Blu-ray discs, citing data from the Digital Entertainment Group.
The box itself supports dual-band Wi-Fi, and also has an Ethernet jack. The software is based on Google's Android TV platform, but users will never notice, as Android TV's interface and features are completely hidden in favor of DVD Watch Box's own content selection screen. Loesch said that VidOn debated including the full Android TV experience, but decided to stay focused on DVD and Blu-ray playback. ("Anything that tries to compete with Roku, Google, Amazon, and Apple is suicidal," he said.)
DVD Watch Box just started shipping and is on sale at Best Buy. It sounds like a promising solution for recovering DVD diehards, though we've only taken a quick look at the product during this week's CES trade show.