Sling TV is basically admitting that its old interface was broken, announcing a major update that changes how people find movies and shows.
It's been nearly a year since Sling launched its $20 per month streaming service, which offers live cable channels such as ESPN, CNN, AMC, and The Food Network. At first, Sling only offered about 11 channels, so its interface—basically a horizontal list of tiles for each channel—made sense.
But since then, the core channel lineup has nearly doubled, and Sling has added more channels through $5 per month add-on packs and a $15 per month HBO option. Wading through it all can feel ungainly, and on-demand content seemed unnecessarily hidden away. The overhauled menu system tries to set things right with a few new sections.
Upon starting the app, users will land on a "My TV" page. From here, users can resume shows they'd paused, get on-demand recommendations, and see a list of their favorite shows and channels.
The channel surfing experience is also getting revamped with a new "On Now" section. Instead of arranging everything by channel, this section splits up all live programming by genre. For instance, one row lets you see all kids shows that are currently airing, while another shows action and adventure content. (The old channel-based system still exists in a separate section called "Guide," and there's a new section dedicated solely to live and upcoming sporting events.)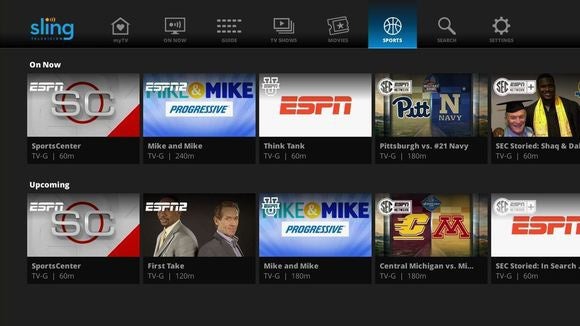 For on-demand content, Sling is making its movie and TV show sections more visible from the main menu screen. Before, users may not have even realized this content was available.
Notably, Sling still isn't trying to replicate the traditional grid-based TV guide you find on cable boxes. Instead, it seems the company is trying to organize things in an entirely new way. We'll reserve judgement on how well the approach works until we've had a chance to try it out. Sling says it's rolling out the update to all its supported devices—including Roku, Amazon Fire TV, Android TV, and Xbox One—later this quarter.