Most home security cameras are pretty dumb. Sure, they'll record video when something moves in front of them, and they might even send an alert to your smartphone when they do. But that's about the extent of their intelligence. French manufacturer Netatmo is promising more with its Presence outdoor camera/LED floodlight combo. The company says its camera can distinguish between people, animals, and cars and will send you an SMS message to tell you what it's seen—"person seen," "animal seen," or "car seen"—so you can pull out your smartphone and check the live situation for yourself.
The camera has infrared night vision, of course, but it can also be programmed so that its motion sensor will trigger its integrated LED floodlight to light up when someone or something moves in its 100-degree field of view. With the area in front of the camera fully illuminated, it can capture full-color video instead of the black-and-white that's typical of night-vision recordings. Users can also turn on the light from their smartphone to light their way to their door at night—or to startle a would-be intruder. And for those times when you just want a little outdoor mood lighting, you can dim the floodlight.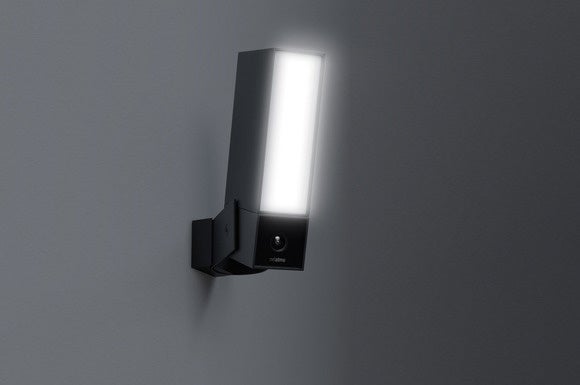 The Presence should be easy to install, since most users will typically replace an existing outdoor porch light. The unit connects to your Wi-Fi network, so there should be no requirement for new wires. And unlike too many home security cameras, there's no cloud-storage subscription fee associated with the Presence. It captures video at 30 frames per second and stores it in MP4 format on an onboard microSD card (the camera comes with an 8GB card, which is enough to store about 100 events, according to Netatmo). Users can also back up video to a personal FTP server.
In addition to viewing live and recorded events, you can use the smartphone app to define zones where you want the camera's motion sensors to be active. This way you can program it to ignore nearby trees and shrubs blowing in the wind. Netatmo's app is accessible from a smartphone or tablet (Android or iOS), a PC or Mac, or an Apple Watch.
Netatmo says the Presence will be available in the beginning of the third quarter, but it has not disclosed pricing. We'll update this story when we get that information.