SHaaS (Smart-Home-as-a-Service) provider Alarm.com has integrated its cloud-based connected-home platform with Amazon's Echo wireless speaker and voice-command device as well as the new HomeKit-compatible Apple TV.
Alarm.com's new Apple TV app, available from the tvOS App Store, sounds almost identical to the Amazon Fire TV app that the company launched last June. You can use it to watch live HD feeds from your home-security cameras on the biggest and most convenient screen in your home–your TV. According to the firm, the app's interface includes support for multi-user logins and the viewing of video feeds from across multiple properties. Although the company's press release doesn't provide details, we presume that this new app can be used to view up to four camera feeds simultaneously, just like the Fire TV version.
If there's one area in which the Apple TV version appears to be somewhat superior to its Fire Stick counterpart, it's ease of navigation. This is due to the Apple TV's touch-sensitive remote, which lends itself to smoother navigation than remotes that only have a physical D-pad.
"The Apple TV Siri Remote with Touch surface also controls Alarm.com's pan and tilt cameras, making it easy to see more of what's happening around the home," reads the press release. Speaking of Siri, it reminds us that you can't still use your Apple TV to control smart-home devices with voice commands; that's only possible on iOS-based mobile devices.
But even if the opposite were true, it would be of no consequence in this particular case as Alarm.com is not on the fairly short list of HomeKit-certified services and devices. However, just out of sheer curiosity, we have asked the company if it has any plans to support HomeKit and, by extension, Siri-based voice control in the future. We will update this article as soon as we hear back.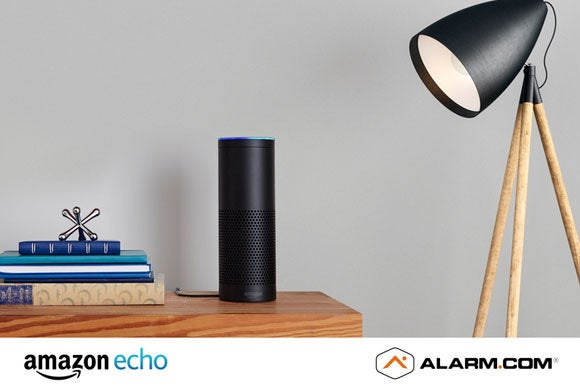 if you find voice control to be an essential feature for your connected home, on the other hand, you'll want to know that Alarm.com has added support for the Amazon Echo and its voice-activated digital assistant Alexa. While this voice-control feature is limited to smart lights at launch, the company says efforts are underway to expand it to other connected-home devices in ecosystem, beginning with smart thermostats.
"With Amazon Echo and its cloud-based voice service named Alexa," says the company, "a simple spoken command, such as 'Alexa, turn on the living room lights,' triggers a response in the home." Alarm.com says users will be able to control both individual lights and user-defined groups of lights.
The Alarm.com app is also available for iPhone, iPad, Apple Watch, Android devices, Windows Phone and, of course, Fire TV. The app itself is free, but it only works with an Alarm.com-powered security or home-automation system, which you can purchase from an Alarm.com-affiliated service provider.
These service providers resell Alarm.com's service and hardware (control panels, thermostats, sensors, lighting controls, security cameras, and more) on a subscription basis, often subsidizing the price of the hardware in exchange for the consumer signing a long-term contract (typically two years or more). According to Alarm.com's website, a system typically costs $100 to 200 up front and $40 to $60 per month, depending on which services you opt for.
Why this matters: Alarm.com revealed last year that its smart-home platform had more than 2.3 million residential and business subscribers as of December, 2014. To put that into perspective, according to research firm Park Associates, the company enjoyed a 50-percent lead over its next largest competitor, iControl, at the time. And iControl is no slouch itself, being the brains behind the security/connected-home offerings from companies such as ADT (Pulse), Comcast (Xfinity Home), Time Warner Cable (Intelligent Home), and Cox (Homelife).