We've seen a number of off-the-shelf aquaponic solutions targeting amateur urban gardeners. They may sound like a good option for anyone too busy or scared to tread the DIY route, but they aren't necessarily any less challenging to maintain, especially if you're a brown-thumbed gardener who's just as hopeless at fishkeeping.
Aquaponics—in case you've never heard of it before—is a portmanteau of aquaculture (raising aquatic animals) and hydroponics (any soil-less plant-cultivation technique). It describes any system that combines the two into a symbiotic whole. Such a system typically consists of a fish tank and a grow bed: Water containing ammonia-rich fish excreta is pumped up to the grow bed, where nitrifying bacteria make short work of the ammonia, breaking it down into plant-sustaining nitrates and rendering the water clean. In short, your plants get organic fertilizers and the fish clean water (ammonia is toxic to them in high concentrations). Trust us, it only sounds like magic.
The Grove Ecosystem: Aquaponics evolved?
But if you think aquaponics is a piece of cake requiring no oversight, a simple Google search on the subject should be enough to disabuse you of that notion. A Somerville, Massachusetts-based startup named Grove Labs is trying to make it simpler, though. It has developed a smart indoor aquaponic system, called the Grove Ecosystem, that it says even novices can use to grow their own veggies, herbs, and small fruits.
The Ecosystem leverages a gaggle of onboard sensors—air temperature, humidity, water temperature, and water level—to keep you informed at every step. This way, you can visually track your progress, monitor plant growth, and identify any problems or imbalances in the system. The readings are relayed to you over Wi-Fi via a companion app called Grove OS.
Grove Labs co-founder and CEO Gabe Blanchet tells us the app is what truly sets the Ecosystem apart. He claims there's not much for you to do beyond planting seeds, checking plant health, and adding water and fish food when notified. Simply tell the app what you've planted, and it will automate the fans, lights, and water pumps accordingly. Of course, you can also use it to control these components manually anytime you like.
The seeds for the Ecosystem were sown in an MIT fraternity house some two years ago, when Blanchet's green-thumbed roommate Jamie Byron put together a compact aquaponic system in their room. It quickly became the talk of the town, and the duo realized they were onto something. Their next stop was MIT's Global Founders' Skills Accelerator, where they did much of the spadework that was necessary to take their idea to the world.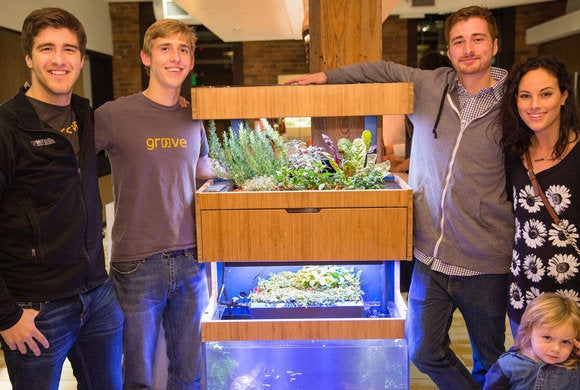 The company has gone through seven prototypes, the most recent of which has been undergoing testing in 50 Boston homes for the past six months as part of the company's "Early Adopter" program. The feedback from these early adopters has helped inform a number of key design changes and improvements (more on that later).
The final product is essentially a cabinet—made out of engineered bamboo—with a 26-gallon aquarium at the bottom, a 230-square-inch secondary grow bed dedicated to seedlings in the middle, and a 305-square-inch main grow bed on top. The ceiling—which houses a set of LED grow lights—can be adjusted vertically according to the height of the plants. The 115-pound cabinet also has a built-in storage space for all your aquaponic paraphernalia: seeds, fish food, nutrient supplements, aquaponic test kit, and what have you.
This latest iteration is better than the beta version in several regards. First things first, the fish tank and the grow bed are both bigger than before. And the secondary grow space for seedlings and micro greens is an entirely new addition to the design. The company has also managed to make the whole thing more power efficient—the system consumes just over 100kWh per month—by optimizing the LED lights.
Speaking of which, Grove Labs touts its custom-designed LEDs as the best grow lights in the business. "LEDs are one of the fundamental technologies that will allow indoor growing like this to be sustainable and effective," Blanchet says, adding that the company decided to come up with its own solution as none of the off-the-shelf LEDs were "tuned for both optimal, healthy plant growth and human comfort." The full-spectrum (2000- to 5000K), fully dimmable LEDs inside the Ecosystem are designed to mimic the sun so as to stimulate photosynthesis in plants.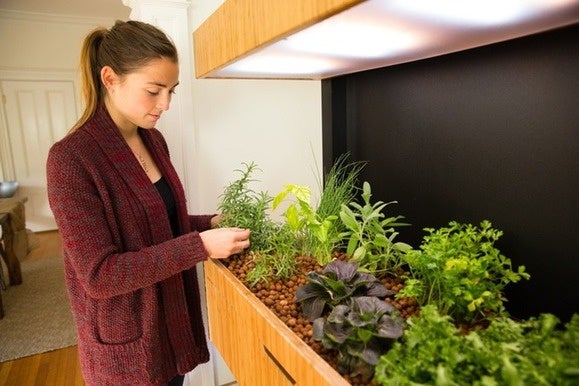 Enough with the plants, it's time to dive into that fish tank. In case you're wondering which species are ideal for this particular setup, Blanchet said "We recommend schooling fish, such as tetras, blue fins, etc., in addition to snails, clams, and other aquatic life." What he doesn't recommend, however, is people growing fish like Tilapia to eat—owing to the tank's relatively small size. As for stocking density, the company suggests that you stick to one pound of fish per 10 gallons of water.
"[The operational cost] varies depending on what you want to grow. If you are growing fast, you could expect to spend up to $20 to 25 per month in seeds and electricity to run the efficient (but powerful) LED lights and the other electronics. If you focus on culinary herbs and leafy greens, the monthly expenses will be a bit lower."
The Grove Ecosystem is currently on Kickstarter, where the company is taking pre-orders for delivery in May, 2016. Though it's expected to retail for around $4,500, you can secure one for as low as $2,700 (plus shipping) on the site right now. Blanchet assures us cheaper models are on the company's roadmap.