The Mark Cuban-backed smart lighting startup iLumi has gotten its second-gen color-tunable Bluetooth LED bulbs onto the shelves at Best Buy. The new model, prosaically dubbed the New iLumi Smartbulb, comes in A19 and BR30 form factors (the original came in A21 and PAR30 sizes).
The four-year-old company is a bit of a Kickstarter darling. Both its first- and second-gen bulbs have been funded via the popular crowd-funding platform. Where the original attracted pledges worth around $145,000 during its Kickstarter campaign in 2013, the second-gen model was able to pull in more than $365,000 earlier this year.
Why this matters: iLumi says it's sold tens of thousands units of the original iLumi Smartbulb over the past couple of years. Whatever be the exact number, these second-gen smart bulbs look set to do better. This new Best Buy distribution deal, coupled with the fact that they are around 30-percent cheaper than their first-gen counterparts, should help boost sales.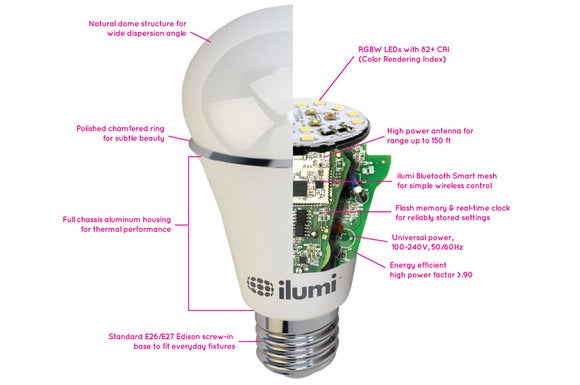 Specs
The A19 model puts out 800 lumens (60-watt incandescent equivalent) and consumes 10 watts at peak brightness. The BR30 model has a maximum light output of 1,150 lumens (85-watt incandescent equivalent) and consumes 14 watts of power at max brightness.
iLumi's bulbs communicate with your phone via Bluetooth and, therefore require no hub. When we reviewed the original A21 iLumi Smartbulb back in April, we observed that it was one of the easiest smart bulbs to set up. According to the Plano, Texas-based firm, the second-gen model is even better in this regard and offers a true plug-and-play setup experience. The company's patented Bluetooth SmartMesh wireless technology allows you to control up to 50 such bulbs via the companion app at any given time.
The New iLumi Smartbulb's A19 and BR30 variants are available at most Best Buy stores across the U.S. as well as BestBuy.com, priced respectively at $60 and $70. Corey Egan, iLumi's co-founder and CEO, is definitely excited.
"It is a huge achievement for us to have ilumi Smartbulbs available at Best Buy stores, Egan said in a press release. "It's been our team's goal since we first had the idea for ilumi many years ago, and it's exciting to see that goal come to fruition. Now people from across the country can go to their local Best Buy store to see ilumi in person and truly experience the power of good lighting."