The headphone plug may not have changed in an awfully long time, but that doesn't mean there's nothing to improve. There are moments when you wish it would fit into the socket a little less snugly, so that the cable it's attached to isn't as much of a tripping hazard.
A Hungarian startup claims to have the cure for this age-old bane of bumbling humans. It's an inexpensive adapter, called Mack, that can infuse some magnetic awesomeness into any 3.5mm audio connection. It's like Apple's MagSafe, but for headphones.
The Mack has two magnet-tipped parts: one plugs into an output device's 3.5mm headphone socket, its round head peering out ever so slightly, while the other acts as a sort of a sheath for your headphone's 3.5mm jack. Once you've installed both the male and female Mack connectors, simply snap them together to establish the audio connection.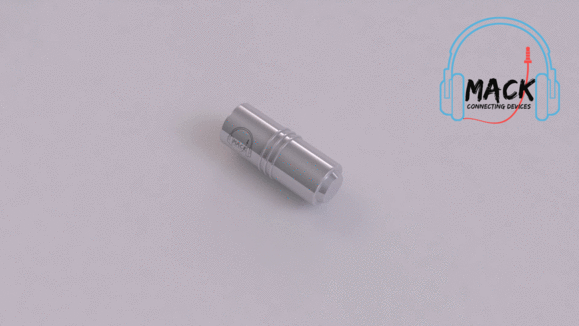 Why this matters: The magnetic bond between the Mack's two parts is supposed to be incomparably more accident-proof than a traditional connection. You can bid farewell to the fear of damaging your phone (or any other output device) in the event that you accidentally end up snagging your headphone cord on something. With the Mack, the only thing that's likely to break is the magnetic connection.
You can pre-order this nifty add-on from Indiegogo for delivery in January 2016. The $14 single-device Mack kit is available at an introductory price of $8. There are a variety of color options to choose from, including brushed metal, orange, natural green, tomato red, cobalt blue and ebony black.
Not the first
This is by no means the first product of its kind. We've seen a couple other nearly-identical magnetic adapters before. The most recent one, called Magzet, hit Kickstarter earlier this year with much fanfare, but was unable to reach its lofty $294,000 funding goal. A similar fate is out of question as far as the Mack is concerned because this is a "Flexible Funding" campaign. It means the project will receive all funds raised whether or not it reaches its funding goal (a modest $20,000).
However, that does not mean the Mack's creators have nothing to worry about. A couple of years back, another similar product called the Pogo also generated plenty of buzz. The Pogo's creator even took it to Belkin, which loved the whole idea, but determined it was likely to get sued for patent infringement if it ever turned it into a commercial product. Could a similar fate be in the works for the Mack?