At a Glance
Expert's Rating
Pros
Day Briefs provide a digest of recordings
Setup is a snap
App is dead simple to use
Cons
Relies on algorithms to determine what and when to record
Lacks customization options
Short-lived backup battery
Our Verdict
Logitech has a long history in the home security-camera market, but this product has more in common with a webcam than its competition.
Logitech is no stranger to the swelling home-security market, having marketed the WiLife and then the Alert series of cameras (both of which have since been discontinued). The company is now taking another stab at the market with the $200 Circle. But while this camera is priced to sell along side other home-monitoring cameras, its lightweight security features make it more suited for capturing precious moments than bad guys.
What you get
Given Logitech's years of experience making webcams, it's not surprising the Circle doesn't stray far from that design style. The pod-like camera is about the size of a tennis ball and sits on a charging dock and ring-shaped magnetic mount. As this last piece can also be screwed into a wall, the Circle can be placed on virtually any horizontal, vertical, or other-angled surface. Aside from the activity light—which shines white when the camera is watching—there are no buttons or other adornments on the camera.
The ball portion of the camera can swivel 360 degrees without losing contact with its charging base and pivot up and down. It's recommended that it remain plugged into a power outlet, but it does have an onboard battery Logitech claims is good for about three hours (12 hours in low-power mode), so surveillance will be uninterrupted in the event of a short power outage or an intruder cutting your home's electricity.
As the Circle's 135-degree lens monitors the environment, the camera streams live video to your smartphone in 720p HD resolution with 8x digital zoom capability. In low-light, the camera can switch to infrared night vision with a range of up to 15 feet. A two-way audio system lets you remotely communicate with pets, children, or anyone else in your home.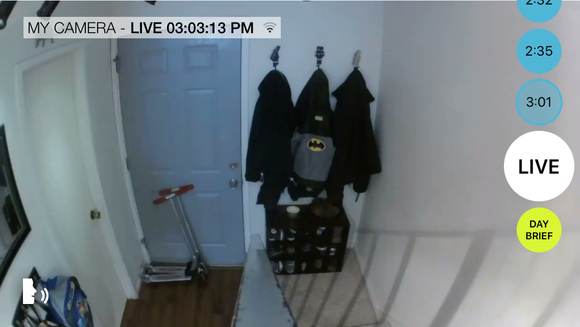 When the Circle detects motion, it starts recording and pushes a notification to your phone. You then have 24 hours to review the motion event and have the option to save the event locally to your phone for later viewing. Lest you think you're going to get an alert every time your kitchen curtains flutter or there's a change in daylight, the Circle features a technology called Scene Intuition which extracts objects, people, and faces, from the monitored environment while filtering out unwanted motion triggers, such as moving leaves.
Another feature called Day Briefs eases the headache of slogging through hours of surveillance footage. Using Scene Intuition, the Circle rounds up the day's most "interesting and important" events and generates a 30-second timelapsed highlight video so you can easily digest all the day's action.
Recorded video is encrypted and stored free in the cloud for 24 hours, after which it's deleted to make room for the next day's footage. Each account has its own private cloud on the Circle Cloud Service and is protected by an account password. According to Logitech, longer-term storage options under a premium (i.e., extra cost) offering are in the works.
Setup and usage
The Circle immediately differentiated itself with its easy setup. The camera came charged, so I just set it on top our our entertainment center and downloaded the app, which is the sole interface for the camera—there is no web portal. Within seconds of launching the app and logging in to my home network I had a 135-degree wide-angle view of my living room.
The app's main screen shows your live feed in landscape mode only, with a scrolling activity log of time-stamped events down the right side. To view a specific recording, you just press the time-stamp. Tap the Day Brief icon to get a CliffsNotes version of the day's recordings. These daily roundups are actually the Circle's best feature; one I'd love to see more security cameras adopt.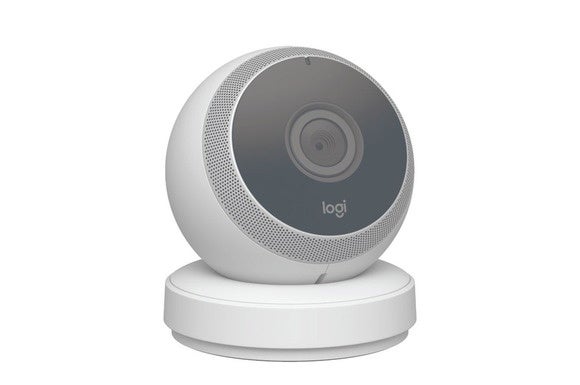 Swiping left on the feed screen opens an overlay with the camera's control panel. From here you can turn the camera on and off, put it in low-power mode, activate night vision, and perform a few other basic functions.
One afternoon, I decided to use the camera to check on my dog while I was away. I corral him in the foyer when I know I'll be gone for just a short time, but there's no convenient surface there to place the camera, so I unplugged it and mounted it on the metal staircase banister. That gave me the perfect vantage point for monitoring him, and the two-way audio gave me the opportunity to listen in and give him voice commands when he got into mischief. I also found, however, that the Circle's battery lasted only about half of the promised three hours.
Live video was clear in all my tests, with accurate colors in both day and night mode; but there was significant image bending at the top and sides of the frame. Predictably, using the pinch-and-zoom feature rendered the image fuzzy, making it hard to distinguish smaller details.
Because the Circle offers Scene Intuition in lieu of the manual motion-detection settings offered by most other cameras in its price range, you're at the mercy of Logitech's algorithms when it comes to determining what's an "interesting" event. It became apparent that the Circle's definition is "anything that moves in front of the camera." After receiving generic notifications stating "Activity detected on My Camera," I'd frequently find recordings triggered by a rotating fan or my dog's wagging tail.
To be honest, Circle is distinguished more by what it doesn't offer than what it does. There are no scheduling capabilities, and you can't program it to record specific movements, patterns, or times of day. There's no web app, nor are there options for managing notifications.
Logitech tries to qualify this by calling it a "home connection camera," but the reality is at $200 it's competing with the likes of Nest Cam, Flir FX, and other full-featured security cameras. By that measure it falls well short.
Bottom line
The Circle offers decent video quality, flexible mounting options, and a simple app if you're willing to pay a premium for a nanny/puppy cam. But the lack of customization options hamstring it as a security camera. A Logitech representative assured me the company plans to incorporate features such as scheduling as the product evolves, and that it's currently working on a web app. With the addition of these kinds of advanced features, I could see Circle developing into a contender. Until then, there are plenty of better options on the market.