At a Glance
Expert's Rating
Pros
Wonderfully musical to listen to
Sonos's mesh network makes for outstanding whole-home audio
Terrific price/performance ratio
Cons
Not as high fidelity than the more expensive B&W Zeppelin Wireless
No threaded mount
Our Verdict
Sonos knocks one out of the park with the all-new Play:5. This is a spectacular speaker either on its own or as part of a whole-home audio system.
Best Prices Today: Play:5 (2015 Edition)
Sonos' business model differs from most consumer-electronics companies: It doesn't rely on planned obsolescence for ongoing revenue. Sonos doesn't want you to replace the product you bought from them two or three years ago; it wants you to expand your system with new components, to bring music to new rooms in your home. "You liked the speaker you bought for the living room," the company seems to say, "how about adding a smaller one for the bedroom? Hey, now you can connect a Sonos soundbar to your TV. Need more bass response? Our new subwoofer is just the ticket. Why yes, we do have speakers you can use as surround channels in your home theater." And so on.
So that makes the new Play:5 powered speaker something of a departure for Sonos. This is the first time the dominant player in the multi-room audio market has re-engineered and replaced an existing product. The phased-out Play:5, introduced as the ZonePlayer S5 in late 2009 and was Sonos' first powered speaker. Prior to that, you needed a Connect:Amp and passive speakers, or a passive Connect and powered speakers (those products also went by different names in the early days).
Sonos is also strong when it comes to making their existing products easier to use, better, and less expensive. It developed a smartphone app so you didn't have to buy its elegant-but-expensive controller. It eliminated the need to have at least one of its components hardwired to your router (or buy a wireless bridge if that wasn't possible). And it came up with a signal booster for larger homes or situations where Sonos nodes were too far from each other. In that vein, Sonos' Trueplay calibration software is a major step forward that I'll cover in more depth in a separate story.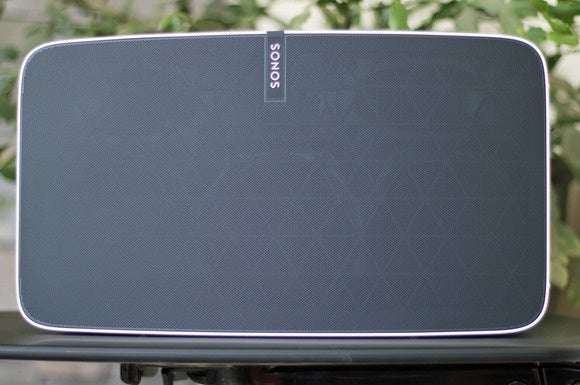 The ZonePlayer S5 was a strong speaker, but the new Play:5 makes it seem downright primitive. The cabinet houses three long-throw mid-woofers and three tweeters (two of which fire to the side to give the speaker a wide sound stage). Each of the six speakers is driven by a dedicated Class D amplifier. Following its long practice, Sonos doesn't disclose power ratings for its amps; but trust me, you don't need to worry that this speaker isn't loud enough. It filled my 323-square-foot great room with sound, and it nearly drove me out of my slightly smaller (247 square feet) home theater.
As with the rest of the Sonos line, the new Play:5 has an 10/100Mbps ethernet port in back, but most people will take advantage of Sonos' excellent mesh network and run the speaker wirelessly (which is how I tested it). Alternatively, you can plug in an analog audio source into the 1/8-inch input next to its RJ-45 port.
For a single-cabinet speaker, the Play:5 does a very good job of presenting a stereo image, but Bowers & Wilkins' Zeppelin Wireless—which puts its tweeters at the outer edges of its football-shaped enclosure does it better. I also think the Zeppelin delivers just slighter higher definition than the Play:5; then again, B&W's speaker costs $200 more and Sonos' networking technology is superior to Apple's AirPlay when it comes to building out a whole-home audio system.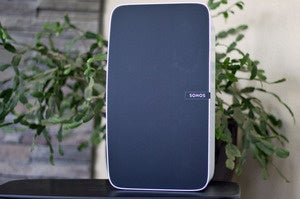 A single Play:5 performs best when its oriented horizontally, but rubber feet at either end allow it to be set vertically. In this position, an accelerometer switches the speaker to monophonic mode. Pairing it with a second Play:5 produces two-channel stereo again. You can use multiple Pair:5's with a Sonos Playbar and a Sonos sub for a home-theater setup (a scenario I did not evaluate).
Listening to what I think is one of the best live rock recordings ever—the Talking Heads' Stop Making Sense—I felt Chris Frantz's kick drum and Tina Weymouth's bass line (from "Life During Wartime") deep in my chest as much as heard it with my ears. Those long-throw woofers really move a lot of air.
The Play:5 is equally adept with other types of music. Playing Bill Evans' "B Minor Waltz (For Ellaine), from the jazz pianist's album You Must Believe in Spring, I was immediately impressed with the manner in which the tweeters articulately rendered Evans' piano without ever losing the ability to deliver Eddie Gomez's delicious double bass lines. You could hear the each attack as the piano's hammers hit its strings. It was a truly blissful experience.
If you're looking for a single networked speaker and can afford to spend $200 more, B&W's Zeppelin Wireless is the product to beat. But if you're planning to build out a network of speakers in your home, or even if your budget won't stretch to $699, the $499 Play:5 is the speaker you're looking for.
Best Prices Today: Play:5 (2015 Edition)