At a Glance
Expert's Rating
Pros
Easy to set up
Able to personalize security settings for individuals
Strives to make the home-surveillance experience less creepy
Cons
Facial recognition is hit-and-miss
Lacks many key security features
No cloud-storage option
Our Verdict
The Netatmo Indoor Camera shows promise with its facial recognition and personalized security features, but the camera and its app need more work to catch up to the competition.
Most Wi-Fi security cameras are designed to look for people who aren't supposed to be in your home. The Netatmo Indoor Camera is made to look for the people who are. The smart appliance manufacturer built this $199 camera around facial recognition and a personalized notification system that seeks not only to reassure you of your loved ones' safety, but to improve its ability to distinguish between real security incidents and false alarms.
Editors' note: Netatmo has since renamed this product the Netatmo Indoor Camera, so we have updated the review to reflect the product's new name. We have also updated the review to reflect the new name of Netatmo's door/window sensors, which are now called Netatmo Smart Door and Window Sensors.
In the real world, however, the Netatmo struggles to get to know your family, and it's missing many of the features that other cameras in its price range deliver. One new feature that sets it apart is support for proprietary door/window sensors called Netatmo Neatmo Smart Door and Window Sensors . The company also a Dropbox-based cloud recording feature, so this review has been updated to include an evaluation of those features.
What you get
The Netatmo Indoor Camera looks nothing like most home-security cameras. The indoor/outdoor device is housed in a tall, thin aluminum cylinder with a metallic finish much like its sister product, the Netatmo Urban Weather station. The design helps it blend easily with other knick-knacks in your home, and it reduces that feeling of Orwellian dread more-conspicuous security cameras can produce in your family and guests.
Netatmo Indoor Camera must be plugged in to a power outlet as it doesn't have a battery backup. The camera also has a USB port, so you can connect it to a computer, and though it's designed for Wi-Fi, it includes an ethernet port if you prefer a wired connection.
The camera's 1080p streaming, 130-degree field of view,m and infrared LEDs for night vision put it on par with the Nest Cam, but that's where the similarities to the current gold standard in home security-cameras end. Netatmo Indoor Camera detects motion, but not sound; and it has no two-way audio for remote communication.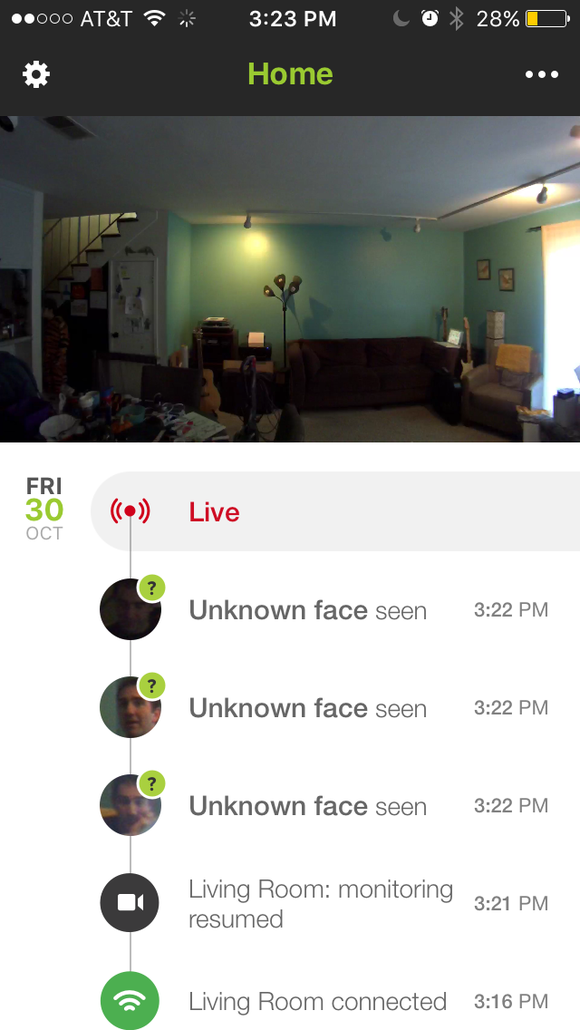 It's marquee feature is facial recognition that can distinguish up to 16 people. Once the Netatmo Indoor Camera "learns" faces, you can customize the alerts triggered by each individual. Ostensibly, this is so you can keep tabs on children and elderly parents, but it should also help cut down on false alarms when a "known" person passes in front of the camera.
Unlike most other home-security cameras at this price point, the Netatmo Indoor Camera doesn't offer its own cloud recording plan. Instead, it integrates with Dropbox so you can back up your video clips online. Video is also recorded locally to an included 8GB SD card that slots into the back of the camera. The benefits of this setup are obvious: by using your existing Dropbox account, you don't have the added cost of a separate cloud plan, and the redundant storage ensures you don't lose all forensic evidence of a break-in if the intruder takes your camera.
Optionally, you can extend the Neatmo Indoor Camera's capabilities with Neatmo Smart Door and Window Sensors . These motion sensors come in packs of three for $99 and can be attached to any door or window within 260 feet of the camera to monitor entry points the Indoor Camera isn't able to see.
Setup and usage
The Netatmo Indoor Camera had one of the easiest setups of any camera I tested. Other than the peculiar requirement to turn the camera upside down for the duration of the setup process, there was nothing remarkable about adding the camera to my Netatmo account and home Wi-Fi network. The Netatmo Indoor Camera mobile app (there's no web option) walked me through the steps and the whole operation was completed in less than two minutes.
Netatmo doesn't include any wall-mounting or magnetic accessories, so you're limited to placing it on flat surfaces. I positioned it on our living room entertainment center one bustling school morning, and within minutes it was sending regular motion alerts.
It also immediately started trying to recognize faces. When I first opened the app, the home screen presented me with a series of snapshots of myself and each of my family members, each with a question mark next to it identifying them as unknown faces. Each of these snapshots represented an event where the camera picked up human features. Tapping on a face takes you to the video clip of the triggering event. Long-pressing a face, allows you to identify that person.
When you start the face-identification process, you're presented with three options: "identify," "forget this person," or "not a face." As the camera never recognized my dog or a lamp as a face, I never had to use the last one. Selecting "identify" gives you two choices: Build a new profile, or correct the camera if it didn't recognize someone it should have.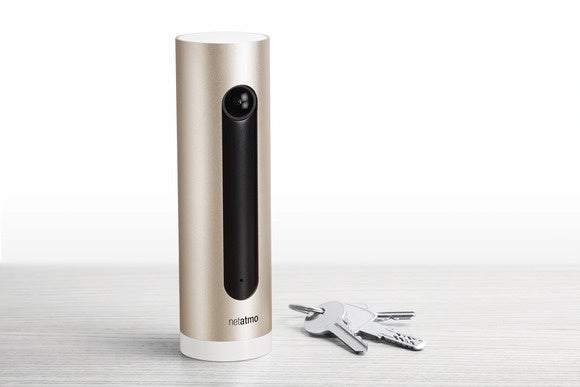 Building a profile allows you to name the person and add a photo, either the snapshot taken by the camera or a different picture. If there are multiple shots of the same person marked as identified, you can add each one to that person's profile. This will help increase their "profile strength," represented by a meter of one to five bars that indicates how well the Netatmo system knows them.
Based on my usage, building that strength takes time. The system learns to better recognize a face as it's increasingly exposed to it at different angles and in different lightings. I also had to do a fair amount of correcting the system when it marked an previously identified face as unknown. According to Netatmo, it can take a couple of weeks to build a full-strength profile. But considering it "learns" primarily by capturing fuzzy images of people in motion, it's tough to imagine its recognition will ever be as foolproof as we'd like.
All recognized faces are designated as either Home or Away. Anytime the camera sees a face, that person is identified in the app as being home. "Away" is a misnomer; the system says a person is away if it hasn't seen them for a certain period of time, even if they're actually home but out of view of the camera. The default is four hours, though you can change this in the app to be anywhere from one to 12 hours in 15-minute intervals.
You can also personalize settings for each person in their individual profile. By default, you will receive notifications for each person when they arrive home, but you can turn this off. You can also set a time range for when you want to be notified, say between 2:30 and 3:30 p.m. when your kids usually arrive home from school. Recording parameters for known faces are also set here: You can have an individual recorded always, never, or "only on arrival."
The camera's included SD card can reportedly hold up to 100 clips and delete them, starting with the oldest video, when it nears capacity. Given that the camera only records when it detects an event, it's unlikely you'll fill the card quickly; but you can always swap in a new card if you do. Just be aware that each time you take a card out, the camera loses its memory of who's who, and you'll need to retrain it to recognize all those faces.
You can also opt to upload videos to your Dropbox account. Just navigate to "cloud storage" in the Neatmo Indoor Camera app settings and select the camera you want to link (if you have multiple Indoor Camera cameras, you can only link one). From there you can adjust various settings for the videos you record to Dropbox, including the resolution (up to 1080p, though higher resolution can slow upload time) and triggers for recording videos of motion and unknown faces.
The point of face recognition is obviously to make sure the camera understands who should be in your home and who shouldn't. But the system offers several customization options for dealing with the latter as well.
You can tell the Netatmo Indoor Camera to always record unknown faces or only when no one is home. You can also choose to record and/or be notified of motion detection "never," "always," or "only when nobody is home."
The camera's live-feed screen is similar to that of other home security cameras. A video window sits on top of a timeline of motion and face events. Pressing an event takes you to video of the incident. Live video is exceptionally clear with no fish-eye distortion in either day or night modes. There's no digital zoom feature, though, so you can't hone in on specific areas of the panorama. Video playback is crisp and smooth.
Aside from managing profiles and recording settings, the app can be used to turn the camera on and off. You can set a four-digit security code for accessing the on/off switch to ensure unauthorized people can't deactivate your camera.
An extra set of eyes
Neatmo Smart Door and Window Sensors extend the Indoor Camera's surveillance beyond its 130-degree field of view. These sturdily constructed sensors—they're water-, wind-, and UV-resistant—come with adhesive strips to adhere to any surface inside or outside your home. Affix them to a window or door, and they sense vibration in order to detect when it is being opened or is left ajar.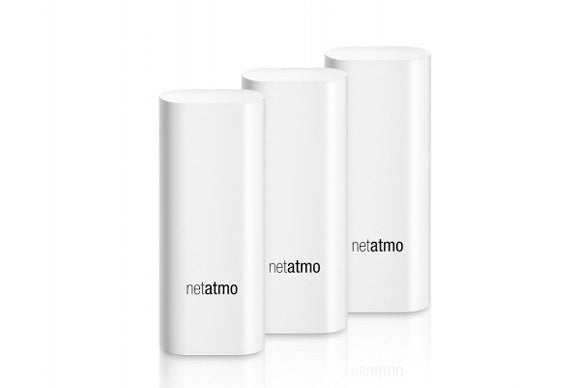 As with the camera, you configure the Smart Door and Window Sensors with the Neatmo Indoor Camera app. The setup process requires you to again flip the camera upside down. You insert two of the supplied AAA batteries into each sensor, and then follow the app guide for pairing it with your camera. Once a sensor is paired, the app prompts you to name it— "front door" or "master bedroom window," for example—and assign it a category. Smart Door and Window Sensor usage isn't limited to doors and windows; the category options suggest you can mount Smart Door and Window Sensors on gates, mailboxes, furniture—basically any object you want to monitor for movement.
Once the setup process is done, you can affix the sensor to the appropriate point of ingress. You'll then be prompted to calibrate it, which requires you to leave the door or window closed for up to two minutes. When calibration is complete, your Smart Door and Window Sensors are officially on guard duty.
I found the pairing process to be a little arduous—the spring-loaded battery-compartment lids are prone to repeatedly popping off when you're trying to lock them—but once the Smart Door and Window Sensors are up and running, they work as promised. Whenever a door or window was opened, I received a timely alert on my device and the movement was promptly recorded in the Indoor Camera app's event timeline. Most impressive, the Smart Door and Window Sensor alerted me as soon as even a small amount of force was applied on the door or window, so I was aware someone was coming in before the entry-point was actually breached. That could potentially allow you to stop an intrusion before it happens.
Bottom line
The Netatmo Indoor Camera gets points for trying to make the home-security experience more reassuring than alarming. Everything from the product's name to the extensive personalization options seeks to remove—or at least to downplay—the creepy surveillance aspect of home monitoring. And the addition of Neatmo Smart Door and Window Sensors is an easy way to expand the security system without having to purchase a second camera.
Unfortunately, the Indoor Camera system's lynchpin—facial recognition—is far from reliable and results in exactly the kind of vague alerts it promises to eliminate. Add to this the fact that the camera lacks many common home-security camera features—including sound detection, two-way audio, and—unless you have a Dropbox account—cloud backup—and it becomes a really tough sell, especially compared to such stronger competitors as the Reolink RLC-410 or the Nest Cam.