CEDIA 2015, Dallas, TX—SunBrite is showing off a gargantuan 84-inch, weatherized, 4K TV at CEDIA this year. The set is designed for outdoor installations, so you can enjoy movies, live sporting events, and other video content on the patio, balcony, or backyard. Now you can take your man cave out of the dark, dank basement and build it in the bright sunlight and fresh air.
Also available with a 55-inch screen, both models are designed for outdoor installations and boast an ingress protection rating of IP54 to guard against dust, insects, rain, snow, and humidity. The bezels are powder-coated to protect against ultraviolet radiation, salt-air corrosion, and rust.
Both models come equipped with built-in heating and cooling mechanisms to withstand ambient temperatures ranging from -24 to 122 degrees Fahrenheit. A SunBrite spokesperson told me he's heard from happy customers in Alaska who watch SunBrite TVs while sitting in their hot tubs with ice forming on their beards.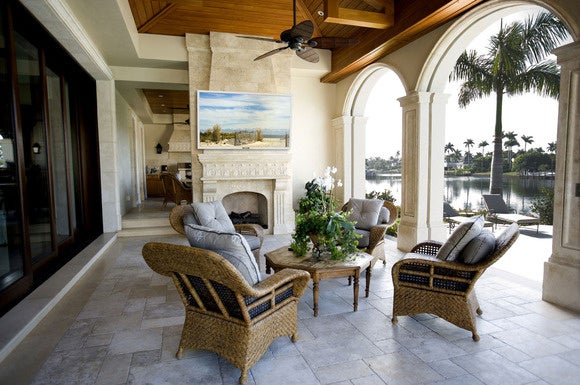 SunBrite says the TVs are bright enough to be viewed in direct sunlight, producing 800 nits brightness. The 84-inch model (SB-8418UHD) is outfitted with a glass shield over the LED panel to deliver additional protection from physical objects that might hit the display. You can stash a streaming box, such as a Roku or Amazon Fire TV, in a powered compartment in the back panel. Rubber gaskets on the back of the panel seal off power and other cables entering the compartment. And in place of the anemic speakers found on most indoor flat-screen TVs, both of these models come bundled a with 20-watt soundbar.
SunBrite hasn't announced pricing or availability for these new 4K models, yet; their currently shipping 65-inch 1080p model sells for $7800.