At a Glance
Expert's Rating
Pros
Shorter loading times than the old Chromecast
Performance improves each time you upgrade to a faster phone or tablet
Simple to set up and use
Cons
Not a good fit for people who don't keep their phones handy
No 4K resolution or 60-frames-per-second support
Support for Amazon Video seems unlikely for the foreseeable future
Our Verdict
The new Chromecast isn't a significant improvement over the original; then again, it didn't need to be.
Best Prices Today: Chromecast (2015 model)
The second-generation Chromecast might be the most unnecessary hardware that Google has ever released, but that doesn't mean it's bad product.
With Chromecast, the hardware never mattered much. Unlike media streamers from Roku, Amazon, and Apple, a Chromecast doesn't come with a remote control. Instead, you use your phone, tablet, or computer's Chrome browser as the remote. When you're ready to watch TV, you open a supported app such as Netflix or Hulu, hit the big "Cast" button, and choose a video. The Chromecast then begins streaming the video straight from the Internet a few seconds later.
By moving the entire browsing experience to the device in your pocket (or on your lap), Chromecast is unburdened by heavy computational and storage requirements, not to mention the cost of a remote. And whenever you buy a new phone or tablet, the Chromecast experience automatically gets smoother and faster. This unique setup—and ever-expanding app support—has allowed Chromecast to get better with age.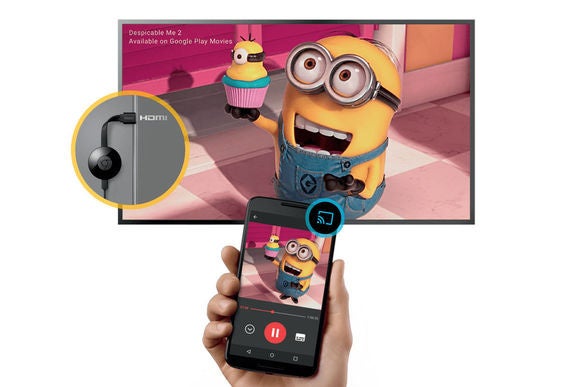 All of which is a long-winded way of saying that the market wasn't crying out for a replacement for the first-generation Chromecast. Despite being two years old, it's still a fast and cheap way to watch Internet videos on your television. The new model, still $35, is just a teeny bit more effective.
Streaming in the round
The new Chromecast does look different from the 2013 version, which was slightly larger than a USB stick and plugged directly into a television's HDMI slot. The 2015 version is more like a plastic puck, with a 4-inch HDMI cable on one end. It's designed to dangle freely away from the TV, so as not to block any nearby ports. (The old Chromecast shipped with a short HDMI extension cable to mitigate this problem.)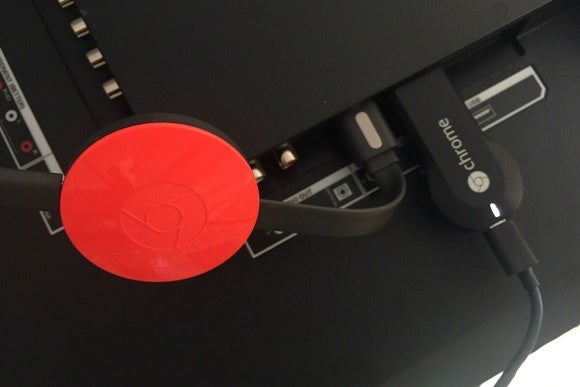 A micro-USB port on the opposite side of the new Chromecast connects to the included power cable to either an AC adapter or the television's powered USB port. With an AC adapter, a Chromecast can automatically turn on your television and switch to the correct input when you start Casting a video. Some televisions allow this through a USB port, too, but only if the port provides power even while the TV is off. (In either case, you'll need a TV that supports HDMI-CEC, which you might need to enable in your TV's settings.)
The new Chromecast's circular design also allows for a new antenna structure, which supports the latest 802.11ac Wi-Fi standard. If you have a router that supports both the 2.4- and 5GHz frequency bands, the new Chromecast can connect to either one (the latter is less crowded in most homes, but you might get better range with the former).
Those antenna improvements, along with an upgraded (but still low-power) processor, allow the new Chromecast to load videos faster than its predecessor. I tested this by launching videos in a few different apps—HBO Go, Netflix, and YouTube—and timing the delay before video began. In all cases, the new Chromecast was at least a couple of seconds faster. (Nvidia's Shield Android TV, which has the same Cast capabilities, was faster than both Chromecasts in my experience.)

Beyond just Casting from apps, you can also mirror the display of many Android phones, or any tab in Google's Chrome browser. Doing so will drain your device's battery life quickly, and doesn't always provide smooth playback, but it's a fine fallback measure for music and video services that don't support Chromecast natively. In any case, I didn't notice any performance differences between the new and old Chromecasts when mirroring.
Software in the spotlight
In lieu of major hardware changes, the big improvements come on the software side, benefiting both the new Chromecast and the existing version.
The best new software feature is Google's revamped Chromecast app for iOS and Android. It's no longer just a way to set up new Chromecast devices and find compatible apps, but a full-blown content search and recommendation engine. The "What's On" section suggests videos to watch from any Cast-enabled apps you already have, while the search bar lets you look up movies, TV shows, actors, directors, and genres from across all apps, either by voice or text. You can't Cast videos directly from this app, and search sometimes fails to list every available video search, but overall the Chromecast app provides a useful starting point when you don't know exactly what to watch.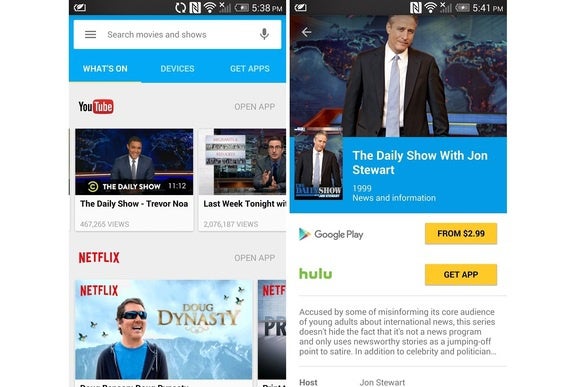 Google's also introducing a feature called "Fast Play" that's supposed to make apps and content load faster. This works in two ways: When you first launch an app on your phone or tablet, Chromecast will start pre-loading it, so it appears almost instantly when you hit the Cast button. This already works with certain apps, such as Netflix, on both the new and old Chromecast.
Later, Google will extend Fast Play by letting apps predict the next video you might watch. Videos can then buffer in the background, so they're ready to stream when you select them. This feature sounds similar to the "predictive streaming" on Amazon's Fire TV devices, but we won't be able to check it out until it launches early next year.
Of course, any streaming device lives and dies by its app support, and over the past two years Google has done an admirable job of getting major streaming video and music services on board. The most recent arrivals include HBO Now, Showtime, and NFL Sunday Ticket. The cable alternative Sling TV is on its way. Apple services such as iTunes and Apple Music are absent, but you can buy movies and TV shows from Google Play or Vudu, and listen to other subscription music services such as Spotify and Rdio. The biggest hole in the catalog is Amazon Video, and unfortunately that's unlikely to change anytime soon.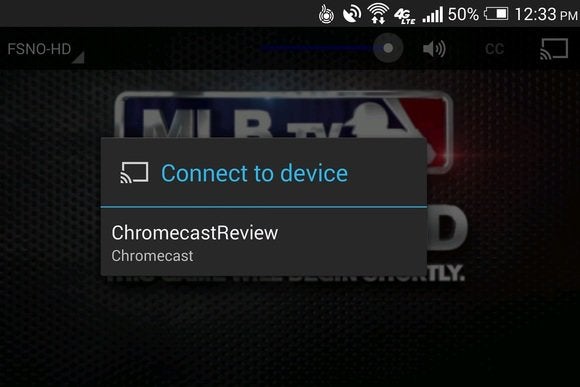 It's certainly possible to gripe about what Google didn't include in the new Chromecast. There's no 4K video support, for instance, and no 60 frames-per-second playback in YouTube. And while other streaming platforms support private listening (either through Bluetooth headphones on Amazon Fire TV and Android TV, or a headphone jack on the Roku 3 and Roku 4 remotes), Chromecast does not.
At the same time, the lack of new features is a testament to how well Chromecast worked in the first place. It's still a love-it-or-hate-it concept, as some people just won't like the lack of a physical remote control; but for everything Chromecast set out to do, it performs well. Buy the new model if you don't have the old one, but otherwise be happy that your $35 investment is aging more gracefully than any of its rivals.
Here's another story you'll want to read: 13 movie-streaming sites you don't know
Best Prices Today: Chromecast (2015 model)