At a Glance
Expert's Rating
Pros
Extremely easy to set up and program
Can manage both entertainment and connected-home devices
Large touchscreen display, plus backlit physical buttons
Cons
Limited to controlling 15 A/V devices
IR blasters not the best solution for an enclosed entertainment center
Poor replacement for a Sonos controller
Our Verdict
It's not quite perfect (it makes a terrible Sonos controller replacement), but Logitech's Harmony Elite can control anything in your entertainment center and almost anything in your connected-home system.
Best Prices Today: Harmony Elite universal remote control
Logitech's Harmony group has long made some of the best universal remote controls on the market. The Harmony Elite is the culmination of all that experience. It can control up to 15 audio/visual devices—far more than most people would have in their entertainment center—but it can also control an unlimited number of connected-home devices.
Harmony pioneered the concept of storing remote codes in the cloud, so that the user can program the remote by simply entering the make and model of the device. With Logitech's latest top-shelf remote, the Harmony Elite, you don't even need to provide that minimal amount of data—it can sniff out many of your Wi-Fi devices all on its own.
The Harmony Elite consists of a candy-bar-style remote control with touchscreen, a charging cradle to recharge the remote's batteries, the AC-powered Harmony Hub, and two IR blasters that plug into the hub. All commands go from the remote to the Hub via RF, so there's no need to point the remote at anything in particular. The hub relays the commands to the target device using either IR or RF, whichever is appropriate to the target.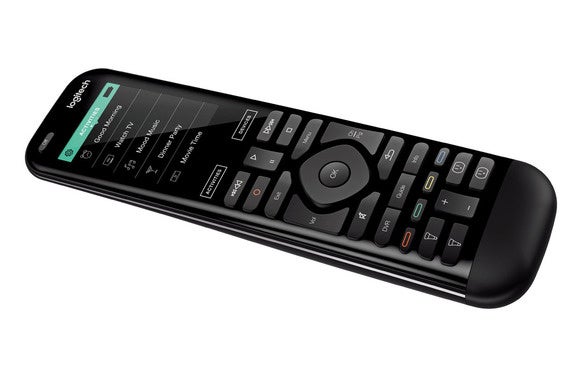 The IR blasters are useful for controlling components inside an enclosed entertainment center—provided there's enough room between the components and the door in front of them. My own entertainment center doesn't provide enough clearance for that, so I've long used a Niles Audio MSU250 infrared hub that has five discrete emitters that I can affix right on top of the IR receiver for each device I need to control. So for this review, I set Harmony hub and IR blaster on a table in front of my entertainment center and left the door open. The system had no problem reaching my DirecTV satellite tuner even though it's at the very top of my floor-to-ceiling cabinet (the bottom of the DVR is eight feet off the floor).
The remote control
The remote itself is fabulously well designed, very comfortable to hold, and each of its buttons is within easy reach of your thumb. It has a motion sensor, so the screen activates the instant you pick it up. The 2.0-inch-tall by 1.5-inch-wide color screen is big enough to present shortcuts to four items at once (just slide your finger up and own to display more), and haptic feedback vibrates the remote each time you make a selection on the screen or on the two touch-sensitive buttons below it: Activities and Devices.
Much of the initial Harmony Elite set-up is accomplished using a smartphone or tablet app (there are Android and iOS versions). The programming occurs via Bluetooth; alternatively, you can program the remote using a PC or Mac, but then you need to connect the remote to the computer via USB.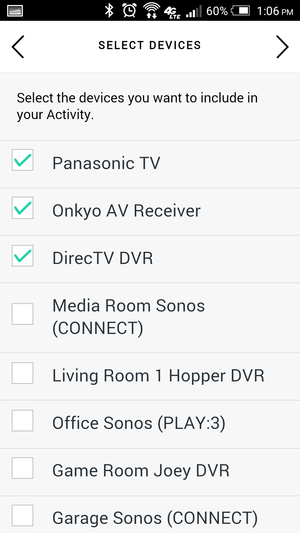 Activities are sequences of events that involve one or or multiple Devices (the other touch-sensitive button). My "Watch TV" activity, for instance, consists of turning on my Panasonic Viera TV, Onkyo TX-NR737 A/V receiver, and my DirecTV set-top box and setting the TV and A/V receiver to the correct inputs and outputs. The set-top box tunes to my favorite channel. Thanks to HDMI CEC, I can already turn on all three devices, control the volume, and turn them all off using just one remote control, but that's about all that protocol can do.
With the Harmony Elite, I can also turn off my Sonos music system and dim or change the color of the LED lights in my home theater, adjust my thermostat or just turn on a ceiling fan, close my motorized windows shades (if I had those), and a whole lot more—all with the press of a single button.
As soon as the Watch TV activity sequence is finished, the touchscreen remote changes to display the logos of my favorite 50 channels. Touch the logo and the set-top box changes to that channel.
If you have more than 50 favorite channels, just swipe the touchscreen a couple of times and you'll find a numeric keypad. You can also have multiple activities using the same devices. You can turn the lights up bright and tune the TV to your favorite news channel to watch the news, for instance, but dim the lights and turn on Netflix for movie night.
From then on the remote behaves very much like the DirecTV remote it replaced. I can call up the program guide or the list of programs recorded on my DVR, display DirecTV's on-demand offerings, and do anything else that the original remote can do. All of the most important functions are mapped to physical buttons, and those that aren't are displayed on the touchscreen.
Lots of lovely buttons
The touchscreen is great, and I'll get back to that in a moment, but what really makes the remote such a joy to use are the 24 physical buttons below it. Nothing delivers tactile feedback like a physical button, and the Harmony Elite has a button for every important function on a TV, pay-TV set-top box, and media streamer. It even has buttons for turning connected lights on and off. And as you'd expect from a product in this price range, all of those buttons are backlit so you can easily seem them in a darkened room. The remote even has dedicated buttons for controlling connected-home devices, such as your lights.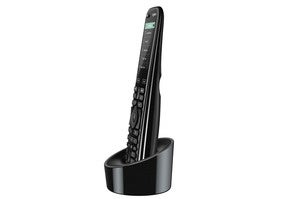 Of course there are also play/pause and skip forward/back buttons to control media playback; Guide, DVR, Menu, Info, and Exit buttons to control your DVR; channel and volume changers, plus a mute button; a diamond-shaped cursor control with an OK button in the middle; and four color-coded multifunction buttons. The ultimate function of each button depends on the device you're currently controlling. If you can't find a physical button for a particular function, look up at the touchscreen and you'll find it there.
You can create as many additional activities as you'd like, although as I noted above, you can control only 15 A/V devices. The typical home theater will have a TV, a DVR/set-top box, an A/V receiver, a Blu-ray player, and a TV. That's five devices. A higher-end installation might add audio separates (pre-amp, amp, and tuner) and a video projector to make nine devices. That still leaves half-a-dozen slots for a multi-room audio system (such as a Sonos), media streamers (a Roku or Fire TV), a gaming console, and so on.
Many homes will have fewer devices—I'm thinking of a home with just a TV and a soundbar. Bottom line: I think the 15-device limit will pose a problem only for very large households with very complex home theaters and large multi-room audio systems. And if that fits your description, you probably have a custom-installed system anyway.
Touch the Devices button and the remote will display all the hardware you've enrolled into the Harmony app—both A/V devices and connected-home devices. Choose a device from this list, and the physical buttons map themselves to the functions of that device as best they can. If you choose a Sonos player, for instance, and the track-forward/back buttons will move up and down your queue and the volume control will adjust the playback volume.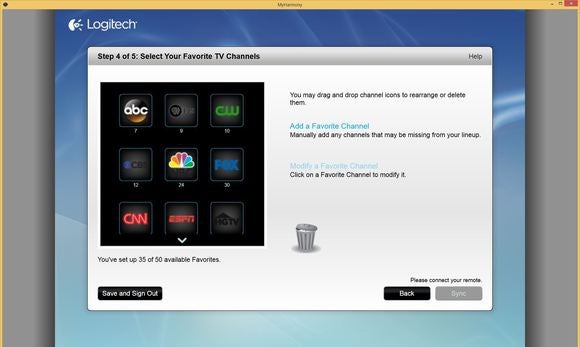 The rest of the physical buttons don't map neatly to a Sonos player's functions, so they're ignored. But look up at the touchscreen and you'll find controls for toggling shuffle, repeat, and crossfade modes; and choosing the input source (if you have a Sonos Connect that has inputs).
A lousy Sonos controller
But don't get too excited about using the Harmony Elite as a replacement for the Sonos smartphone app, because the Harmony's capabilities are extremely limited here. Define a "listen to Sonos" activity and it will start with your favorite music source at you're preferred volume level, and it will dim the lights or control as many other connected-home devices as you'd like. One thing it can do that the Sonos app cannot is to initiate a playlist (or a song, or an album, or a style of music) with one button press.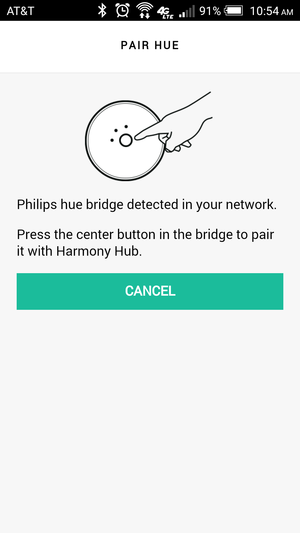 But you can't use the Harmony Elite to group Sonos players together (or break them apart), edit your track queue, or even browse your music library. The only music you'll see listed are those tracks you've identified as favorites using an actual Sonos app or hardware controller. I don't know how good (or bad) the Harmony Elite is at controlling other players or multi-zone systems since the only system I own is a Sonos, but it sucks as a Sonos controller.
That might be a blessing in disguise. Sonos is a multi-room system, after all; if I relied on the Harmony Elite to control it, the remote probably wouldn't get put back in its charging cradle with any regularity. And while I didn't measure how long the battery lasted, it's telling that Logitech's user manual suggests putting it back in the cradle whenever you're not using it.
If you do temporarily misplace the remote, you can use the Harmony app on your smartphone or tablet to control your devices in the same way—well, it's not exactly the same, since you won't have those physical buttons—but at least you won't be up a creek. A remote locator would be a welcome feature (hey, if Roku can do it…).
Connected-home control
Logitech says it has 270,000 devices in its online database, but its list of connected-home devices is much shorter: It works with the Peq, Smart Things, and Insteon connected-home systems; Ecobee, Honeywell, and Nest programmable thermostats; Big Ass Fans' Haiku ceiling fans; LIFX Wi-Fi light bulbs, Philips Hue LED bulbs, Lutron Caseta lighting controls and Serena motorized window shades, and a number of other products (you'll find a complete list here).
Add Logitech's Home Hub Extender ($100) to your configuration and you can go much further, since that device adds support for Z-Wave Plus and ZigBee devices, including connected LED bulbs from Cree, GE Link, Osram, and Sylvania; entry locks from Kwikset, Schlage, and Yale; and in-wall switches from Enerwave, Jasco, Nortek, and Quirky; door, window, and motion sensors from Aeon Labs, and others, and a number of Z-Wave and ZigBee hubs, including the ADT Pulse, Wink Hub, and the Vera Edge.
Is the Harmony Elite the right remote for you?
If you're looking to control just a couple of A/V devices and you don't live in a connected home, the Harmony Elite is much more hardware than you need. You'll end up paying for features and power that you'll never take full advantage of. On the other side of the coin, so to speak, the Harmony Elite isn't powerful enough if you need to control more than 15 A/V devices—whether or not you live in a connected home.
If you're one of the many people in the Goldilocks zone, and you're sick and tired of dealing with five or six remotes just to watch a movie or listen to music, the Harmony Elite is worth considering. It won't deliver instant gratification—you'll need to put in some time teaching it about your hardware and setting up activities the way you want them to play out. The more devices you own, the longer this will take; but you should be able to finish the basics in 30- to 45 minutes. And then you'll quickly start thinking about all the other ways this remote will make life more enjoyable.
Best Prices Today: Harmony Elite universal remote control