Today, the British startup Electric Jukebox Company announced a new music player and service that it says will appeal to the 160 million people who used to buy CDs, but who haven't made the switch to streaming services like Apple Music and Spotify because those products and their hardware requirements are too complicated and too expensive. Stay with me. This gets even more interesting.
The Electric Jukebox is one part on-demand music-streaming service and two parts hardware: A dongle that you plug into your TV's HDMI port, and a wand-like controller with a built-in motion sensor and microphone. Plug the dongle into your TV, and a simple home-screen appears with three icons: My Music, Discover, and Search. Using the wand to interact with the software and the mic to perform voice searches for your favorite artists, songs, and albums, you can sit in front of your TV and stream an unlimited number of tunes from the cloud.
That's right. The only way you can use the Electric Jukebox is when you're in front of your TV. There is no web client for your computer. There is no mobile app for your smartphone or iPod. You won't find an Electric Jukebox app on your next smart TV, set-top box, or A/V receiver. There's no multi-room option. There is no sharing what you're listening to on social media. It's as if the last 15 years of change in the music industry never happened; well, except for the part about not having to buy records anymore.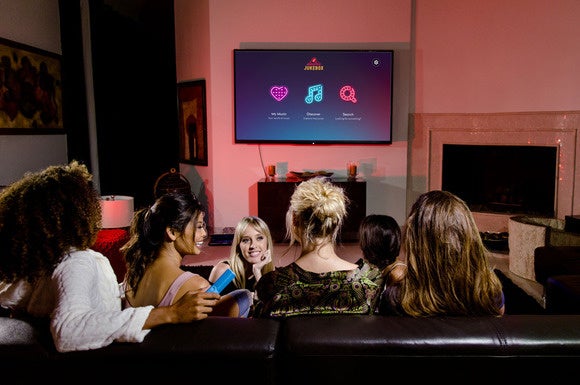 It would be easy to dismiss the Electric Jukebox as a misbegotten joke, but the company's management team is stacked with some very heavy hitters who are extremely passionate about this product. And when you hear their ideas, you realize they could be on to something. Personally, I can't imagine ever buying an Electric Jukebox for myself, and I expect most tech-savvy readers feel the same way. But just because this product wasn't designed for us doesn't mean it won't appeal to people who care just as deeply about music, but who aren't as willing to adopt new-fangled technology to get it.
The people behind the Electric Jukebox
Electric Jukebox Company CEO Rob Lewis founded Omnifone, which provides cloud-based music services to a number of companies, in 2003. Chairman of the Board Sir Malcolm Williamson is a former CEO at Visa International. The board also includes former CEOs, CFOs, and chairmen from EMI Music and Island Records. The privately funded company has been working on this project in stealth mode for more than two years.
Lewis explained in a telephone interview last week what inspired him to create the Electric Jukebox.
"Everyone in the music industry who we've talked to has noticed that less and less people are engaged in music," Lewis said. "Technology has pushed a lot of people away from music by making it this annoying thing. There used to be 200 million people who would buy at least one CD every month. Streaming services have been around for 10 years, but only 40 million [people] have signed up to use them. We're trying to make streaming as easy to use as the radio. The challenge for the design team was to build something that people can take out of the box, plug in, and they're instantly listening to music."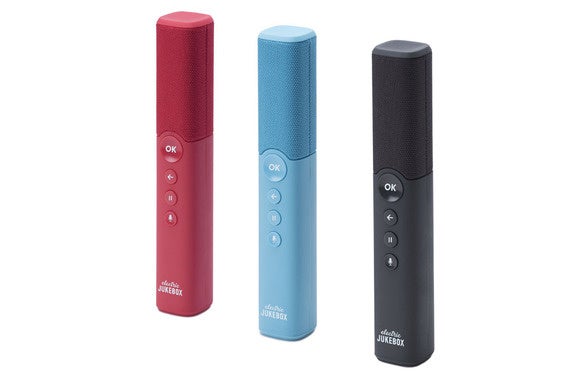 How it works
You'll be able to search for the music you want to listen to by speaking the name of the song, artist, or album into the Electric Jukebox controller. There's never a need to peck at on onscreen keyboard, and you don't need to worry about spelling. Search results appear on the TV and you'll wave the controller in the air to move a selection cursor on the screen. The controller has just four buttons: OK, Mic, Pause, and Back. But when the selected album or song ends, so does the music until you make another selection. They might want to rethink that.
The Electric Jukebox will also offer curated playlists (these will be called "mix tapes") and curated radio stations. The company has announced five artists as curators: American singer/songwriter Sheryl Crow; British recording artist and actor Robbie Williams; American actress Ayda Williams (who is married to Robbie Williams); British comedian and actor Stephen Fry; and singer/songwriter and Britain's Got Talent judge Alesha Dixon.
Crow provided this quote for the company's press release: "I love Electric Jukebox because it brings people together. Listening to music and sharing those experiences together is what life's all about. With headphones and iPhones we've somehow lost all that. Electric Jukebox plugs into your TV and turns it into a jukebox with all the music you want, played out loud in your home for you to listen together. Simple, fun, and no fuss."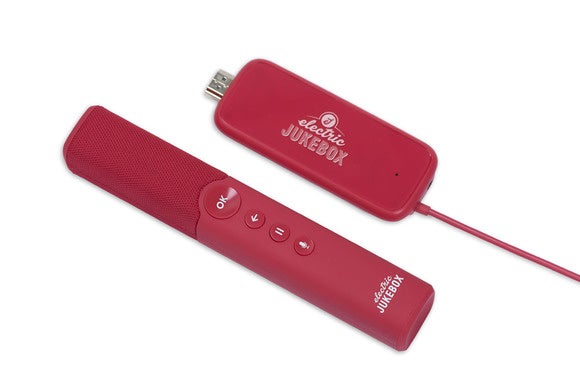 It's no longer common to have a Hi-Fi system in the living room, as Lewis points out, but most everyone has a TV. "Over the past 10 years," Lewis said, "we've moved to a personal listening model. We're harnessing the one bit of technology that everyone has in their living room, so that people can listen to music together again."
Well, here's hoping those TVs are connected to at least a soundbar so that Electric Jukebox buyers don't subject themselves to the sonic horrors of the speakers in a typical flat-screen TV. Thanks to the Audio Return Channel first introduced with the HDMI 1.4 standard, audio can travel upstream from a TV to a soundbar or A/V receiver using a single cable.
The basic technology
I've covered some of this earlier, but here are a few more facts you should know. Before you pre-order one for your parents, know that the HDMI dongle needs a Wi-Fi router to connect to the cloud. If there's no Wi-Fi in the house, there's no music. That's not an exceptional requirement by any means, but the Electric Jukebox is not quite as stand-alone plug-and-play as the company makes it out to be.
On the other hand, as Lewis points out, there is no login ID or password to remember and no subscription to manage. If you want to continue the music-on-demand feature after one year, you just buy another one-year music pass (via the app on your TV screen or the company's website). You'll still get curated music and radio without the pass, so the hardware doesn't become useless after a year.
"The number-one reason that people don't subscribe to streaming services is that they don't want to commit to a monthly subscription," Lewis said. "That's why we bundle the service with the hardware."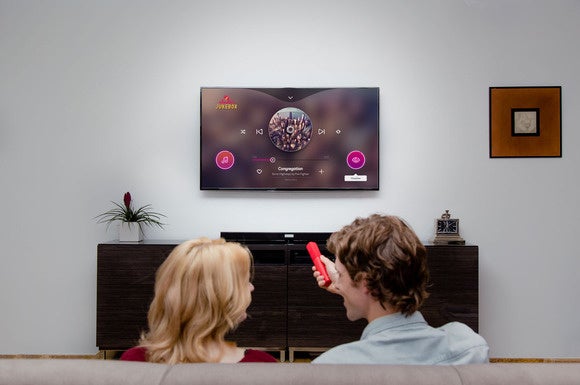 The onscreen app uses HTML 5, "so there are no software updates, ever," Lewis said. And the wireless controller communicates with the HDMI dongle using DECT, a wireless standard originally developed for cordless phones. "We found it to be better than Bluetooth because you don't need to pair the two devices," Lewis said. DECT operates in the 1.9GHz frequency spectrum, so it won't interfere with your Wi-Fi network.
Lewis told me the music will stream in "CD quality," but when I asked at what bit rate, he said "320Kbps." Lewis demurred when I asked which record labels Electric Jukebox had contracts with. When I asked for more details in a follow-up email, a company spokesperson responded with this statement: "The Electric Jukebox Company will announce its licensing arrangements in due course, but it will reach consumers with a full catalogue of around 30 million tracks to play instantly."
The Electric Jukebox costs $229 ($199 if you pre-order before midnight October 21) and includes a one-year Music Pass that's worth $60. Lewis said the music streamer would ship well ahead of Christmas. So what do you think? Will you consider buying one of these for yourself or for a friend or family member? Or do you find the TV limitation too restrictive? Let us know in the comments section, below.
Correction: Sky did not acquire Omnifone, it remains a privately held company.