Editor's note: This story has been updated in its entirety. You'll find all-new information about how to find free music online here.
I get it: You want some free tunes, but you don't want to be sued by the RIAA or by copyright trolls. Fair enough. Unfortunately, totally free music is rare these days—er, totally free and legal music, that is. But you can find some free music, and you can grab it straight from the music player you're probably already using: iTunes.
Yes, iTunes may be clunky, slow, and annoying, but it isn't entirely bad—especially once you know how to dig up free, legal music straight from the iTunes Music Store.
Free On iTunes
Guess what? iTunes has a whole page dedicated to free downloads. To access Free On iTunes, first open iTunes and click the iTunes Store item on the left-hand sidebar. Once you're in the iTunes Store homepage, look for a Quick Links heading on the right side. Underneath that heading will be a Free On iTunes link. Click the link, and voilà! This page features all sorts of free content, including music, movie clips, TV shows, apps, and even "new and notable" podcasts.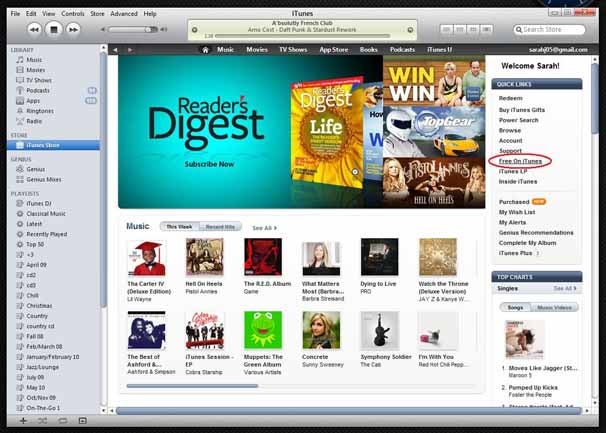 To download a free item, just click the little gray Free button. You will need an iTunes account to download anything from the iTunes Store.
No-cost items in the Free On iTunes section are usually available for around a week, so keep checking the page for updates. You can also follow the Free iTunes Downloads blog, which updates every time a new item appears.
Music Podcasts
If you don't mind listening to some chatter between songs, check out music-oriented podcasts available for free on iTunes. Podcasts are like prerecorded radio shows in that they usually include tunes and commentary. (Some don't have any commentary—AOLMedia's MP3 of the Day Podcast, for instance, offers one full, free song in each episode.)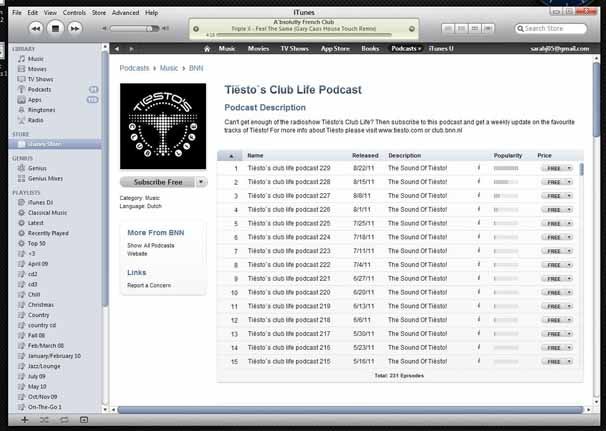 To browse podcasts, go to the iTunes Store and click the Podcasts link (on the top bar). Here you'll see everything from news and sports podcasts to science and tech podcasts, and all of them are free. To find music-oriented podcasts, go to the column on the right that says 'Podcast Quick Links' and click the drop-down menu. Choose Music, and you'll see hundreds of music podcasts.
To subscribe to a podcast, just click the Subscribe button next to the title. Once you do so, the current episode of the podcast will download, and future episodes will download automatically as they become available. You can also download past episodes by clicking the Free button next to an individual episode on the podcast's homepage.
Here are some podcasts to check out, depending on your musical tastes.
Rock/Pop: Celebrity Playlist, IndieFeed: Indie Pop Music, Old Time Rock n Roll, Rock of Ages, Absolute Radio: Classic Rock
Indie/Alternative: They Might Be Giants, IndieFeed: Alternative/Modern Rock Music, Indie Spotlight, NPR: All Songs Considered
Rap/Hip-Hop: Alternative Hip-Hop Lounge, Mixtape Show Hip-Hop, Hierocast, Dope Joints! Hip Hop Mixshow
Electronica: Tiësto's Club Life by Tiësto, The John Digweed Podcast by John Digweed, Release Yourself by Roger Sanchez, Corsten's Countdown by Ferry Corsten, A State of Trance Official Podcast by Armin van Buuren
Next page: Starbucks "Pick of the Week" and iTunes Radio
Starbucks 'Pick of the Week'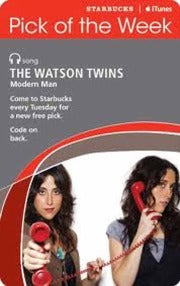 Taking advantage of this freebie is almost as easy as opening the Free On iTunes page. Every Tuesday, Starbucks offers a free iTunes download, also known as the Starbucks "Pick of the Week." To pick up the "pick," all you need to do is head down to your local Starbucks and grab one of the small, round-cornered cards (located near the sugar, creamer, and straws). Starbucks usually has both this week's and last week's picks on display.
Of course, you'll have to remember the Starbucks audience: You won't find any hip-hop or Top 40 tunes here. Instead, most of the picks feature independent artists, acoustic guitars, and smooth jazz—standard coffee-shop fare. A recent pick was Daniel Isaiah's "High Twilight."
The front of each card has the name of the song and artist, as well as a photo of the artist. On the back is a download code. To download your song, open iTunes and redeem the code by going to iTunes Store, Quick Links, Redeem.
You can also download the "Pick of the Week" by accessing the Starbucks Digital Network from inside a Starbucks shop. To do this, you'll have to take your computer in and connect to the Starbucks shop's Wi-Fi. Once you're connected, go to the Entertainment section of the page and download the "Pick of the Week" from the Starbucks site.
Starbucks recently expanded its "Pick of the Week" selection to include free downloads of paid iOS apps.
iTunes Radio
Although Apple no longer promotes the Internet radio feature in iTunes, it's still around—and worth checking out, especially if you don't need to take your music with you. iTunes radio is similar to other free radio stations: You can listen to music, for free, for as long as you like, but an advertisement will interrupt every so often.
To access iTunes radio, open iTunes and look at the column on the left. Beneath all of the usual options under the Library subheading, click on the Radio link; you'll see a huge list of genres (everything from 'Adult Contemporary' to 'Eclectic' to '70's Retro'). Click on the arrow next to a category to open a list of hundreds of streaming Internet radio stations. Finally, just double-click on a station to connect to the stream.
You can also add your own Internet radio streams to iTunes. To do so, go to Advanced, Open Stream… and enter the URL of your desired stream in the Open Audio Stream box.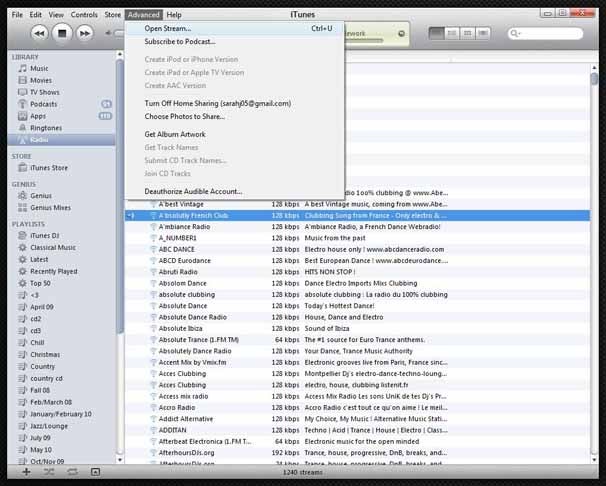 Free Music Can Be Legal, Too
These options are pretty much the legal limit when it comes to obtaining free music on iTunes. As you can see, iTunes doesn't have a huge selection of items to pick up for free, but at least it still has a selection. Podcasts will usually give you the most variety, and if you're listening to a capable host (say, one of the DJs, such as David Guetta or John Digweed), it's almost as good as having the song files—and it doesn't expose you to legal risk.