Amazon took the wraps off no fewer than seven products today: two new media streamers, four new tablets, and a new tablet operating system, Fire OS 5.
The all-new Fire TV is of particular interest: It's one of the few media streamers capable of delivering 4K resolution, and it costs just $100. Amazon's least-expensive tablet will also turn heads: A 7-inch model with an IPS display that will be priced at just $50.
Amazon Fire TV and Fire TV Stick
The new Fire TV's 4K resolution is one of its most exciting features, but I think its support for Amazon's cloud-based voice service, Alexa, is equally as important. As I said in my review of the Echo, anyone who buys an Echo will want to buy more for other rooms of their home. Put a Fire TV in your home theater, and that's one room you won't need to add an Echo to.
Going back to the 4K resolution, there's little point in delivering that feature if there's no content to go with it. To that end, Amazon's Director, Fire TV, Tim Twerdahl said in a briefing yesterday that every one of Amazon's original TV shows will be available in that resolution, and that all of Netflix's 4K content will be available on the Fire TV as well.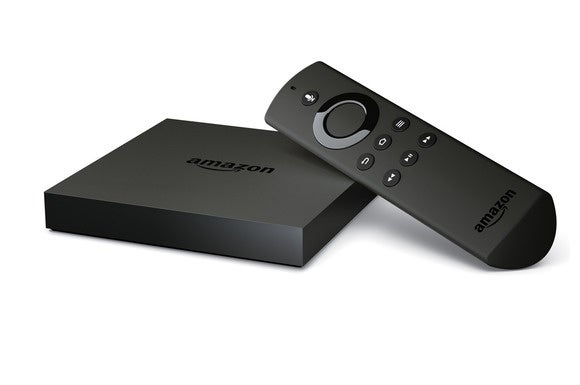 If a movie studio makes a film available in 4K resolution, Amazon will offer that version, too (movies currently available from Amazon in 4K include Captain Phillips, Money Ball, and Men in Black 3). Twerdahl said there would be no upcharge for streaming Amazon's original content in 4K or for any 4K movies included with an Amazon Prime subscription.
"The Fire TV will recognize when it's connected to a 4K TV and will offer content at that resolution if it's available." Twerdahl also pointed out that consumers who don't have 4K TVs will still benefit from the new HEVC codec Amazon is using—which he said is twice as efficient compared to the codec in use today—because the video stream will consume less bandwidth.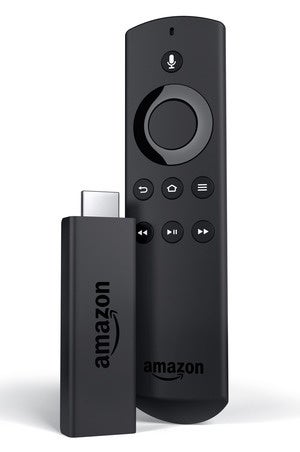 Speaking of bandwidth, the Fire TV is outfitted with an 802.11ac Wi-Fi adapter, so you can take full advantage of that high-end router you invested in. It also has a hardwired Ethernet port, which is what I would use (802.11ac is great, but a wired connection will always be better). The Fire TV also comes with a 64-bit quad-core CPU, a dedicated GPU, and 8GB of on-device storage. Users can add up to 128GB of additional storage via a microSD card slot.
Amazon also announced a new Fire TV Game Controller that includes a mic for voice searches and a headphone jack for private listening. The controller can be purchased separately for $40, or as part of a $140 bundle that includes a Fire TV, a 32GB microSD card, and two games: Disney's Ducktales and Yacht Club's Shovel Knight.
The new Fire TV Stick with Voice Remote, $50, doesn't get a boost in resolution, but it does get a new remote control with a built-in mic for voice searches and Alexa support. Amazon will also continue to offer the original Fire TV Stick at $40, and users will be able to add voice-control features to it by downloading an Android app or buying an add-on voice remote.
Both of the new Fire TV devices also get Amazon's Mayday tech support feature. First introduced with Amazon's tablet series, Mayday enables the consumer to get live tech support on demand. The tech-support rep can take control of the device, with the user's permission, and then guide the user through the steps that will resolve the issue.
The new Amazon Fire TV, Amazon Fire TV Stick with Voice Remote, and the Amazon Fire TV Game Controller are all available for pre-order today and will ship in October.
Amazon Fire tablet (and Kids' Edition)
Amazon's Senior VP of Devices, Dave Limp, demonstrated three brand-new tablets at yesterday's briefing. "The sub-$100 tablet market is growing the fastest," said Limp, "But those products are usually compromised. The new Amazon Fire isn't, even though we're selling it for just $50."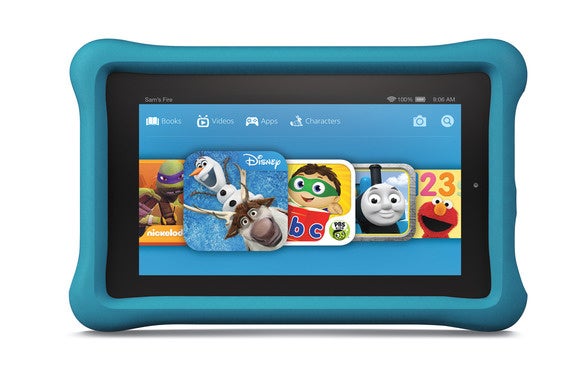 Where most very inexpensive tablets are based on TN panels that deliver poor image quality and limited viewing angles, the new Fire tablet features 7-inch IPS display offering resolution of 1024×600 pixels. The new Fire tablet is powered by a 1.3GHz quad-core processor and 1GB of RAM. It's equipped with front and rear-facing cameras, and a microSD card slot that enables you to expand the tablet's onboard storage up to 128GB. Amazon will entice holiday shoppers to give Fire tablets as gifts this year by offering a "six pack" of the tablets for $250: Buy five tablets and you'll get one free.
The new Fire will also be available in a $100 Kids Edition, which will include a rubber bumper case, a one-year to Amazon Free Time Unlimited (a collection of more than 10,000 books, videos, educational apps, and games, plus a curated collection of age-appropriate websites and YouTube videos), and a two-year "worry-free guarantee": Amazon will replace a broken tablet during that time no matter how it becomes damaged.
The Amazon Fire and Fire Kids Edition are available for pre-order now. Both tablets will begin shipping on September 30.
Amazon Fire HD 8 and Fire HD 10
If you're looking for a higher-resolution tablet, you might find the new Fire HD 8 (8-inch screen, $150) and Fire HD 10 (10.1-inch screen, $230) to be of interest. Both tablets deliver slightly higher resolution than the $50 Fire (1280×800 versus 1024×600). While those resolutions pale in comparison to Apple's 7.9-inch iPad mini 2 and iPad mini 4, both of which deliver 2048×1536 pixels, those tablets cost several times more (with prices starting at $269 and $399 respectively).
At yesterday's briefing, Limp said Amazon wanted the new tablets to have a 16:10 aspect ratio to eliminate letterboxing. "These tablets are focused on one thing: Entertainment," Limp said.
Both of the new Fire HD models will come equipped with 5-megapixel rear cameras and 720p front-facing cameras (for video conferencing), dual-band 802.11ac Wi-Fi adapters, and microSD card slots that enable you to add up to 128GB of additional storage. Both models are powered by 1.5GHz quad-core processors.
As with the new Fire TV devices, the new Fire HD tablets will gain some measure of integration with Amazon's Alexa cloud-based voice-command service. You won't be able to put questions to Alexa via a tablet—you'll need an Echo or a Fire TV to do that—but Alexa's responses will trigger any nearby Fire tablet to wake up and display query results.
The new Fire HD tablets are available for pre-order now and will ship on September 30.
FireOS 5
Amazon's Senior Manager of Fire Tablets Aaron Bromberg says FireOS 5 is Amazon's "biggest redesign ever." The new operating system, present on all the Fire products announced today, will eventually be released for older Fire products as well. Bromberg says the new user interface is designed to mimic the layout of high-quality magazines with an eye toward making it easier for users to browse and discover new movies, songs, and books. Here are a few highlights:
The new home screen includes dedicated pages for books, games and apps, video, music, and more, along with personalized suggestions for new content. These recommendations will draw on Amazon services, of course, including Amazon Prime, Kindle Unlimited, and Audible.
Amazon is now making most of its entertainment content available for download and offline viewing/listening, which is a great feature—if you remember to take advantage of it before you head out on the road. A new FireOS feature called On Deck should make that feature even better: If you're a Prime subscriber, On Deck will automatically download Prime movies and TV shows to available storage on your tablet—including the space on a microSD card.
If you read books on your Fire tablet, a new feature called Word Runner will help you develop speed-reading skills. The tool brings one word at a time to the center of the screen, where your eyes are already focused. An algorithm recognizes difficult words, punctuation, and paragraph breaks and automatically slows down for them. If you miss a word, a tap on the screen pauses Word Runner and lets you scroll back. You can see a video demo here.
The impact on you at home: As is typical of Amazon's hardware, the people who'll get the most out of these new products are the ones who subscribe to Amazon's services: Amazon Prime, Amazon Music, Audible, and so on. And while Amazon plans to offer productivity add-ons for its tablets, including a portable keyboard with trackpad, the vast majority of these products are optimized for content consumption versus content creation. But at prices like these, that's not necessarily a bad thing.
Correction: This story was updated to report that the Fire TV has an onboard 802.11ac adapter. It also has a hardwired Ethernet port.