When Apple announced its next-generation Apple TV last week, Siri was clearly the star of the show. Voice commands feature heavily in Apple's promo video for the $149 media streamer, and they took up a big chunk of Apple's on-stage demo. The Apple TV website refers to voice controls as the "most efficient interaction tool ever."
Siri's mere presence on Apple TV isn't a monumental achievement, given that other streaming video platforms, such as Roku, Amazon's Fire TV, and Google's Android TV, have offered voice controls for a while now. Rather, the way that Siri works on Apple TV is what makes all the difference. Compared to what's out there already, Apple is leapfrogging ahead in voice interaction on television. (Note that we haven't had an opportunity to fully evaluate Amazon's integration of its cloud-based voice-command service—Alexa—with its new Fire TV products.)
Here are some examples:
"Show that Modern Family episode with Edward Norton"
This query, demoed on stage by Apple senior design producer Jen Folse, showed off not just the ability to handle complex queries, but Siri's own deep understanding of popular TV shows.
In my testing, every other streaming video platform is flat-out stumped by the same query. The current Fire TV and the Roku 3 fail to return any results whatsoever, while Android TV can only surface the entire Modern Family catalog. (There's hope for Android TV yet: A regular desktop Google search gave the appropriate IMDb listing for Ed Norton's cameo as the top result.)
"Show me family movies … Animated only … Just the new ones"
On Apple TV, Siri is smart enough to realize when subsequent searches are related, so users can narrow down results with follow-up commands. In addition to the above example, Apple demoed "Show me some action movies … The James Bond ones … Just the ones with Sean Connery."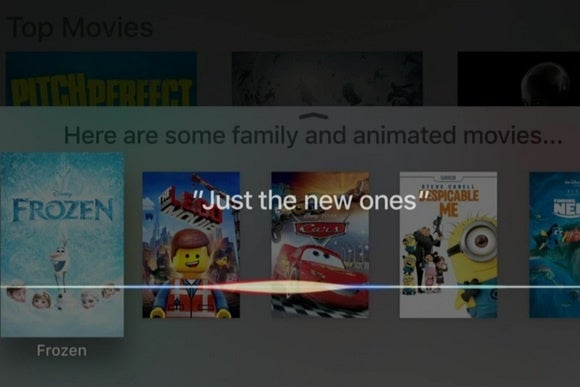 Again, other media streamers lack this continuity between voice searches, though Fire TV and Android TV can at least handle long queries such as "James Bond movies with Pierce Brosnan." Roku can't do any of these things; it can't even search by genre.
"Comedies with Jason Bateman"
The trick here is Siri's apparent ability to filter by genre and actor in a single search. Android TV and Fire TV fare better here, leaving out dramas like Ray and Collateral when searching for "Jamie Foxx Comedies." (I subbed out Bateman because his drama work wasn't appearing atop search results either way.)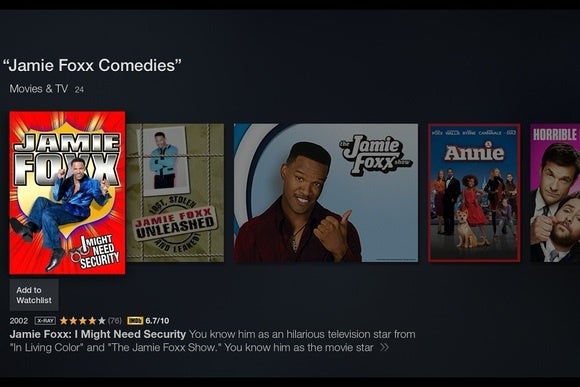 Sadly, Roku falls short yet again, due to its lack of genre search support. The best you can do is search for Jason Bateman, and then filter the results on your own.
"Anything with Jason Schwartzman"
Unlike Apple TV, other set-tops can get confused when you speak to them like a human. Android TV is the only platform that can handle the "Anything with" syntax, but it's still not perfect. (If you just search for the actor's name, you get a slick-looking info card atop the search results.) With Fire TV and Roku, saying "Anything with" causes the search to fail completely.
Preceding a voice command with "show me" also bungles some search results on competing platforms. On Android TV, for instance, "Show me funny TV shows" brought up a title card for the British reality program Show Me the Funny. Fire TV returned some odd results (such as the superhero drama Arrow), while Roku came up empty.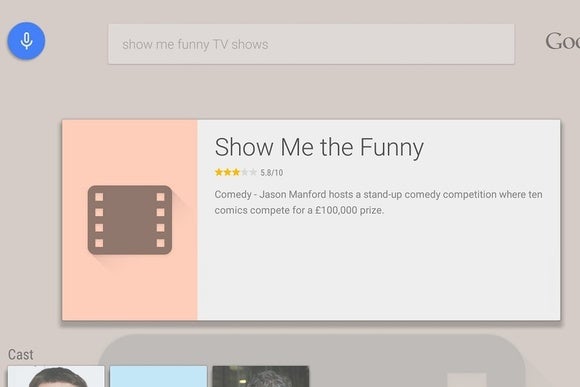 "Who stars in this?"
On Apple TV, Siri will go beyond just finding things to watch. It'll also help out during playback, telling you which actors appear and letting you fast forward or rewind. It will also jump back 15 seconds and temporarily turn on closed captioning if you ask, "What did she say?"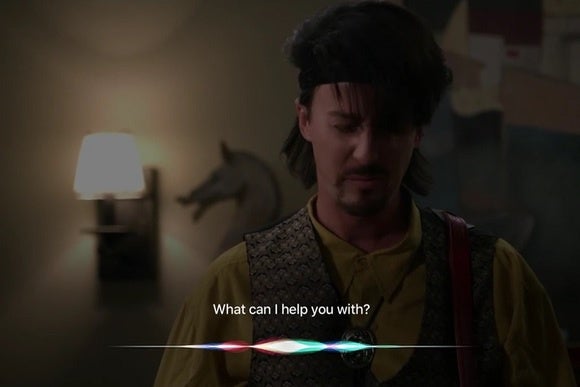 None of Apple's competitors offer voice controls for playback, though Android TV and Fire TV do offer actor information when you pause a video in Google Play Movies & TV or Amazon Video respectively.
"What's the weather like outside?"
Siri on Apple TV can also be useful for general queries such as weather and sports scores. This is basic stuff for Google, so it's unsurprising that Android TV offers similar features. However, voice searches on Roku never go beyond the entertainment realm (Alexa integration will change that situation on Amazon's Fire TV).
Launching apps
If you'd rather not scroll around to find an app, Siri can launch them by voice instead. Again, this something Android TV can handle, but Roku and Fire TV cannot.
Cross-app search
Apple made a big deal about how Siri can deliver results from multiple streaming-video services, including iTunes, Netflix, Hulu, HBO, and Showtime. Other platforms can do this as well, but with varying degrees of success.
Roku, for instance, is the only other platform that shows results from Netflix. (Fire TV and Amazon TV do not.) Amazon also hides some of its search results behind a "More Ways to Watch" button, steering users toward Amazon Video instead. And while Android TV's search is the most comprehensive, open to any app instead of just a handful of Google-approved ones, this often leaves you with several pages of results that aren't always accurate.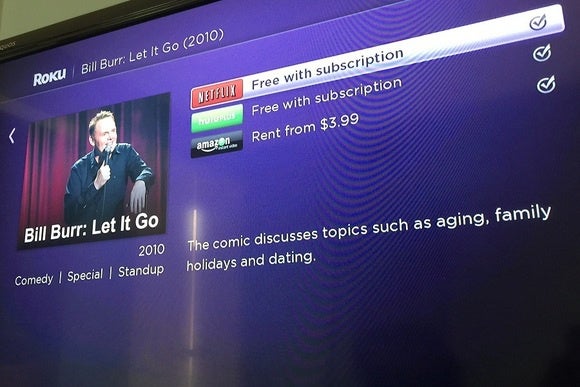 In the end, Apple TV's voice search is another case of innovation through the sum of everyone else's parts. Much of what Siri does is available in some form on other platforms, but for now Apple is the only one rolling all those elements together into a more polished whole. As a result, people will be more likely to rely on Siri as a primary way to control their televisions.