At a Glance
Expert's Rating
Pros
Lots of bass
Comfortable
Eye-catching design
Cons
Clumsy controls
Retro styling is not for everyone
Thin cloth carrying bag
Our Verdict
These headphones deliver a solid price/performance ratio.
Polk Audio announced its first wireless headset back at CES 2015 in January, and these retro-styled on-ear headphones are now available for purchase. The Hinge Wireless headphones offer up nice bass-heavy sound, a comfortable and lightweight profile, and sturdy frame.
The Hinge Wireless headphones are the second lightest headphones in our round-up, weighing just under eight ounces. The on-ear headphones feature a metal frame with lots of faux leather on their padded headband ear cups. The frame is wide and not particularly sleek, but if you like the styling, you won't mind their being so noticeable on your head.
The Hinge Wireless comes in three color combinations: Blue, which looks more like black (with brown accents); camel with brown accents; and black with, well, black accents. The two-tone styling gives the headphones a decidedly retro look. I'm not a big fan, but I'm sure many people will appreciate it.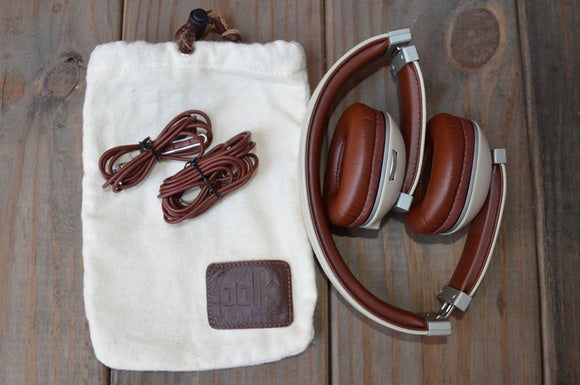 The Hinge Wireless comes with a micro-USB cord and an audio cable (with three-button remote), as well as a soft cloth carrying bag with a leather drawstring. The micro USB charging port is located under the right ear cup, while the audio-in port is located under the left ear cup. The right ear cup also has a control wheel that acts as a power switch, play/pause button, call-answering button, and volume control. If you think that having so many controls tied up in one little wheel might pose a problem, well, you're right. The control wheel is squishy and difficult to use—I frequently found myself trying to turn up the volume, only to accidentally pause the song or linger too long on the button and actually turn off the headphones.
If you like deep bass response, you'll definitely enjoy the Hinge Wireless' sound profile. There's a heavy bass presence that doesn't sound muddy or hazy, an acceptable mid-range, bright and chirpy highs. Electronic club beats sound particularly heavy on these headphones (in a good way), but classical music takes on a booming quality that not everyone will enjoy.
The Hinge Wireless do not have active noise cancelation, and the ear cups are just acceptable at blocking out ambient noise. The on-ear cups are of average size, so don't expecting too much from them in that regard.
Style is really what this comes down to. If you like the way the Hinge Wireless headphones look, then they're a good buy. Sound quality is very good (even if you aren't a big fan of bass, you'll hear a lot of clarity in the mids and highs), and they're extremely comfortable.