At a Glance
Expert's Rating
Our Verdict
Class 1 Bluetooth 4.0 is gilding the lily a bit, but they sound terrific and their battery lasts a good long time.
Plantronics' BackBeat Pro headphones didn't make our sexiest Bluetooth headphones list because of their looks. These wireless Bluetooth over-ear headphones are bulky, heavy, and somewhat boring to look at. But they're sexy as can be on the inside.
It's a serious understatement to say these headphones are feature packed: The BackBeat Pro's have features you didn't even know you wanted, such as a 'smart' headband that senses when you take the phones off your head, so as to automatically pause your audio). Other features include 24-hour battery life (that's 24 hours of continuous audio), Class 1 Bluetooth 4.0, and active noise cancelation.
But these cans won't win you any style points with their bulky but comfortable design. The black plastic-and-metal frame weighs just under 12 ounces, which is a full ounce heavier than the Sennheiser Urbanite XL. Despite the weight, the Pros are very comfy—even after long listening sessions—thanks to a well-padded leather-wrapped headband and large, cushioned circumaural ear cups that swivel inward for a slightly more portable profile. The headphones come with a thick velvet-lined carrying bag, but they're not terribly convenient to tote around.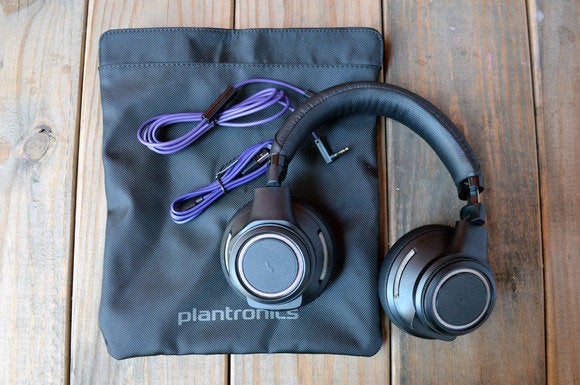 The ear cups are big for a reason: They're packed with controls. The left ear cup houses a large Play/Pause button, a jog dial for skipping forward or backward, a switch to turn on active noise cancellation, an audio-in port, and a micro-USB port for charging. The headphones come with a purple audio cable (with a three-button remote) and a micro-USB cord.
The right ear cup features a large call button for answering or ending calls, a volume control ring, and a power switch. Underneath this ear cup you'll find a small button that temporarily disables noise cancellation and boosts ambient noise for those times when you need to hear what's going on around you without doffing your headphones. This button also mutes the microphone if you happen to be in call mode.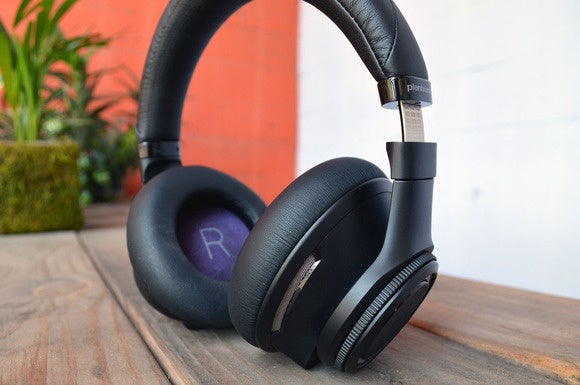 I like my bass fat and heavy, so I'm a big fan of the sound profile on these headphones. Bass notes are particularly powerful (and perhaps a bit overwhelming at times), deep, and vibrant without sounding too muddy. Mid-range notes are balanced, though they sound a little weak compared to the bass, and vocals sound excellent. Highs on the Pros are nice and detailed without being overly bright or peppy. The only real issue I had with the Pros' audio was when I turned on the active noise cancelation: bass gets a nice boost, but mids and highs sound dialed back. Even bassheads will agree that these headphones sound better with the noise cancellation turned off.
The BackBeat Pros have a lot going for them: excellent sound, tons of features, intuitive controls, and a price tag that often doesn't even get you active noise cancelation. One feature that I found to be a little over-hyped was the Class 1 Bluetooth. Class 1 Bluetooth lets you maintain a connection from up to 100 meters away, but this only works if both devices have Class 1 Bluetooth. Because most smartphones and music players only have Class 2 Bluetooth (10 meter range), most users will find this feature useless.